In Nepal people have no health insurance and the medical care is quite bad. In that remote village Briddhim, which can be reached only by a 2 hours walk or on horseback, especially old people, sick and injured people has difficulties to get the medical treatment they need.
With this support we want to provide the opportunity to bring doctors to the village for urgent treatment and also to provide permanent medical care for sick people.
Help us with your donation to improve the medical Situation of the village Population.
20 Euro will ensure primary medical care for a needy person in Briddhim for a whole month.
Payment reference: medical care in Briddhim
Medical care for Nyima Bhuti
With our first aid project in we supported Nyima Bhuti (57) and her husband Yugyal (41) for rebuilding their destroyed house in Briddhim.
For a long time already Nyima Bhuti is suffering of an eye disease. Some years ago her right eye could be operated during a visit to India. The vision of her left eye is very bad now. It seems like a cataract and she can hardly see. malnutrition and high UV-radiation often cause this disease in Nepal.
She needs to be treated urgently. Therefore both of them came to Kathmandu in the end of October. Our supporter on site will accompany her and keep us updated.
The surgery of her right eye had cost about 500 Euro. The amount needed for the surgery of the left eye will be less and we want to support the couple with donations because they cannot afford to pay for the Treatment. In Addition to that they need to stay in a tiny hotel nearby the hospital Tilganga. A room costs 550 NPR, around 5 Euro per night. For these expenses they also need our support.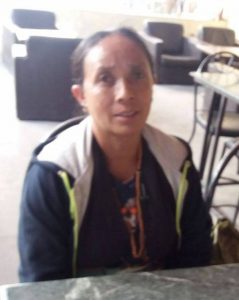 For the surgery aroung 100 Euro are needed, for the stay in Kathmandu for 10 days another 50 Euro.
20 Euro will help to finance a big part of the surgery, with 5 Euro you can finance the stay for one night. Please Support this Tibetan woman with your donation.
Payment reference: surgery Nyima Bhuti