Support for Tse Chok Ling Monastery in Dharamsala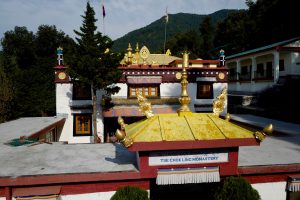 Tse Chok Ling is a Tibetan Buddhist monastery of the Gelug school to whom belongs also His Holiness the 14th Dalai Lama. The monastery is located on a steep mountainside in about 1.830 meters above sea level just below McLeod Ganj, or Upper Dharamsala, today's place of residence of the Dalai Lama in the Indian State of Himachal Pradesh. The monastery has been founded in 1979 and back then was situated up in the village. In 1984 the new monastic buildings have been constructed on a small pocket of land on the hillside deep in the woods. These days about 50 monks are living in Tse Chok Ling, whereas 30 of them are always present. More than half of them are teenagers and children. All the rest spend many months in turns with others in the huge Sera Je Monastery in South India for their Geshe studies.
The first part of this aid project the renovation of the monastery temple has been financed by private donations in the amount of 6.000 Euro. The old unsound floor had to be removed completely, the underground was drained and the ceiling repaired. With the new flooring and the renovated mural paintings the temple shines now in new splendor. That was the beginning of this aid project in November 2015.
Afterwards the old solar system has been renewed, because the few old solar collectors were not enough for supplying electricity for the whole monastery throughout the day. Especially during the darker winter months, the electricity often broke down. Warm water supply was very difficult.
By the help of lots of kind donations we could finance 8 new solar collectors, among them also a big one for warm water and electricity supply in the monastery's kitchen. For this solar project 4.500 Euro have been donated.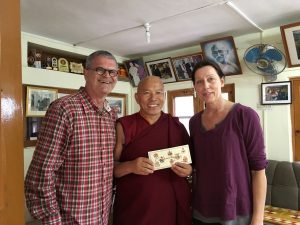 Delivery of the donations to the director of Tse Chok Ling Monastery Sonam Nyandak in April 2016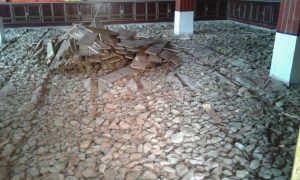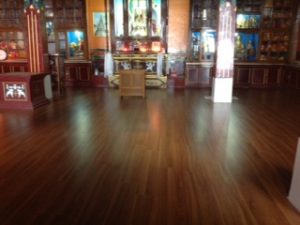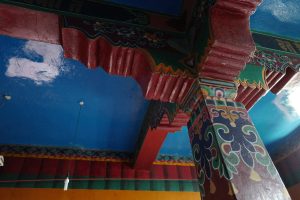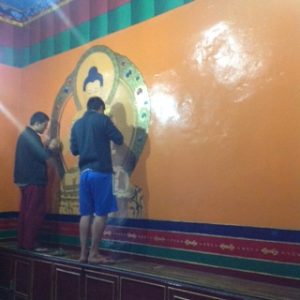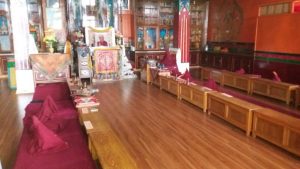 Renovation of the temple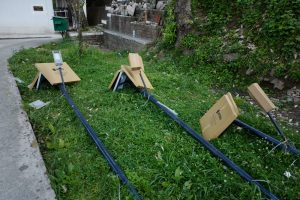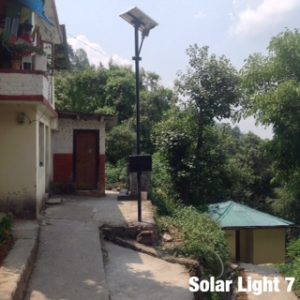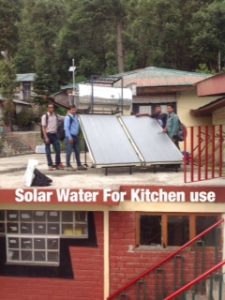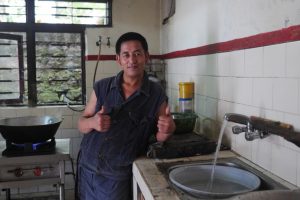 the new solar System
* * * * * *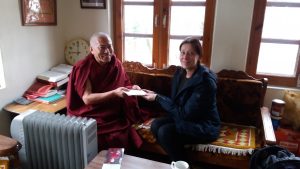 Delivery of donations in January 2017
The renovation work is going on, many rooms are finished and the monks already moved back. The rooms of the well known teacher Geshe Thupten Palsang will be ready shortly.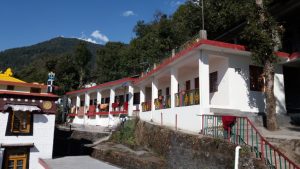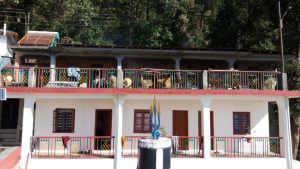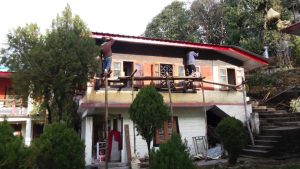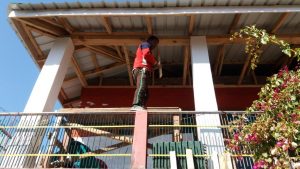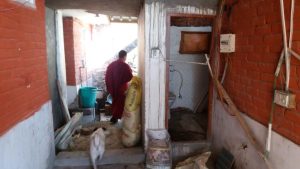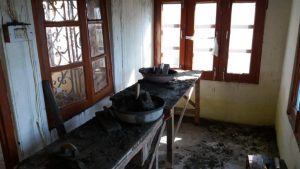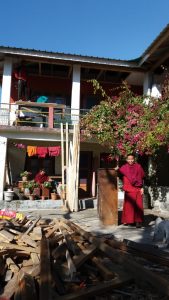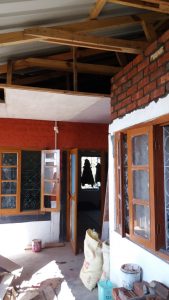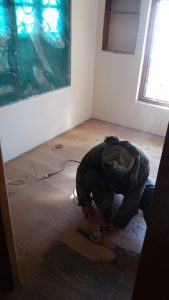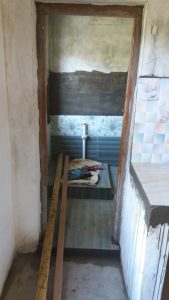 *****
Further projects in Dharamsala
At this place you find background information concerning our sponsorships in Dharamsala. Details about the Tibetans for whom we are searching for sponsors you can find in the main menu section "sponsorships".
Support for a very poor Nepalese family in Kanyara village, nearby Lower Dharamsala: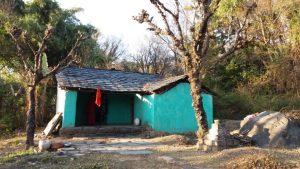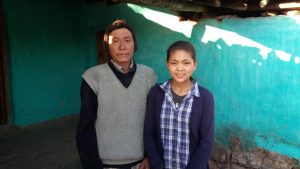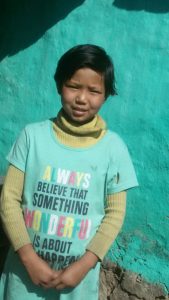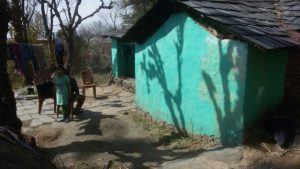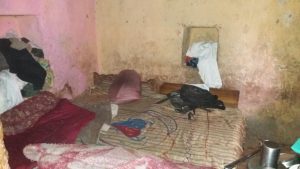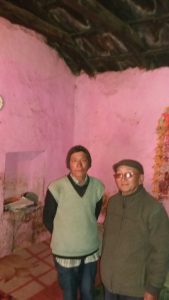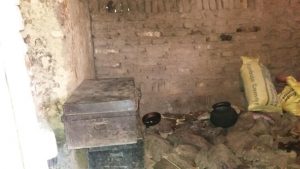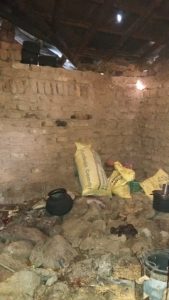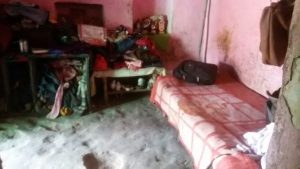 For the 2 girls we could find a sponsor, so their school education is ensured. But we would like to provide for the family also a decent home to live in.
The 15 year old girl Nikita Gurung is living with her father and her 10 year old sister Ritika in a tiny hut in Kanyara Village, close to Lower Dharamsala in Northern India.
During my last trip into this region in January 2017 a good friend from Tse Chok Ling Monastery in Dharamsala drew my attention to this extremely poor Nepalese family. I had the chance to visit them and was shaken by the hard living conditions under which the children grow up and which the father has to endure since he was born.
The mother had left the family 4 years ago and since then has been living in Manali. She doesn't care at all for the children. The father is earning a few Rupees in slate mining but it is hardly enough for feeding the family.
The tiny hut made of stone and mud was build in 1950 and is in extrem bad and miserable state. The walls are wet and mouldy, the roof is leaking in the kitchen there is no solid ground, just big stones which are even with shoes hard to walk on. And there the people mostly go bare-fooded. There is neither a toilet nor a shower, not even a connection to water supply. There is no ceiling in the house, only a leaking slate roof which gives a little protection against wind and rain.
The 46 year old father of the girls has been born in this house, the grandfather has been burried infront of the house. We could find a kind sponsor for the two girls and thanks to this support their school education is ensured. But we also want to help the family to provide a place that fits to human habitation.
That is why we want to renovate the house. In the kitchen a solid flat ground is planned, the walls will be cleaned and painted and the roof will be repaired. A power supply line needs to be set up and we want to provide a connection to the water supply of the village and build a toilet and shower.
We heard about the situation of this family from Thupten, a friend and former monk of Tse Chok Ling monastery, who was running many aid projects for the monastery and poor people in the region. He knows the family personally, visits them and will take care that the donations will be used for the different relevant needs.
Er wird uns auch bei der Umsetzung einer zusätzlichen Hilfsaktion unterstützen. Wir möchten der Familie helfen, ein neues, stabiles, kleines Haus zu bauen. Zunächst sollte die alte Hütte saniert werden, doch nach der Bestandsaufnahme des beauftragten Ingenieurs und Architekten ist nicht viel zu retten. Daher wird das alte Haus abgerissen und ein komplett neues errichtet. Einzig das gute, massive Fundament kann erhalten bleiben.
In May 2017 we could transfer the first donations at the amount of 1.760 Euro for this building project and so on May 19th they could start to demolish the old house.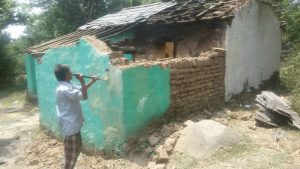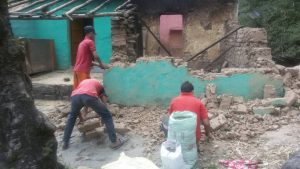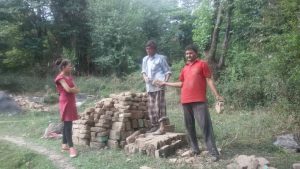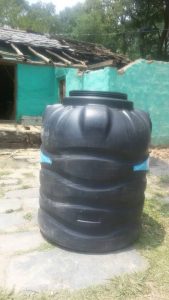 Die beiden Töchter werden während der Bauphase bei Nachbarn untergebracht. Der Vater wird in einem provisorischen Verschlag übernachten, der aus den alten Lehmziegel errichtet wird und hauptsächlich als Lagerraum genutzt werden soll.
Ende Mai wurden neue Ziegel, Sand und ein 500 L – Wassertank geliefert. Holzrahmen für 3 Türen und 5 Fenster wurden bestellt.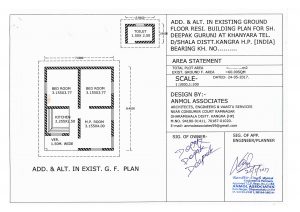 Until mid June the outer walls have been raised and part of the roof material has been delivered to the building site.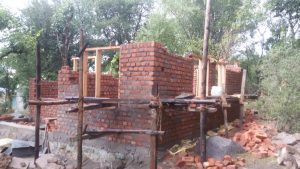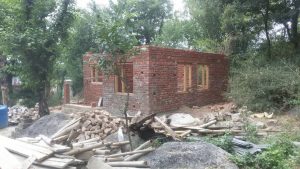 In July the roof has been finished and as soon as the supporting pillars can be removed, the worker will start with the inner construction part.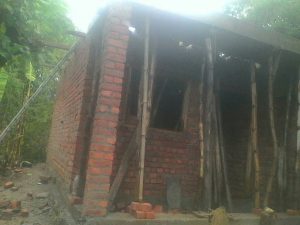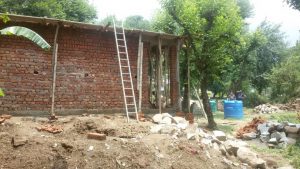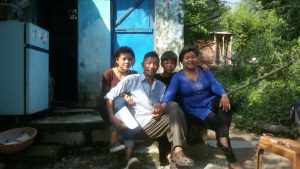 There are another 6.500 Euro needed for completing the construction. You can donate directly onto our bank account and as well online on our "Betterplace-Project":
copy this link www.betterplace.org/p52295 or click on the project button on the right side of this page.
Please support our project with a donation of any amount and help us make the life of this poor family a little bit better.
*****
Sponsorships:
Monks and nuns:
In Dharamsala we are supporting destitute monks and nuns who do not have any relatives or other support.
During our travel to Dharamsala we were able to make new contacts with many Tibetans. From then we heard for the first time about the undersupply of ordained nuns and monks who do not belong to any monastery.
The Tibetans have no health insurance or old age provision. There is an old people's home, but not for ordained nuns and monks. The Tibetan exile government is well aware of that pension gap, but investors are needed to implement this important aim and to set up an elder's home for nuns and monks.
Many of them are sick, they live alone and don't get any support by monasteries. We came to know some monks, who are living under extremely hard conditions. Only few of them have relatives who can help with paying the room rent or food.
Such a case was 67 year old monk Lobsang Tsondru: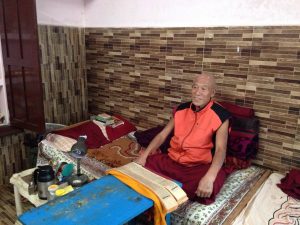 The monk is suffering from a bad skin disease (at head and arms). Lobsang Tsondru was born in Kham, Eastern Tibet. At the age of 40 he became a monk and 2 years later, in 1992, he left Tibet and fled to India. In 1997 he came to Dharamsala. He has no family in India. Since many years Lobsang Tsondru is depending on daily medication, which do not really work.
Because of his disease he cannot live or study in a monastery. Therefore he has been living since 1999 until summer 2016 in a tiny room, which belonged to an old people's home and which was given to him by way of exception. This wasn't more than bolt-hole, so he didn't have to pay for the rent, but for the little electricity he was using.
There was no running water, no toilet. The room was humid, the ceiling and walls full of mold. When he needed water, he had to ask his neighbors to get some. In the summertime Lobsang Tsondru went to a far away waterfall for taking a shower and washing his clothes. In the wintertime there was no chance at all.
We were able to find sponsors for Lobsang Tsondru and another monk in a similar situation and this way they could finally move to a new clean room.

Young ordained monks
We are also supporting young monks who are studying at monastery's institutes in Dharamsala. Many of them plan to make their Geshe degree. This degree is equal to the academic title of a professor. The intensive education takes about 20 years and according to the tradition of the huge Mahayana monasteries after the Geshe exams the students give offerings to the other monks.
With your donation you can support these monks to take their exams according to the tradition. With this project we try to contribute to preserving these precious studies of the Buddha Dharma in accordance with the Tibetan Buddhist tradition.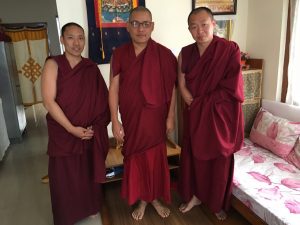 Geshe Tenzin Gurmyi (in the middle), our contact on site, together with two of his students Gyaltsen Lobsang and Phuntsok Palden
Support a monk or a nun with a sponsorship. 20 Euro per month will help to ensure primary medical care for a monk. 100 Euro per month (partial sponsorship is possible) will help an ordained nun or monk in a very difficult situation to move to a new room fitting human habitation and ensure good food.
Payment reference: sponsorship for a monk / nun in Dharamsala
Children:
Since 1960 the Dalai Lama has been living in the northern Indian town Dharamsala (Himachal Pradesh) in Exile, together with around 8.000 Tibetans. Many of them have been born in Tibet or come from Tibetan villages in the Himalayan region. They strive to preserve their culture which in their home country is endangered by political and religious persecution. The offices of the exile government of Tibet and other exile Tibetan institutions are located in Dharamsala.
Children and youths who fled from Tibet and came to Indian exile, are supported by the Tibetan exile institutions. Without charges they can go to school at different TCVs (Tibetan Children Village) and often even live there.
Those who have been outside of Tibet mostly go to the same schools but their parents need to pay a School fee, which is often quite difficult to procure.
His Holiness the Dalai Lama often points out the immense meaning of the education of the young generation and of preserving the Tibetan language. Sponsorships help these Tibetans to ensure the education for their children. They help the young people even to graduate and supports in different ways the preserving of the Tibetan language and culture.
We want to support poor families with sponsorships in order to ensure their children's education.
10 year old Karsang Dolma comes from the Tibetan village Pelkok in northern Nepal. It has always been her greatest wish to go to school but her poor parents could not afford it. In spring 2016 she was brought to India, where a brother of her is living in a monastery. He as well was unable to read or write until he became a novice there.
The girl is living now with a relative in Dharamsala and we could find a sponsor for Karsang which enables her to start her first school year soon at the local TCV.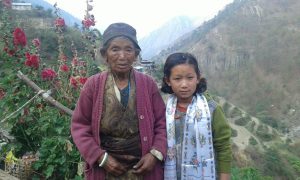 10 year old Karsang Dolma with her grandmother in Pelkok village

Support a child or a teenager in Dharamsala with a sponsorship!
20 Euro per month help to ensure the school education of the child.