The monthly needed amount for supporting a Tibetan varies according to the personal situation. Usually 20 Euro already can ensure a monthly provision with basic supplies. Unless specified otherwise, this will be the sponsorship contribution.
Presently we are looking after 35 sponsorships for 24 needy people in the area of Dharamsala and Bir. Between them there are families, children, as well as nuns and monks, who do not live in a monastery. Most of the elder people never had the chance for a school education and therefore are not able to earn enough even for the most basic needs in life. Parents often cannot afford to pay the school fees and their children are able to get a school education only thanks to the support from abroad. But a school education is most important and a solid foundation for a more secure future. Therefore providing the means for a school education for children of poor families is one of our main aims.
Nuns and monks who are not living in monasteries often are sick and need permanent medical care. Except they have pay for room rent and food on their own. In such cases we are helping with sponsorships for the basic adequate supply.
*****
For the monks in Tse Chok Ling monastery, which we are supporting with different projects, we are currently looking for sponsors.
Details and photos can be found on the page "Monks in Tse Chok Ling monastery".
For these Tibetans in Dharamsala / Bir area we are currently looking for sponsors: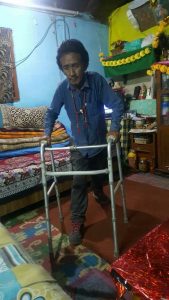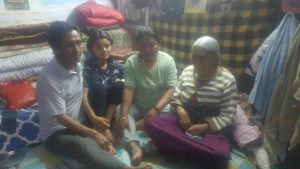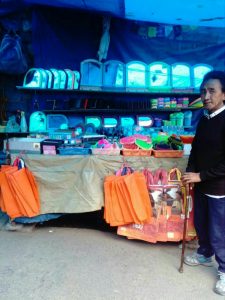 Tsetan Tashi, Ehefrau Choeten und Mutter Lhakpa
Diese 3-köpfige Familie, der gehbehinderte Tsetan Tashi (56) , seine Frau Choeten (46) und seine Mutter Lhakpa (85), lebt in Shimla, der Hauptstadt des indischen Bundesstaates Himachal Pradesh, ca. 240 km süd-östlich von Dharamsala. Die beiden Kinder, Kunsang Yelphel (19) und Yangchen Dolma (16) gehen auf tibetishe Schulen in Süd-Indien und können die Eltern und Großmutter noch nicht unterstützen.
Tsetan und seine Familie unterhalten einen kleinen Verkaufsstand für Haushaltswaren, doch das winzige Einkommen reicht nicht aus um die Familie ausreichend zu versorgen. Die Großmutter kann beim Verkauf nicht helfen, denn sie ist blind und benötigt ständige Betreuung. Die Familie ist sehr arm und benötigt Unterstützung für eine medizinische Grundversorgung und Lebensmittel.
Aufgrund des höheren Bedarfs für eine ganze Familie wird eine Patenschaft in Höhe von monatlich 70 Euro benötigt. Es sind Teil-Patenschaften möglich.
Unterstützen Sie diese Familie mit einer Patenschaft in Höhe von 70 Euro, einer Teil-Patenschaft von 35 Euro oder einem anderen Teil-Betrag, um ihre tägliche Versorgung zu sichern.
Mit unserem Betterplace-Projekt unter dem Motto "others before self" sammeln wir Einzel-Spenden für besonders Bedürftige. Über den "Bedarf" für Tsetan Tashi können Sie dort ganz einfach online spenden: http://www.betterplace.org/p56977
*****
Bitte senden Sie uns eine E-Mail wenn Sie eine Patenschaft übernehmen möchten an: info@tibet-tshoesem.de
*****