The monthly needed amount for supporting a Tibetan varies according to the personal situation. Usually 20 Euro already can ensure a monthly provision with basic supplies. Unless specified otherwise, this will be the sponsorship contribution.
Presently we are looking after 33 sponsorships for 23 needy people in the area of Dharamsala and Bir. Between them there are families, children, as well as nuns and monks, who do not live in a monastery. Most of the elder people never had the chance for a school education and therefore are not able to earn enough even for the most basic needs in life. Parents often cannot afford to pay the school fees and their children are able to get a school education only thanks to the support from abroad. But a school education is most important and a solid foundation for a more secure future. Therefore providing the means for a school education for children of poor families is one of our main aims.
Nuns and monks who are not living in monasteries often are sick and need permanent medical care. Except they have pay for room rent and food on their own. In such cases we are helping with sponsorships for the basic adequate supply.
*****
For the monks in Tse Chok Ling monastery, which we are supporting with different projects, we are currently looking for sponsors.
Details and photos can be found on the page "Monks in Tse Chok Ling monastery".
Für folgende Bedürftige in Nord-Indien suchen wir derzeit nach Paten: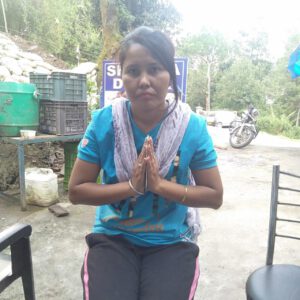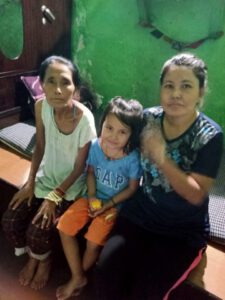 Tsering Yangkyi
Die 32-jährige Tibeterin Tsering Yangkyi ist geschieden und lebt mit ihrer Tochter Tenzin Choeten (7 Jahre) und ihrer 50-jährigen Mutter in Kangra. Ihre Großeltern waren in den 60er Jahren von Tibet nach Indien geflohen. Sie selbst konnte nur 5 Jahre zur Schule gehen und nie einen Beruf erlernen. Bei ihnen lebt auch Tserings Bruder, der wegen seiner Alkoholabhängigkeit keine Arbeit finden kann. Die Tochter geht eigentlich in die Schule des TCV Upper Dharamsala, doch seit dem Lockdown ist sie zuhause, da die Schulen geschlossen sind.
Die Familie ist sehr arm, da Tsering Yangkyi aufgrund mentaler Probleme keine Arbeit finden kann. Früher verdiente Tsering Yangkyi ein wenig Geld mit dem Straßenverkauf von Schuhen, was jedoch kaum für eine gute Versorgung gereicht hat. Daher haben wir vor 2 Jahren für die kleine Tochter eine Patenschaft eingerichtet, um sie mit etwas Geld für Kleidung, Schuhe, Essen, Schulausflüge, einen Besuch bei der Mutter oder andere Dinge des täglichen Lebens zu unterstützen.
Seit dem Lockdown im Frühjahr hat die Familie überhaupt kein Geld mehr und musste sich von Freunden sogar Geld für die Miete und Lebensmittel leihen. Im Rahmen der zweiten Spendenübergabe in Dharamsala für das Jahr 2020 konnten wir der Familie neben den Patenschaftsspenden 344 Euro für Miete und Lebensmittel überreichen, was für ca. 4 Monate reicht.
Im kommenden Frühjahr aber benötigt die 4-köpfige Familie dringend weitere Unterstützung für Lebensmittel (ca. 50 Euro im Monat), sowie auch für die monatliche Miete (ca. 15 Euro).
Unterstützen Sie Tsering Yangkyi mit einer Patenschaft für 65 Euro im Monat oder mit einer Teil-Patenschaft.
*****