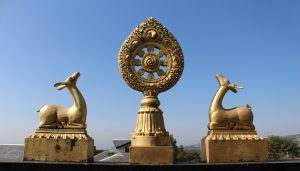 The purpose of the association is to lend extensive aid to Tibetan refugees in those countries where they have found refuge, mainly in India and in Nepal. It is our aim to enable them to live a life according to their traditions and this way to preserve the Tibetan culture and language.
This purpose is mainly put into effect by initiating projects, which improve the total life situation.
In the north Nepalese village Briddhim in Rasuwa district we support the rebuilding constructions of houses which have been destroyed by the heavy earthquake in 2015, as well as the rebuilding of the monastery of that village.
There and in other places we also plan to provide primary medical and health care.
School and further education needs to be insured. "Capacity building" is an important issue. This way we want to promote craftsmanship. Planned is the foundation of small manufacturing facilities, where the locals can produce goods or function as subcontractors.
In India the Tibetan Buddhist monastery Tse Chokling will get comprehensive support for improving the living conditions of the monks. After the reconstruction of the temple, the old solar system and some monk's rooms, more improvements are planned.
Additionally we plan to support more monks and nuns, as well children and young people with sponsorships, mainly for a primary medical care and school education. In Sera Je monastery in South India we will mainly support young novices. For lack of support by their families, the mostly need help for medical and health care.
From these actions taken other new projects will arise, which the association will implement.
The non-profit status of our association has been approved and donations are tax-deductible.