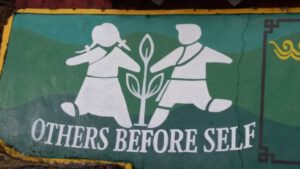 On this page we are regularly publishing updated information about new aid projects and news from India and Nepal:
05.06.2023
Pate für eine kleine nepalesische Familie in Chitwan gesucht
Vor Kurzem hat uns unser Mitarbeiter Dil Bahadur in Chitwan auf eine sehr arme Familie aufmerksam gemacht und um Hilfe gebeten. Wir auch unsere Mitarbeiter, lebt diese Familie in Aappani Village. Die Mutter Binita ist 38 Jahre alt. Ihre beiden Kinder, die 10-jährige Sabina und der 7-jährige Phursang, sind Halbgeschwister. Beide Väter haben die Familie verlassen und kümmern sich nicht. Binita verrichtet als Tagelöhnerin harte Arbeit im Hausbau, doch sie findet nicht immer Arbeit und dann wird das Geld knapp. Sie verdient zwischen 3 und 4 Euro am Tag. Besonders wenn die Kinder krank sind, reicht das winzige Einkommen nicht mehr und auch nicht für eine gute Ernährung. Die Kinder gehen auf eine staatliche, kostenlose Schule. Sabina geht in die 4. Klasse, ihr Bruder Phursang in die 2. Klasse. Sie lernen gerne, doch oft fehlt auch das Geld für neue Schulsachen. Neue Kleidung, Schuhe usw. kann Binita selten finanzieren. Um die Versorgung der Familie abzusichern möchten wir Binita mit einer Patenschaft von 20 Euro monatlich unterstützen, welche ihr hauptsächlich in den Notzeiten weiterhilft. Wenn Sie helfen möchten, senden Sie uns bitte einfach eine Email an info@tibet-tshoesem.de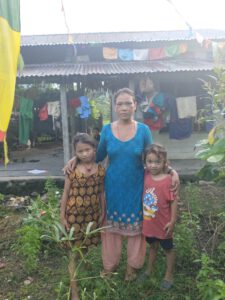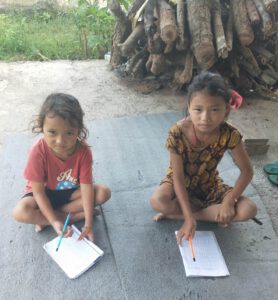 01.06.2023
Patenschaft für die kranke Tsamchey in Briddhim benötigt
Die 43-jährige Tsamchey lebt mit ihrem Mann Lhakpa in Pelko, Briddhim. Sie ist eine Halbschwester unserer Mitarbeiterin Tenzin Lhamo. Auch sie konnte als Kind nie zur Schule gehen, doch anders als Lhamo, die mehrere Jahre in Kuwait gearbeitet und dann einen Mann aus etwas wohlhabenderer Familie geheiratet hat, leben Tsamchey und Lhakpa schon immer in Armut. Die beiden haben zwei Kinder. Der älteste, 25-jährige Sohn lebt als Mönch in einem Kloster in Kathmandu, die 15-jährige Tochter hat eine Patenschaft bei einer anderen Organisation und kann so auf die Highland Boarding School in Dhunche gehen. Zwei weitere Kinder, die später geboren wurden sind leider beide verstorben und seitdem – das zweite Kind verstarb vor 12 Jahren – leidet Tsamchey unter Bluthochdruck. Außerdem hat sie oft geschwollene Beine und Bauch, was nach Aussage der Ärzte von einer nicht richtig funktionierenden Niere kommt. Zudem hat sie meist Kopfschmerzen.
Aufgrund dieser Beschwerden kann Tsamchey kaum arbeiten und Lhakpa muss die Familie größtenteils alleine ernähren. Er arbeitet auf Feldern in der Gegend. Für die Medikamente (ca. 15 Euro pro Monat), die Tsamchey regelmäßig nehmen muss, aufzukommen, fällt den beiden immer schwerer. Darum möchten wir sie unterstützen und würden gerne eine Patenschaft von 15 Euro monatlich für diese medizinische Versorgung Tsamcheys einrichten und hoffen, dass sie bald einen Paten finden wird.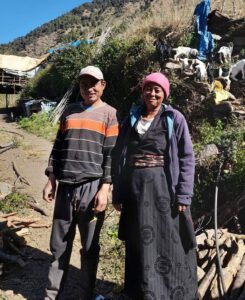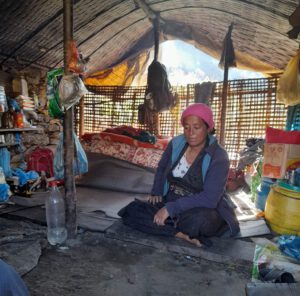 29.05.2023
Hausbau in Khangjim
Diesen Monat konnten wir Pempa und Kanchi weitere Spenden in Höhe von 215 Euro für ihren Hausbau überreichen. Dieses Mal war leider wieder nur ein kleiner Betrag zusammengekommen. Daher hatten die beiden sich nun nochmal die große Summe von über 3 Lakh (über 2.000 Euro) leihen müssen, um neues Material (Zement, Eisengestänge usw.) zu kaufen. Da der Monsun bald einsetzt, möchten sie das Haus so schnell wie möglich fertig bauen. Transportiert wird das Material in dem Lastwagen, den Paljor und ein paar Freunde vor ein paar Jahren gekauft hatten und den sie für solche Bauarbeiten vermieten. Insgesamt konnten wir für dieses Haus bereits 3.000 Euro Spenden überreichen. Der gleiche Betrag wird nochmals benötigt und so sammeln wir weiter. Für alle weiteren Kosten, die hinzukommen, da das Paar sich entschieden hat, doch wieder ein zweistöckiges Haus aufzubauen wie zuvor, werden von ihnen selbst getragen und durch einen Kredit finanziert.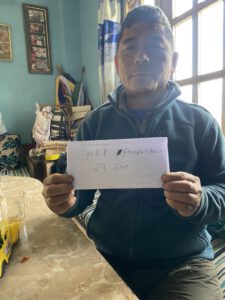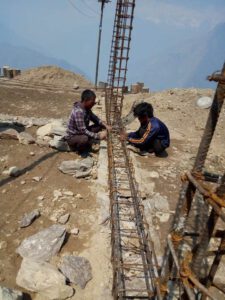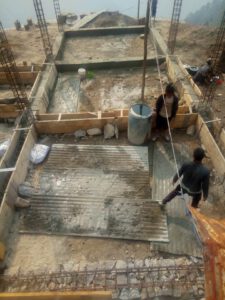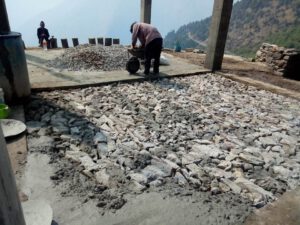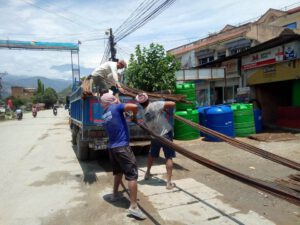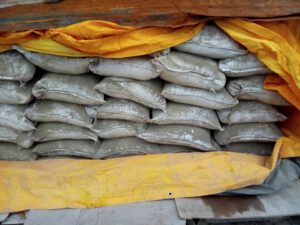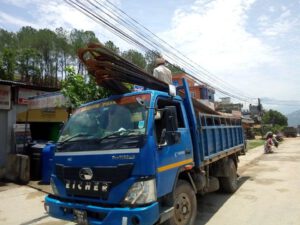 27.05.2023
Neuer Bewohner im Pflegeheim und neue Patenschaft
Ende März bereits ist der 50-jährige Tsering Dhargye ins Metta Nepal Elderly Caring Home in Kathmandu eingezogen. Er stammt aus der entlegenen Bergregion Dolpo im Nordwesten Nepals. Tsering Dhargye konnte nie zur Schule gehen und hat seit Kindesjahren auf dem Feld gearbeitet. Da in seinem Dorf noch die Kinderehe praktiziert wird, hatte ihn seine Familie sehr früh verheiratet und mit seiner jungen Frau bekam er einen Sohn, der später Mönch wurde.
Die Armut und das harte Leben führten bei Tsering Dhargye leider zur Alkoholsucht. Das Familienleben wurde für alle immer schwieriger und irgendwann trennte sich das Paar. Tserings Dhargyes Alkoholmissbrauch nahm immer weiter zu, was zu einer Schädigung seines Rückenmarks führte. Eine Selbstversorgung ist ihm nicht mehr möglich. Im Pflegeheim wird er nun gut versorgt und wir hoffen, dass Tsering Dhargye bald einen Paten finden wird.
Ani Kanchi hat gerade eine Teil-Patenschaft gefunden, die im Juni beginnt. Ani la ist 70 Jahre alt und stammt aus einer anderen entlegenen Region, nämlich aus Lapchi im Nordosten Nepals. Schon als Kind begann die gläubige Tibeterin ihre buddhistische Praxis, heiratete nie und wurde schließlich Nonne. Da Ani Kanchi keine Angehörigen hat und sich nicht mehr alleine versorgen kann, lebt sie seit ein paar Jahren schon im Heim, wo sie viel betet, ihre buddhistische Praxis fortführt und die anderen Bewohner von Herzen unterstützt. Es wäre schön, wenn Ani Kanchi noch einen zweiten Teil-Paten fände, der sie mit 15 Euro unterstützen kann, um den gesamten Bedarf zu decken.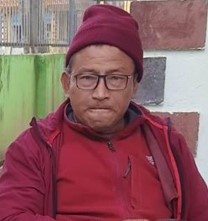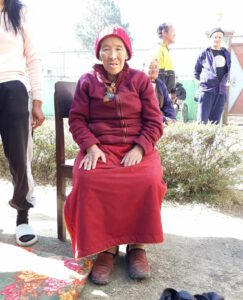 26.05.2023
Erweiterung der Räumlichkeiten des Dickyi Tsering Home
Seit Einrichtung des Kinderheims in Kathmandu war die Anzahl der dort lebenden Kinder stetig gestiegen. Bei Projektbeginn 2017 war das Haus auf 30 Kinder ausgerichtet und als die Grenze von 80 erreicht war, hatte man begonnen ein weiteres Gebäude zu suchen, das endlich gefunden ist. Das neue, zweite Haus liegt zehn Minuten mit dem Bus entfernt vom Haupthaus. Im Zuge der Erweiterung hat man beschlossen Mädchen und Jungen zu trennen, was zahlenmäßig zu den Räumlichkeiten passt und auch praktisch ist, da nun auch schon einige junge Erwachsene unter den Bewohnern sind und dies auch von den Behörden in Nepal so lieber gesehen wird.
Die 67 Mädchen leben im Haupthaus. Die 40 Jungen sind ins neue Nebengebäude gezogen, wo einiges renoviert und schön eingerichtet wurde. Dolma Sherpa, die Hausmutter, sowie ihre Helferinnen Mingmar Hyolmo und der Koch Mingmar Gyalpo sind bei den Mädchen geblieben, für die Jungenunterkunft wurde eine neue Hausmutter namens Tsering Dolkar Gurung und ein neuer Koch Gyalpo Gurung gefunden.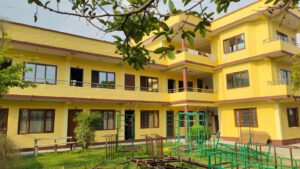 23.05.2023
Spendenübergabe im Kloster Tse Chokling
Mitte April hatten wir ja die nächsten Spenden an das Kloster überwiesen. Diese sind angekommen und alle haben sich wieder sehr gefreut. Dieses Mal waren es insgesamt 2.553 Euro, die sich folgendermaßen zusammensetzen:
4 persönl. + 9 Kloster-Patenschaften: 1.630 Euro
Neubau: 703 Euro
allgemeine Spenden: 220 Euro
Nachdem im Frühjahr bereits zwei Novizen von ihrem Losar-Urlaub bei den Familien nicht nach Dharamsala zurückgekehrt waren, haben auch diesen Monat weitere vier Novizen das Kloster verlassen. Andererseits waren im März neue Novizen ins Kloster eingezogen.
Der Neubau auf dem Klostergelände ist fast abgeschlossen, doch leider kann der Boden noch nicht fertiggestellt werden, da zu viel Geld fehlt. Die Gesamtkosten waren am Ende viel höher als geschätzt und so muss nun erstmal zwangsläufig eine Baupause eingelegt werden.
Zum Glück sind wir nicht die einzigen, die bei diesem Projekt mithelfen, denn es fehlt noch der enorme Betrag von ca. 15.000 Euro für das Laminat und die zu zahlenden Arbeitsstunden. In der Zwischenzeit wird die Halle aber bereits für Teachings genutzt werden. Da es derzeit kein anderes Projekt im Kloster gibt, sammeln wir also weiter Extra-Spenden für die medizinische Versorgung der Mönche und auch Spenden für den Boden des Lehrsaals. Insgesamt hatten wir dem Kloster bisher erst 735 Euro für den Neubau senden können. Gerne würden wir mindestens noch 2.000 Euro Spenden für den Boden sammeln.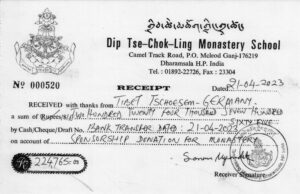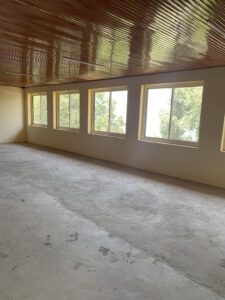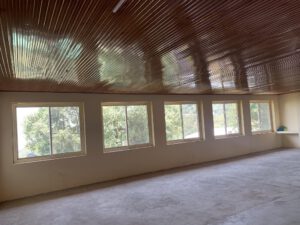 22.05.2023
New special relief campaign on behalf of Sarbita from Briddhim suffering from a heart defect
14 year old Sarbita has been attending Gosaikunda English Boarding School in Syabrubesi along with her brothers Bishal und Anderesh for more than two years. This was made possible through the help of school sponsorship for all three children because their parents are poor and unable to come up with the high school fees. Sadly we learned that Sarbita was diagnosed with a heart defect.
She has been feeling dizzy on and off for quite some time, perceiving tightness of the chest and shortness of breath. A check-up in Kathmandu where her parents took her revealed two holes of the septum in between the two atriums of the heart. These are significantly affecting the blood flow, causing a backward flow of high oxygen blood from the left to the right atrium, resulting in a lack of high oxygen blood which is needed to support blood circulation. Another result of this condition is volume overload of the right ventricle, eventually causing pulmonary hypertension. The latter is associated with increasing chronic symptoms and a low life expectancy.
A surgery could help Sarbita and her family has decided to have it carried out. However they are too poor to bear the high costs and asked us for support. For the time being the parents borrowed the money as Sarbita is to be taken to hospital in Kathmandu in the coming days already. The expenses of the surgery are estimated at about 1.500 bis 2.000 Euros and we are hoping to be able to gather the amount soon. On our website "special aid projects" we will be posting updates on Sarbita's condition and the campaign: https://www.tibet-tshoesem.de/sonder-hilfsaktionen-3/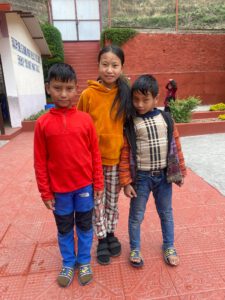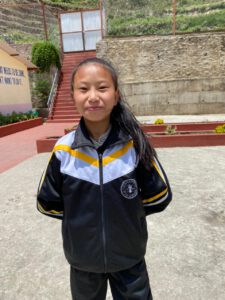 21.05.2023
Donation handover in Chitwan
We could recently also deliver our financial aid to the region of Chitwan in Southern Nepal. 240 Euros were provided for Rakesh and his family by kind donors. This will suffice for 4 months worth of food, medication and medical check-ups. Rakesh keeps improving. He is already able to walk a few steps without a crutch but his doctor has advised him to watch over himself carefully for at least one more year, to avoid all physical strain and work, in order for everything to heal well. If things go as expected the metal plate in his leg can be removed by then. Rakesh still needs daily medication and it is not easy for him to stay at home all the time but most of all he wants to regain his health.
During monsoon time, which is starting in the coming weeks, the simple dwelling the family inhabits keeps getting soaked through by flood waters. Everything inside gets wet then and in order to prevent this recurring trouble they started to install a stone filled extra wall on the side where moisture keeps penetrating. We are hoping for this construction to resolve the problem and would like to help out with a certain amount of donations. Total costs for construction and salary for two bricklayers are estimated at about 120 Euros.
Reena and Dil Bahadur also received support. We were able to transfer 385 Euro for the birth of their third child. The little girl's name is Lhaku Dolma and she was a Caesarean delivery on April 14th. The whole family is well. Rakesh, his family as well as Reena and her family were elated with these donations.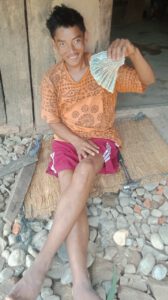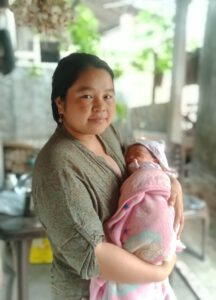 20.05.2023
New sponsorships for elderly people in Nepal
Two elderly women in Nepal are looking forward to sponsorship as of today. 53 year old widow Palmo Tamang in Briddhim has been receiving support by means of various campaigns throughout the past few years. We provided support for the reconstruction of her house, which had been destroyed in the earthquake of 2015 and also gathered extra donations to cover medical treatment because Palmo suffers from high blood pressure and diabetes. In addition a liver cirrhosis could be successfully treated.
Just like most people in Briddhim, who, due to physical restrictions, are unable to work, and being a widow, Palmo receives 14 Euros government support each month, which does not even suffice to pay for her regular medication, though, let alone buying food. For this reason we established a sponsorship for Palmo in November of 2021. Thanks to the possibility of implementing medical care, her condition improved, she no longer suffers from open hand sores – a complication of the diabetes. Twice a year she needs to consult a doctor for check-up at the hospital in Kathmandu in order to receive another quantity of medication. Since the first sponsorship coold only cover half of these expenses we are happy she could acquire a second one now. In combination these secure her medical needs entirely.
The other newly found sponsorship regards 76 year old Dolma Tsering who has been living at Metta Nepal Elderly Caring Home in Kathmandu almost since its founding. Her handicapped son Mingmar Tsering also lives there since he is unable to care for himself. Mingmar is still waiting for sponsorship.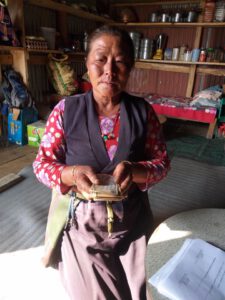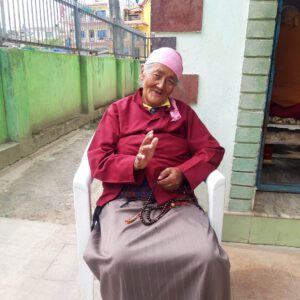 18.05.2023
Donation handover at Metta Nepal Elderly Caring Home
Unfortunately with delay the latest donations could now be delivered at the elderly caring home in Kathmandu as well. A total of 39.264 Euros was transferred to Nepal on April 6th covering the months of January through April. Of this sum 1.230 Euros was intended for the caring home, comprising of sponsorships for Jangchub Gelek, Chiri, Ani Pema und Kimey Rangdol plus 890 Euros of general donations, which we were particularly pleased about since many residents are still waiting for regular support. With these general donations at least part of their daily requirements, especially medical needs, can be covered. Everyone at the elderly home is doing well and the recipients were very happy about the donations.
There is also a new addition to the group of people living there. We will fill you in shortly.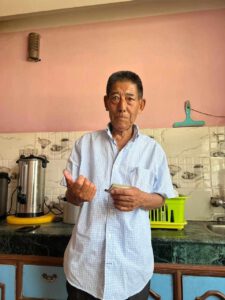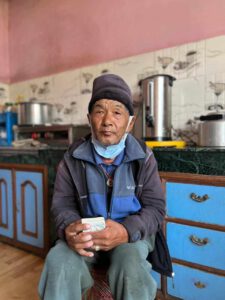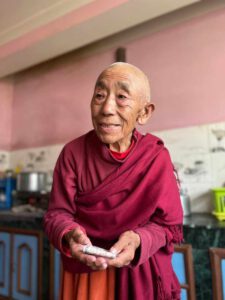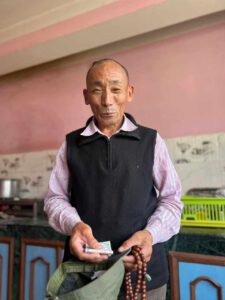 17.05.2023
One more time donations needed for the widow Ngacho in Briddhim
In the course for our recent donation transfer we were able to provide Dechen's widow with 580 Euros. Dechen passed away in February as a result of liver cirrhosis and internal bleeding. With the aid of her children Ngacho managed to pay for the remaining medical treatment costs but she had to borrow an additional 20.000 NPR – about 140 Euros- to cover the expenses of Dechen's funeral. We would like to send her that amount also, thus would be happy about donations on her behalf, which are also possible through our Betterplace-project "others before self".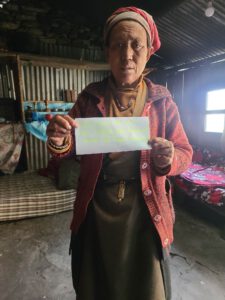 15.05.2023
Two new sponsorships at Dickyi Tsering Home
8 year old Manisha and Srimaya Roka, who is already 15 years old, have acquired partial sponsorships this month. Both girls have been living at the children's home in Kathmandu for years. They are quite happy there and like going to school. On behalf of all those children who have not found sponsorship, yet, we are always collecting extra donations – so far for these girls as well. A steady sponsorship secures the children's home's maintenance plus the extensive care the children receive much better, though. For this reason we would welcome additional shared sponsorships for both children. Each still requires 15 Euros per month. Besides these two many other children there are still waiting for regular support and they would also much enjoy being in contact with a sponsor.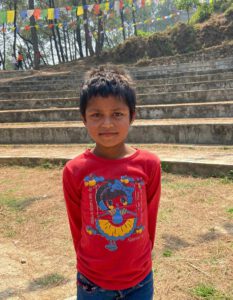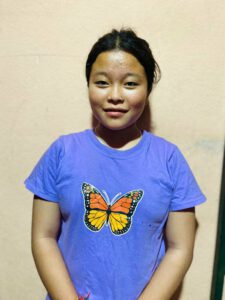 13.05.2023
Special relief campaigns completed
We managed to finish several special relief campaigns at once these days. For one thing we had collected donations to provide hearing aids for Pempa Wangmo from Gray near Briddhim and were able to hand over 510 Euros for this cause. She received 660 Euros in total to cover the treatment. Her daughter Sharmila is at present at the Tibetan border for work purposes. As soon as she can arrange it she will accompany her mother to the doctor.
On behalf of young Chyangba Rani from Briddhim we launched a campaign last August. She had lost her unborn child at 30 weeks of pregnancy. Afterward one kidney had to be removed. The treatment was very expensive but luckily many friends and family members also helped out. We managed to transfer a sum of 1.570 Euros for Chyangba's treatment. Her husband Kancha recently started working in Saudi Arabia thus being able to provide for his wife. Her supply is now assured.
We received another call for help in September. 43 year old Gyalsang was very ill: a severe hepatitis was diagnosed. He was in critical condition but recovered after treatment at a hospital in Kathmandu. We were able to support him with 450,- Euros. Gyalsang's wife has been working in Kuwait for some time and is now finally in the position to transfer money to contribute to the family's needs. School fees and support for the couple's two sons, Sanu und Shakti, are financed through sponsorship. This way they are all well taken care of and no further donations are needed.
10.05.2023
Weitere Teil-Patenschaft für Ani Tsewang Yangdol
Ende April hatten wir über die 39-jährige tibetische Nonne Tsewang Yangdol informiert, die seit ihrer Kindheit linksseitig teils gelähmt ist, daher oft unter starken Schmerzen in den Beinen und immer wieder auch an schmerzhaften Furunkeln an der Hüfte leidet. Für ihre derzeitige Behandlung in Delhi hatten wir ihr vor Kurzem 450 Euro an Spenden überweisen können.
Da sie das kalte Klima in ihrer Heimatregion Ladakh nicht verträgt, lebt Ani la in Dharamsala. Ihre Familie ist zu arm um zu helfen und da sie völlig mittellos ist, versuchen wir sie mit Patenschaften zu unterstützen. Seit August 2022 hat Ani la eine Teil-Patenschaft von 10 Euro monatlich, nun ist eine zweite für 30 Euro hinzugekommen, wofür sie sehr dankbar ist. Der Gesamtbedarf für Miete und Lebensmittel liegt bei 100 Euro und so hoffen wir für Ani Tsewang Yangdol bald noch weitere Paten finden zu können.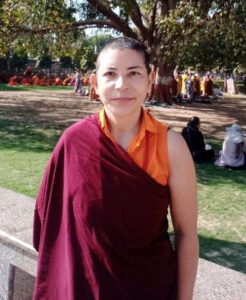 07.05.2023
Sad news from Dharamsala
​
We received sad news from Dharamsala today. Our staff member Penpa had a phone call from Ani Lobsang's relative this morning, informing her that Ani la passed away. After a short illness she closed her eyes at Delek Hospital on May 4th. She was 62 years old. Only a short while ago lung cancer had been diagnosed and sadly it was too late for treatment. We had transferred 700 Euros –sponsorship and extra payments- for Ani la to India last month and are currently checking the family's further need to cover hospital bills that may still be pending as well as the funeral. Her body will be cremated tomorrow. Our thoughts and prayers are with Ani la and her family.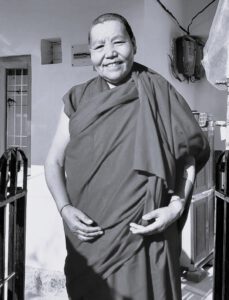 06.05.2023
Donation handover in Dharamsala nearly completed
In mid-April this year's first donations were also brought on the way to Dharamsala and our local staff member Penpa Dolma was out and about for the past two weeks, distributing the funds, 6.856 Euros altogether. Except for the nun Tsewang Yangdol, who is at present in Delhi for medical treatment and a surgery, all sponsored people have received the donations and were very glad about them. Tsewang Yangdol will be handed part of her payout upon return to Dharamsala.
We are currently supporting 20 people through 26 sponsorships in this region. Added to these were one family and 2 adults without steady sponsorship within the current handover. Luckily we were able to gather extra contributions for those individuals. On behalf of all people in need we would like to express our gratitude to the sponsors and supporters for this significant help!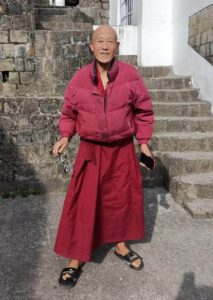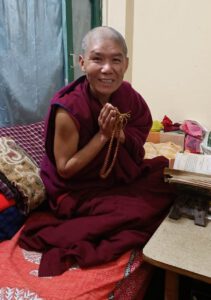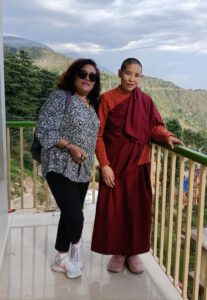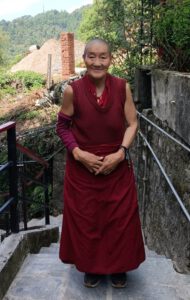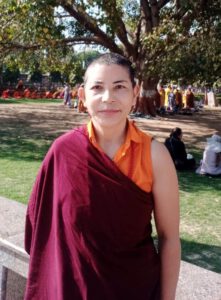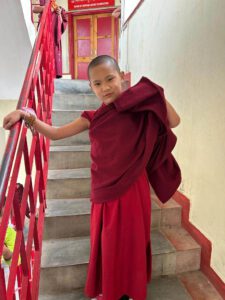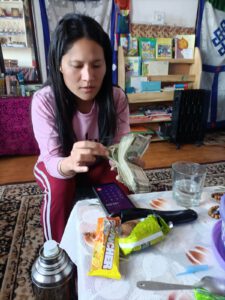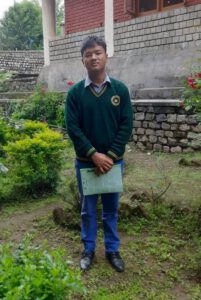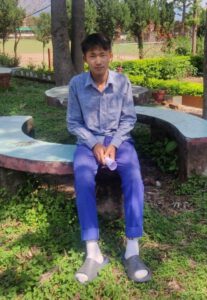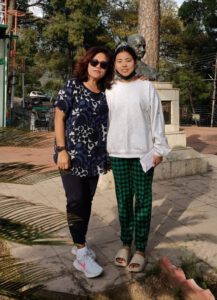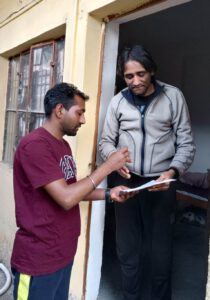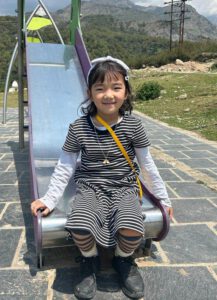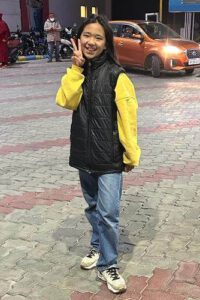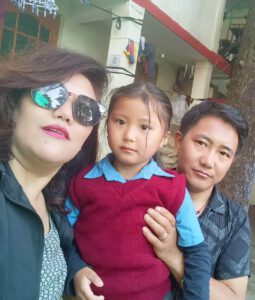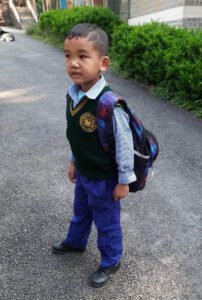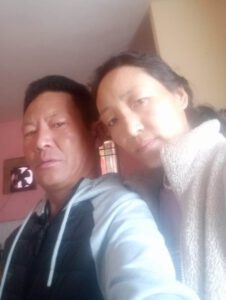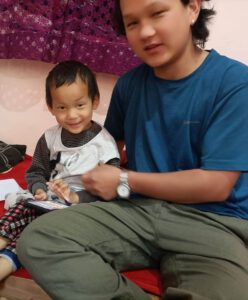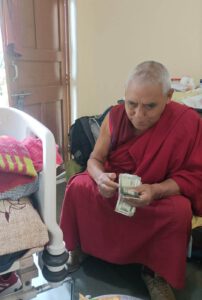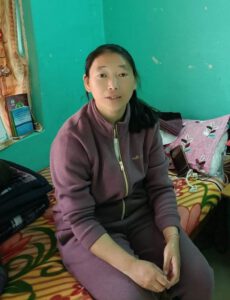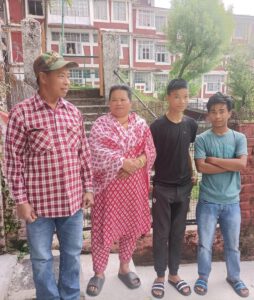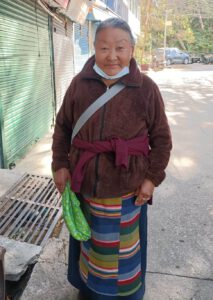 04.05.2023
School sponsorship for Anita in Briddhim finally complete again
Anita, by now 14 years old already, could be enrolled at Gosainkunda English Boarding School along with her 10 year old sister Rozina in December of 2020, thanks to sponsorship. As many people in this mountain region the children's parents are much too poor to afford the high school fees on their own. Since Anita had been supported only in part during the pasts months we were
searching for an additional sponsor and finally succeeded. A second sponsor supports the girl from now on. This way they jointly secure her education.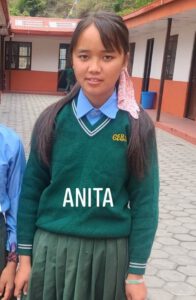 01.05.2023
Donation handover in Briddhim
Three weeks ago we briefed you on the next donation transfer to Nepal. While the delivery is still taking a little time in Kathmandu our staff Lhamo and Paljor in the Briddhim region have already distributed most of the amounts. After starting with the handover of the school fees – 20.000 Euro in total this time- at Gosainkunda English Boarding School in Syabrubesi they have been out and
about the villages for the past week to deliver the donations to their recipients.
Thanks to a number of new school sponsorships we were able to enroll 10 new students with the start of the school term. For these kids from some of the poorest families this is a very special day and all children are happy to be back at school after their holidays.
Additional donations totaling 8.142 Euros were contributed to 46 people with sponsorships, 5 school children in Dhunche and Lamjung, 6 people without sponsorship (partly to cover medical procedures), one birth and 2 house building projects. All donations were much appreciated. Those who received support for their basic care are planning to buy grocery supplies, oftentimes some
meat and fresh fruit but also clothing and shoes. Following you find just a selection of photos showing the donation handover.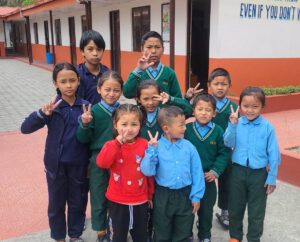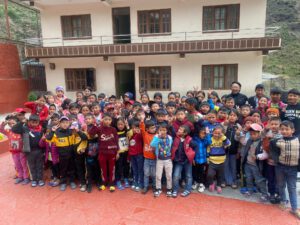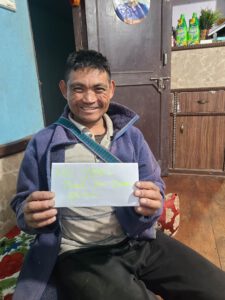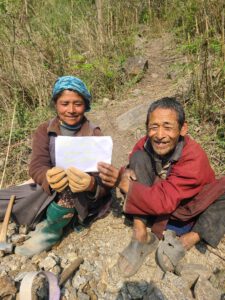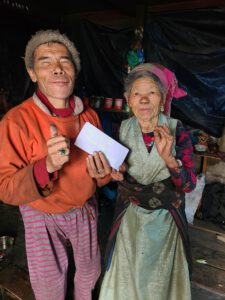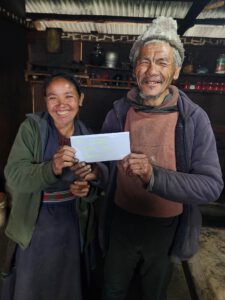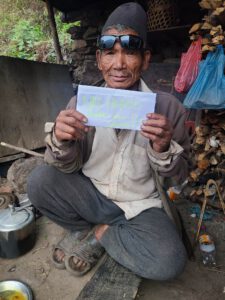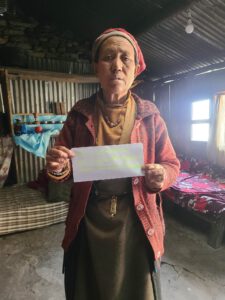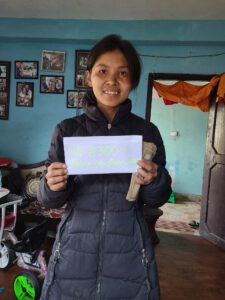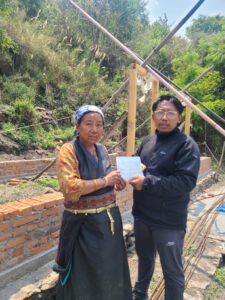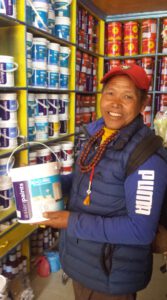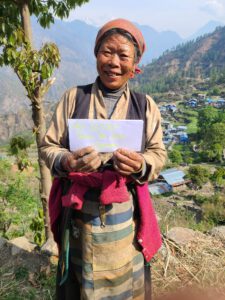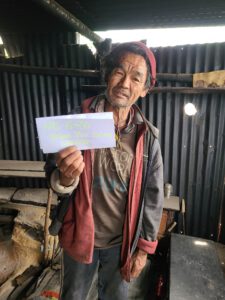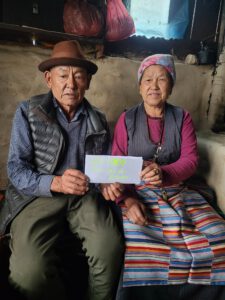 28.04.2023
New school sponsorships in Briddhim
​
Three more school sponsorships came about for children in the Briddhim region last week already: the siblings Sohan (12) and Sohani (10) as well as 7 year old Salina, whose older brother has been receiving sponsorship for a while and attends the school in Syabrubesi. These children come from very poor families. The mother of the two siblings is half blind, their father hampered. Two years ago their uncle, who lives in Dhunche, offered to taken them in and pay for day school. This way they were finally able to go to school; however since the uncle and his wife are expecting their own baby now they no longer have the means to support their niece and nephew. Salina's parents were also unable to afford the enormous school fees. All three could be enrolled at Gosainkunda English Boarding School in Syabrubesi along with seven others two days ago.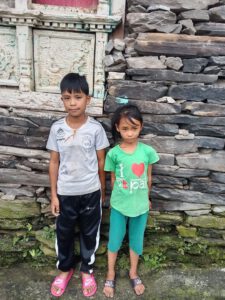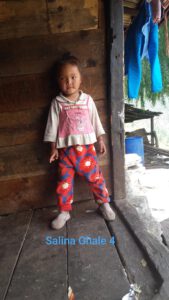 25.04.2023
Numerous donations for ill nun Tsewang Yangdol
Since we launched our recent appeal for funds on behalf of Ani Tsewang Yangdol three days ago we could collect more donations than initially planned. We received 375 Euros in total which is very helpful since doctor's communicated the necessity of a small surgery to treat the painful recurrent boils on her hip to Ani la yesterday. She will have to spend two nights at the hospital, which means additional expenses. We will provide a supplementary payment in a few days to enable Ani la to pay these bills. We extend our heartfelt thanks to all supporters for the significant and prompt help!
We have not succeeded in finding a temporary sponsor for sick and destitute Rupa Lhakyi in Kathmandu so far and will continue to try collecting donations in order to cover her expenses for rent and food supplies throughout the coming six months. So far we were able to gather 120 Euros.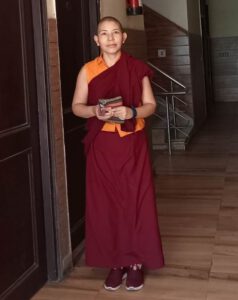 23.04.2023
Temporary sponsorship needed for Rupa Lhakyi from Kathmandu
One month ago we told you about 44 year old destitute Rupa Lhakyi, who is divorced and mother of two grown sons (22 and 24) who are both staying at a rehab center for drug addicts. They are unable to support their mother for the time being.
Up until a few months ago Rupa earned her living as a seamstress, but fell ill in January and was unable to work. She had to undergo ovarian surgery. Since she lacked the money to pay for the treatment we started a relief campaign. The medical procedure took place in early April and went well. Fortunately deviating from the doctor's assumptions following the removal of the other ovary years ago only a cyst on the ovary had to be removed this time. On April 9th Rupa was able to leave the hospital. The overall treatment and clinic lodging costs amount to 880 Euros. In addition to this 120 Euros are due to pay a social worker who took care of Rupa at the hospital.
On April 6th we were able to contribute 700 Euros to cover the procedure as part of our recent donation transfer to Nepal. The remaining 300 Euros were covered by Hope & Challenge. However for the upcoming 6 months Rupa once more requires our help because she is advised not to work and has no means to finance her daily life on her own, not even the monthly rent of around 15
Euros. We would very much like to set up sponsorship for a limited time. Expenses for food are 100 Euros a month, which means 600 Euros are needed altogether. Of course single donations are also possible. But we would gladly establish a regular sponsorship to accumulate the amount by and by.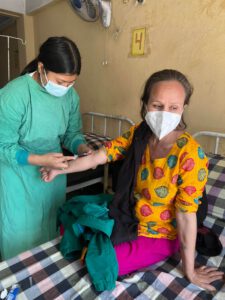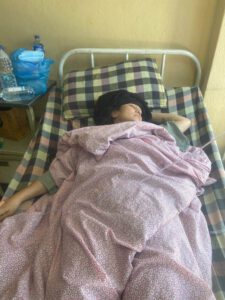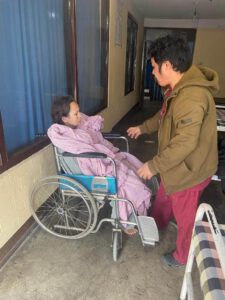 22.04.2023
Relief action for the nun Tsewang Yangdol
38 year old Tibetan nun Tsewang Yangdol comes from Ladakh and actually lives in Dharamsala, because she can't tolerate the cold climate on the high plain. Since her childhood she is paralyzed on the left side, most likely as a result of poliomyelitis. We met Ani la in person last December in Bodhgaya, where she was staying for her Buddhist practice and the Dalai Lama's teaching.
Unfortunately the pain in her legs increased lately and on her way home she had to be admitted to a hospital in Delhi where she showed poor blood values but the major difficulty is the pain in her legs. Doctors there prescribed various medication. There is no effective treatment but at least the pain can be decreased and mobility somewhat restored. I addition Ani la is suffering from painful
boils on the hip once again, accompanied by fever and cough, which need to be treated as well.
Ani Tsewang Yangdol has been receiving sponsorship of 10 Euros monthly since last summer which is of help; however only covers a small part of the regular expenses (rent, food and medication). With the upcoming donation handover she will receive 40 Euros. In order for Ani la to pay her hospital bill and return to Dharamsala she requires our help which is why we have just launched a small relief operation. To cover medical care and her room in Delhi 250 Euros are needed. To enable her to buy food supplies when she gets back to Dharamsala we would like to gather a sum of 100 Euros.
​If you would like to support Ani Tsewang Yangdol you may use our association's account or our Betterplace project "Others before self":
http://betterplace.org/p56977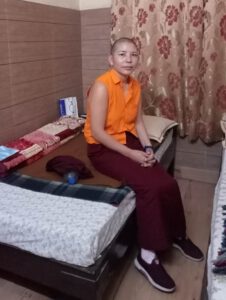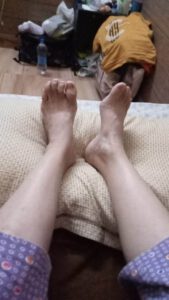 19.04.2023
Donation handover in India
A few days ago we could also transfer the first donations of this year to India and they already arrived today. We are able to provide a total of 9.409 Euros this time, which comprises as follows:
Tse Chokling Monastery: 2.553 Euros in total
• 4 personal + 9 monastery sponsorships: 1.630 Euros
• construction of new building: 703 Euros
• general donations: 220 Euros
Dharamsala + Bir / Chauntra: 6.856 Euros in total
• 8 ordained persons: 2.450 Euros (2 monks + 6 nuns)
• others: 4.406 Euros (3 families, 7 pupils, 2 college students, 2 single adults)
As usual we will report on the handover in greater detail as soon as the funds have been presented and we have received the relevant data.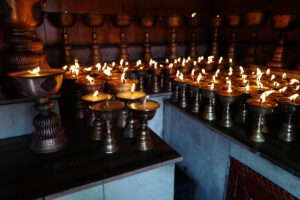 17.04.2023
Recent addition to our Tibet Thsoesem team
Realizing new relief campaigns is challenging and our team always has its hands full. So in order to launch our planned volunteer project we searched for new staff members and actually succeeded.
​Claudia Puck, one of our supporters, who has several sponsorships with us, decided to get involved even more and commit herself actively for the people in Nepal and India.
Along with Anke Lischka, who takes care of our website translation, some special relief campaigns plus the updates on our sponsorship program in Briddhim, Claudia is now in charge of the volunteer project on behalf of the two institutions for children and elderly people run by Hope & Challenge in Kathmandu as well as Gosainkunda English Boarding School in Syabrubesi. We will soon fill you in on project details. We are all delighted about Claudia's participation and hope that she will enjoy working on this task!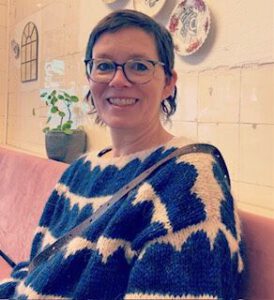 15.04.2023
Good news from Chitwan
Yesterday Reena's and Dilbahadur's child was born. We informed you about the family and our relief campaign to secure the birth. Everyone is doing well and the baby's parents are finally able to breathe easily. The little girl is healthy; however she had to be delivered by caesarean section and received a Hepatitis B vaccination right after birth since Reena was still affeced by the virus.
Because it was no natural delivery the expenses turned out higher than expected and amount to 580 Euros. Reena's mother Khartok came to Chitwan from Kathmandu to take care of her daughter and the baby. We extend our heartiest congratulations to the family and want to wish all the best and good health!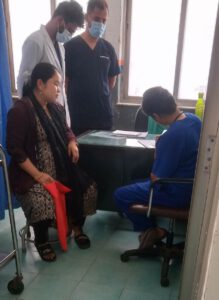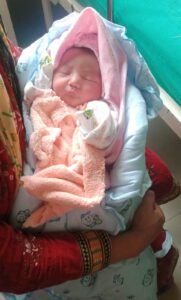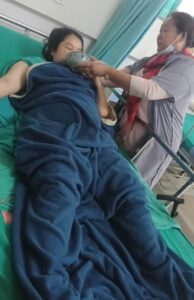 13.04.2023
Mourning for Lama Zopa Rinpoche
As Kopan Monastery in Kathmandu disclosed today Lama Zopa Rinpoche breathed his last at Karuna Hospital in Kathmandu this morning. He had spent a few days in the upper Tsum Valley and suffered from high altitude sickness there. Although he was quickly taken to Kathmandu doctors could do nothing for him.
Lama Zopa was born in Solukhumbu in 1946. At the age of three years he was recognized as reincarnation of Lawudo Lama. Later on he went to Tibet from where he had to flee in 1959, just like his Holiness the Dalai Lama. In 1965 he founded Kopan Monastery in Kathmandu along with the famous Lama Yeshe.
Tsering Pema, a relative of Nyima and nun at Kopan Nunnery sent us pictures of the Puja, taking place there since this morning. Everyone is very sad. Many of our sponsored "children" and staff members in Nepal and India, the nuns and monks we support as well as some of our sponsors regard him as their leader, their teacher.
Geshe Sonam Wangchen la and Rinpoche used to live at the same monastery and were very close. Rinpoche visited Dickyi Tsering Home in November 2021, again in Decemeber 2022 and blessed the children. All over the monasteries and villages Pujas are being held now and we share their grieving for this great teacher.
(source of photo no. 5 Lama Zopa: FPMT Facebook page, entry of 04-13-23)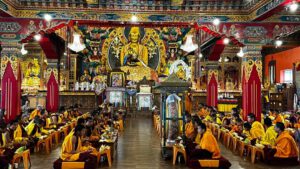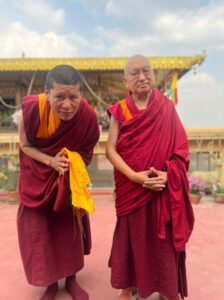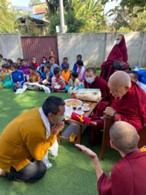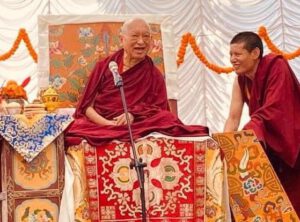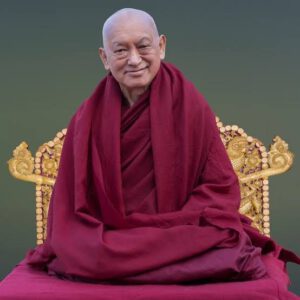 11.04.2023
New sponsorship for Tse Chokling
Just this week an additional monastery sponsorship came into being to support the monks of Tse Chokling Monastery in Dharamsala. As of now we are maintaining 4 personal and 10 monastery sponsorships which help the monks realize basic medical care. By supporting the monks sponsors also contribute to maintaining these monasteries as well as Buddhist teachings, which is an
additional goal we pursue. We would be happy to find further sponsors for the monastery.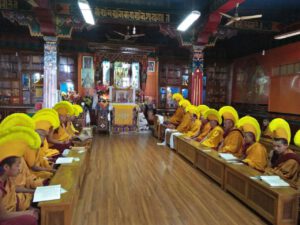 09.04.2023
Donation handover in Nepal
On April 6th we were able to transfer the latest donations to Nepal, 39.264 Euros in total this time.
They comprise as follows:
• Dickyi Tsering Home in Kathmandu – 6.676 Euros
• Metta Nepal Elderly Caring Home in Kathmandu – 1.230 Euros
• people in need, not in caring facilities in Kathmandu – 3.216 Euros
• people in need in Briddhim and Chitwan regions, including the school in Dhunche – 8.142 Euros
• school sponsorships at Gosainkunda English Boarding School – 20.000 Euros
As soon as the funds have arrived and reached their recipients we will report in detail.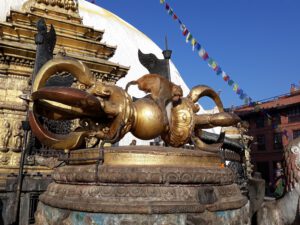 02.04.2023
Staff members needed for new project
During our project trip to Nepal in early January Geshe Sonam Wangchen, head of Hope & Challenge plus the children's and elderly caring homes in Kathmandu, as well as Raju Lama, the principal of Gosainkunda English Boarding School in Syabrubesi, asked us if we would be able to set up a new project. Both institutions would like to offer an opportunity to foreign volunteers to combine a journey to Nepal with social engagement.
Since our small team of seven has no capacity left to take on such task we are in search of one or two new staff members who would like to tackle the project. Required skills would be willingness to commit to voluntary work in your spare time, creativity and good English skills in order to communicate with our local partners in Nepal (via Whatsapp, Messenger, E-mail).
The institutions, where volunteer projects are to be maintained are separate. There is on one side the project for the school in Syabrubesi, which 80 of our sponsored children are attending, on the other the children's home and the elderly caring home in Kathmandu. So two contributors could divide these between them to reduce the work load.
The project is not aimed to encompass a complete package taking care of flights, insurance and such but only the placement of volunteers. Possible tasks for them in Kathmandu could include nursing assistance, cooking, cleaning, teaching, repair work, garden maintenance, guiding play and work groups.
First of all a concept will be needed. In a further step the staff would manage the recruitment of volunteers and establishment of contact to Nepal. The estimated work effort is expected to be around 10 hours per week and will most likely reduce later on.
We would be happy about inquiries. If you are interested please send us an E-mai: info@tibet-tshoesem.de
01.04.2023
Viele Spenden für Nepal
Numerous donations for Nepal
Within a short time after starting two new relief campaigns we already acquired sufficient donation amounts.
The German nonprofit organization Dautari – Friends for Future e.V. supported our fund-raising on behalf of the solar power system for the Dickyi Tsering Home in Kathmandu with a generous donation, thus financing the second module. We already received enough contributions to cover the first module's expenses. Thus we will be able to transfer the entire cost of 1560 Euros for the construction to Hope & Challenge and the campaign is successfully completed.
In addition to this we have received a generous donation for Reena, who is highly advanced in pregnancy, and her husband Dilbahadur in Chitwan, who are expecting their third child. We can now send the entire amount of 380 Euros to cover the child's birth in Nepal. The family was plunged in debt after their second son's birth about one year ago when complications arose during childbirth. Reena fell sick, the child was born with a severe heart defect and eventually died after only one week. That's why the family is now lacking the money for hospital payments and they are infinitely grateful for the support with the expenses. We would like to thank all supporters most sincerely!
29.03.2023
Newsletter "Spring 2023"
Today our most recent newsletter has been released. You are invited to have a look inside at: Newsletter Frühjahr 2023
Enjoy reading!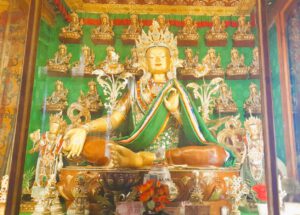 27.03.2023
Additional school sponsorship in Briddhim
A short while ago 6 year old Sonam Tashi and his 8 year old sister Tseyang Butti from Thokman near Briddhim found a sponsor, who has now also taken on sponsorship for their 14 year old sister Tsering Dolma. Tsering spent the past 6 years at a monastery school in Gagalpheidi near Kathmandu, where she was able to attend lessons free of charge but in exchange had to cook and clean at the monastery. However she did not learn a whole lot there and has so far only passed third grade. Since she did not want to live at the monastery any more Tsering returned to her family a few weeks ago. For her age she has a lot to catch up on now but she is determined to study and we trust she will manage!
The family very much wished for all their children to gain a school education and we are happy the three of them will be enrolled at Gosainkunda English Boarding School next month to live, learn and grow there together.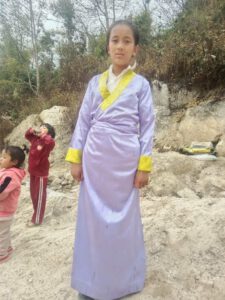 26.03.2023
Udate on reconstruction of Tse Chokling Monastery
The construction work on the monastery building has progressed and is nearly completed now. In the main hall only the floor tiles still have to be laid. However there is still a significant amount of donations needed to cover the total expenses of 16.000 Euros.
The upper floor was divided into two sections. On one side is the hall for the teachings. On the other side of the wide hallway a small lounge and kitchen were set up, where the monks may prepare tea or small snacks. Everyone is looking forward to the first teachings taking place here.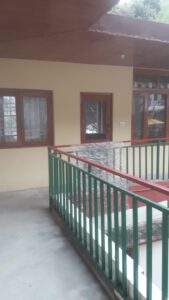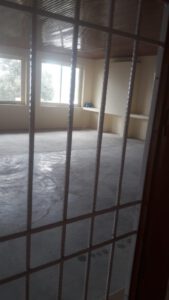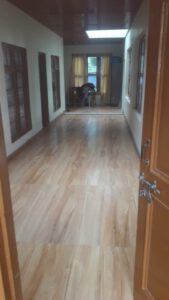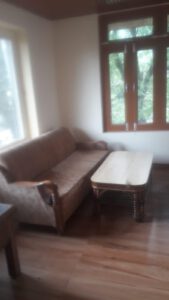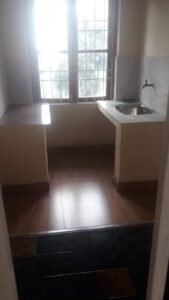 22.03.2023
Update building project on behalf of Dawa Chokpa in Briddhim
11 days ago we filled you in on the resumption of this house building project and currently everything is progressing rapidly. One week ago the first building material was delivered and the construction work has started. Dawa Chokpa is happy to finally see her new home in the making. To keep the cost low only a simple foundation will be laid and since the building will be entirely at ground level no steel pilings are planned for reinforcement. Following our last appeal we received 115 Euros and we are hoping for some more to add to our donation transfer in early April.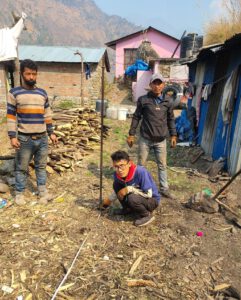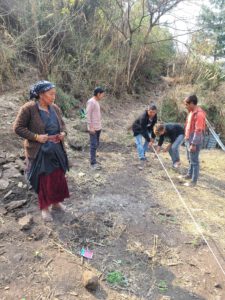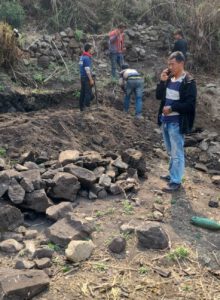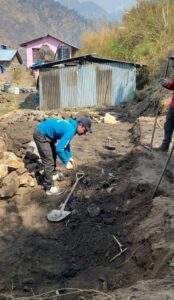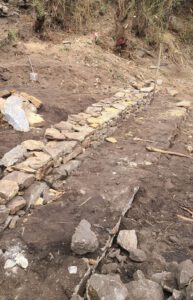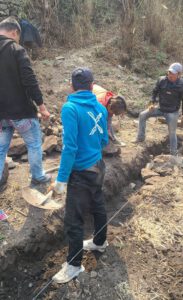 21.03.2023
Aid campaign for ill Rupa Lhakyi in Kathmandu
44 year old Rupa comes from Dhumbarahi in the Kathmandu district. She is divorced and has two grown sons (22 and 24 years old). Both of them are receiving treatment at a drug rehab institution and are unable to support their mother.
Up until two months ago Rupa was earning a small salary as a tailor- just enough to cover her small rent and basic food supplies. But in January she fell ill and has been unable to continue work. She had already suffered severe problems a few years prior to this: the gall bladder and one ovary had to be removed. This time the second ovary is affected. The doctor treating her stated that a cyst, possibly the whole ovary, has to be taken out.
Since the beginning of her unemployment Rupa is completely destitute. Therefore Hope and Challenge took over the rent payments and provides her with food. The next surgery is supposed to take place at Stupa Hospital (last picture below) and is expected to amount to 1 Lakh, about 760 Euros.
The costs have to be pre-paid and Hope and Challenge will borrow the money and advance it. We would like to support Rupa and are collecting donations for the operation.
As soon as Rupa feels better she would like to resume her employment. However with the earnings out of her sewing she was merely able to cover the rent for her small room so far, which has a leaking corrugated tin roof and no running water but is cold and damp. So further down the line we would like to establish a regular sponsorship for Rupa and enable her to move to a humane dwelling.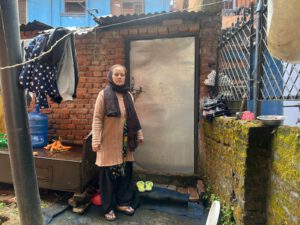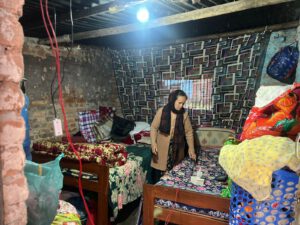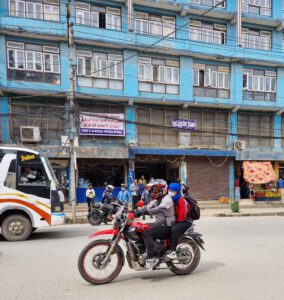 16.03.2023
Update regarding the solar collectors at the children's home
Just a few days ago we briefed you on our latest relief campaign. Right on March 15th the solar collectors were installed. As we had posted 9 collectors had been planned. However the space on the roof did not suffice for that. Now there are 6 collectors with water tanks, integrated in 2 modules. Tomorrow on Friday is "shower day" and the children are so much looking forward to the warm water!
The allover costs for the facility, including installation, amount to 1560 Euros. The umbrella organization Hope & Challenge borrowed the money and following our appeal for funds 570 Euros were already accumulated to help finance the project. By early April the next donation bulk is to be transferred to Nepal and we are hoping to maybe cover the costs of one of the modules by then.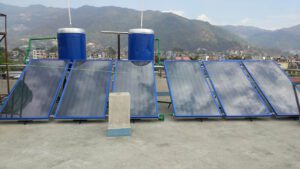 14.03.2023
Yet more new school sponsorships in Briddhim
As of now the 7 year old boys Pradeep Tamang und Akash Ghale, both from Mentok Gan near Briddhim, also have school sponsorships. Like many other families in the region theirs are unable to afford a school attendance for their children and the young ones are very happy they will be enrolled for school in April. Pradeep's older brother has benefitted from school sponsorship through another NGO for years. It was sad for Pradeep to be the only one in the family not able to attend school. Two of Akash's siblings, Santos and Samjana, have sponsorships with us as well and have already passed several grades. Now Akash will finally share growing up with his siblings again and also learn with them.
Along with more than 80 regional children whom we were able to set up for school during the last few years Pradeep and Akash, too, will attend Gosainkunda English Boarding School in Syabrubesi.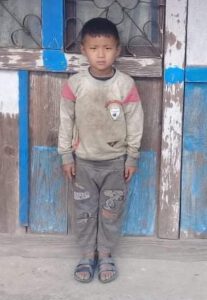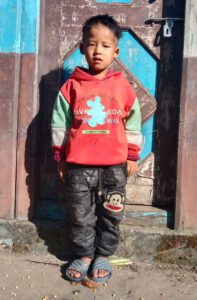 12.03.2023
Fundraising started : Solar collectors for the children's home
We are launching a campaign these days aimed to finally supply the Dickyi Tsering Home in Kathmandu with warm water. So far the children's home only had cold water at its disposal. Now solar collectors are planned to be installed so the children can finally take a warm shower.
9 solar collectors will be needed, bundled in 3 modules (see symbolic picture below). The total cost, including installation, is estimated at around 2300 Euros. The home management will borrow the amount and the unit is to be installed on the roof in the middle of March. The Dickyi Tsering Home is financed solely through donations and sponsorships (we are maintaining 42 sponsorships there at the moment), which are required to cover rent, daily supplies and school fees. So we would be happy about numerous donations to facilitate the solar collectors.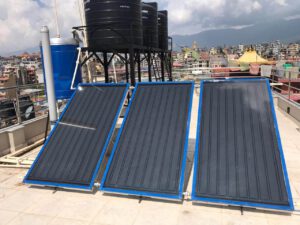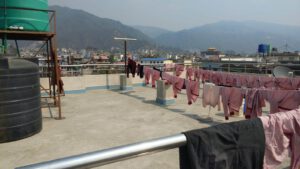 11.03.2023
Resumption of our building project for Dawa Chokpa in Briddhim
Exactly two years ago we started an additional house building project to support the widow Dawa Chokpa. The small house she had been able to build through government assistance after the 2015 earthquake was severely damaged by a mud slide during heavy monsoon rains in summer of 2020 and had to be torn down. Since then she has temporarily lived with a brother, who drinks a lot though and has repeatedly thrown her out. He owns an additional piece of land he was going to offer to his sister. With his consent given we started the building project but there were repeated disagreements between brother and sister and the plans laid
abandoned.
Now its use is finally legally resolved. Dawa's brother signed the land over to her and the construction of the house can start. Our staff member Paljor and his uncle-in-law Darsang compiled a cost overview and will attempt to obtain a credit, for the house is to be built this spring. This way Dawa would not have to spent another monsoon in her make shift corrugated-iron hut.
We are estimating an overall cost of 7 Lakh (around 5.400 Euro), out of which 5 Lakh alone will be needed to cover building material, the remaining amount for payment of the construction workers and transportation of material. You may find details at our website,
So far we received 470 Euro for this project and we hope to gather additional donations soon
in order to help Dawa out of her difficult situation.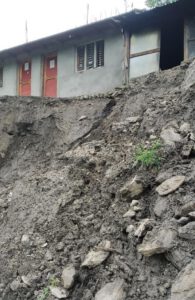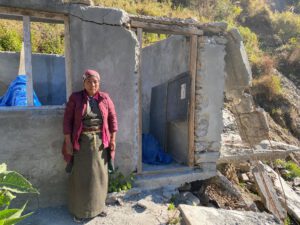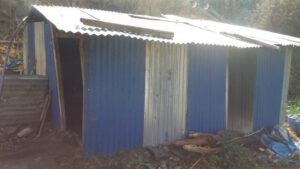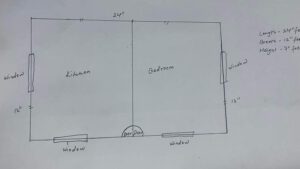 09.03.2023
Donations needed for a birth in Chitwan
Reena (30) und Dilbahadur (41) are expecting their third child in early April. The family lives in Chitwan in South Nepal. Their son, 9 year old Raju has a sponsorship with us for several years already. Reena is the elder daughter of Khartok, who is our staff member Nyima's sister. Because the family is very poor her and her younger daughter Kareena receive sponsorship as well.
One year ago Reena was expecting for the second time but she contracted hepatitis B and the newborn had to be vaccinated right after birth. The parents were very concerned but it came much worse. The little boy was born with a severe heart defect, one additional organ was not properly developed and he had to be transferred to another hospital for artificial respiration and further treatment right after birth. In order to have the urgent heart surgery conducted the family would have had to take the baby to India and we had already planned a relief action for him. Unfortunately the little one died only one week after birth.
Last summer Reena got pregnant again and this time it is progressing normally. However since the family had to borrow a lot of money for the last birth and the following medical procedures they are now unable to cover the third child's delivery. The attending physician stated they would have to expect an amount of approximately 50.000 NPR (380 Euro) in case everything goes well and there is no need for a caesarean. With this we would like to support the family. We would be very happy about donations, also possible through our Betterplace-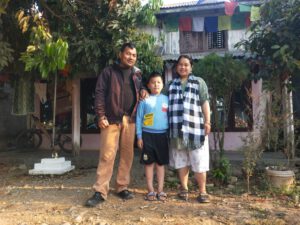 08.03.2023
Another new school sponsorship in Briddhim
One more child from the Briddhim region has now found a sponsorship. 8 year old Kalpana who lives in Daal will also be enrolled for school next month. Her 12 year old brother Pempa already started attending school in 2021. It is particularly nice for the siblings to be able to live and study at school together from now on. Beside the importance of education this will also mean an improvement of nutrition for Kalpana and the family is very grateful for the support.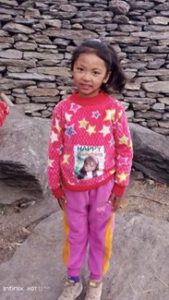 05.03.2023
Sad news from the retirement home in Kathmandu
Sad news reached us today from Metta Nepal Elderly Caring Home: 86 year old Lobsang Phuntsok passed away yesterday.
Lobsang Phuntsok lived at the institution for 3 years. He was originally from Kham in East Tibet and became a monk even before the Dalai Lama's departure from Tibet in 1959. When His Holiness left Tibet Lobsang, too, fled to India. There however after the atrocities suffered by monks and nuns in Tibet he decided to no longer live at a monastery but instead to join the Indian army. He always
intended to return to Tibet but the border remained closed for him. Lobsang never had children or other relatives left. Therefore he moved into the elderly home three years ago.
Several days ago he was suddenly feeling sick and was taken to hospital where approximately 1 liter of liquid was removed from his lung. Unfortunately the treatment came too late for him and yesterday in the evening Lobsang passed away. Our thoughts and prayers are with him.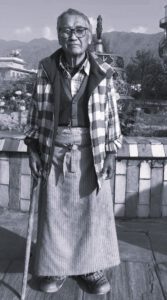 01.03.2023
Several new sponsorships in Briddhim
During the past few weeks so many new sponsorships have come into being! There is support now for an elderly couple from Lingling and two more children from Daal and Mentok Gan.
62 year old Chokpa and her 57 year old husband Norbu do have 7 grown children, however none of them is able to support the parents. The couple is growing lemons which they sell but that doesn't earn them enough, let alone to finance a balanced nutrition. Their sponsorship will help them to cover basic needs.
11 year old Pempa was enrolled at Gosainkunda English Boarding School by September 2021 but he lost his support last summer. Thanks to the new sponsorship his education is once again secured.
7 year old Akreti will also be glad to start school soon. Her father is the only one in the family earning some money, loading goods at the Tibetan border. The small income is not enough to cover school fees for Akreti. She will now not only receive a good school education but also be well cared for. All children who have acquired sponsorship recently will start school in April.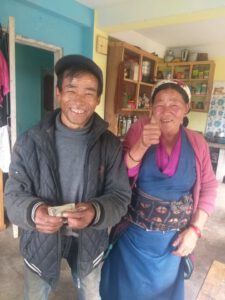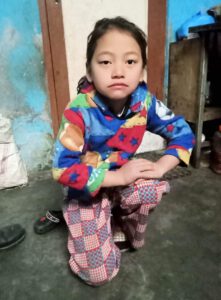 25.02.2023
Further school sponsorships in Briddhim
Two more children from the Briddhim region (one from Mentok Gan, one from Lingling) have found sponsors. Two older siblings of 7 year old Sarjo have had school sponsorship for quite some time and started attending school in December 2020. Sarjo's family is very poor for the father has been disabled since birth, is hardly able to walk and so cannot work. The mother has had a hard time nourishing her children which is why the family is very happy all three children are now receiving support to finance the school education their parents would not be able to cover on their own. It is always particularly nice for siblings to be able to attend school and grow up together.
6 year old Ten Norbu has an elder sister who is attending a school at the district capital Dhunche thanks to sponsorship from another aid organization. His parents are also too poor unfortunately to come up with school fees. They earn a little money doing farm labor and carrying loads for trekking tours but it's barely enough to provide for the family's daily needs.
Thanks to their sponsorships both boys can be enrolled at Gosaikunda English Boarding School in Syabrubesi this April. There they will receive a good education and also be well cared for.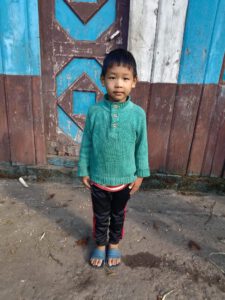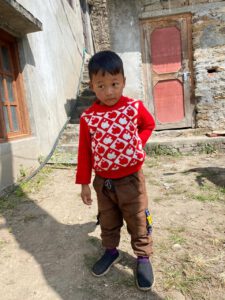 23.02.2023
Sad news from Briddhim
Unfortunately we have yet again received sad news from Briddhim. After Dechen died one week ago at only 58 years our staff on site informed us that Pasang passed away unexpectedly at 84 years yesterday around noon.
Just the previous week Nyima and Pasang's children had come to take their father to the hospital in Dhunche because he was not well, had difficulties breathing. An acute Pneumonia was ascertained. The last few days he spent at home with his wife Nyima. Nyima will continue to receive support through a sponsorship the couple has had for the past 3 years, which has been of great benefit to them.
It is a sad Losar in Briddhim this year. Nyima and Pasang were such a cheerful couple. Our thoughts and prayers are with them and their family.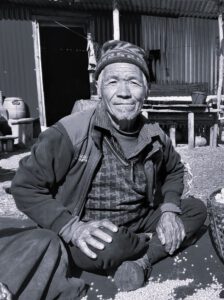 22.02.2023
Amazon discontinues support for charitable organizations trough AmazonSmile program
Unfortunately the support we have been receiving through AmazonSmile ended on February 20th, which applies to tens of thousands of other associations as well since Amazon has terminated the program.
We are hoping online buyers will furthermore be supporting us, perhaps by using the donation platform GOODING? We have been registered with GOODING for a long time as well. More than 2000 shops are continuously helping to sustain non-profit organizations via shopping bonuses – a good reason not to buy at Amazon only.
Through the following link you may proceed directly to our GOODING page and will be able to support us without additional charge with your online purchase:
https://www.gooding.de/tibet-tshoesem-e-v-62803
Click "Einkaufen", choose your favorite shop and get started…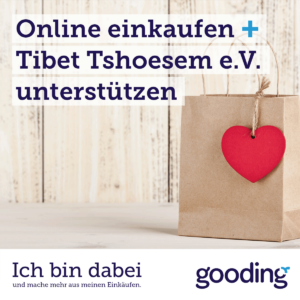 21.02.2023
Tibetan New Year
Today Tibetans all over the world are celebrating Losar, the Tibetan New Year. The coming year 2150 is characterized by the zodiac animal rabbit and element water. Geshe Sonam Wangchen and his team in Kathmandu as well as the head of Tse Chokling Monastery, Sonam Nyandak, have sent their Losar greetings. We too want to wish all our Tibetan friends, staff members and supporters a wonderful, happy and healthy New Year!
May all beings be happy and freed from suffering!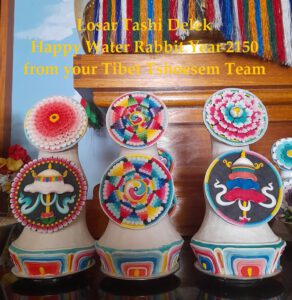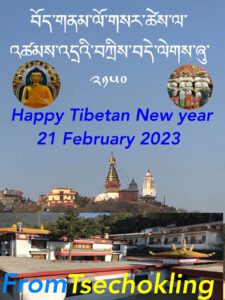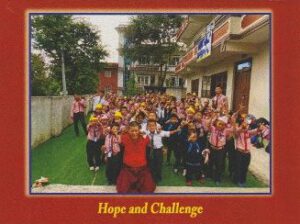 20.02.2023
Sponsorship etsablished for the nun Lobsang Palmo in Dharamsala
Almost two weeks ago we told about the 62 year old Tibetan nun Lobsang Palmo who comes from remote Zanskhar, where she lived at a nunnery for 30 years. Seven years ago she came to Dharamsala. Now she has found a sponsor who will secure Ani La's food and medical supply with his monthly contribution. We are very grateful to him and want to thank him for this valuable support
from the bottom of our hearts.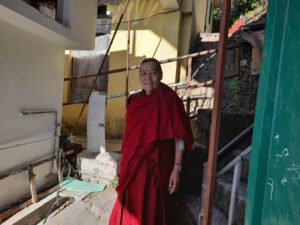 15.02.2023
Sad news from Briddhim
Today we received very sad news from Briddhim. Dechen had suddenly felt unwell since this morning, another abdominal haemorrhage occurred and there was not even enough time left to take him to hospital – he died about noon. To the family this came somewhat surprising because he had previously begun to feel much better. It seems the treatment at the hospital came too late after all.
Our thoughts and prayers are with the grieving family. To ease at least their financial concerns we will keep collecting donations to cover the hospital treatment which is not yet payed for.
14.02.2023
New partial school sponsorship in Briddhim
7 year old Sarjo is the youngest of three siblings. Suresh and Pratima (12 and 9 years old, second picture) have been supported by sponsorship for a while and enrolled for school in December 2020. Sarjo is still living with his parents Sangmo (31 years) and Lhakpa (34 years) in the small village of Mentok Gan near Briddhim. The family is very poor; particularly burdening for their situation is the
father's disability since birth: he can barely walk and is unable to work. It has always been difficult for the children's mother to properly feed them and so the family was very happy about obtaining sponsorship for the elder children. They are well cared for at the boarding school and are receiving a school education their parents would never be able to afford.
Now Sarjo has finally found a sponsorship as well, however it is only partial. In order for him to be able to attend school he needs a second partial one. In case an additional sponsorship is found soon he could be enrolled for school in April.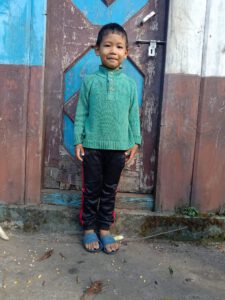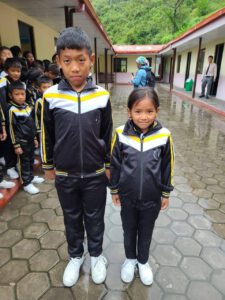 12.02.2023
Further donations needed for Dechen in Lingling
In late January we reported about 57 year old Dechen from Lingling. He was diagnosed with advanced liver cirrhosis and received medication for treatment. Then however gastric bleeding occurred, his abdomen and legs swelled up with excess liquid. Therefore Dechen had to be treated at another hospital in Kathmandu and is now in better condition. He could be discharged after a few days and is now at home, where his wife and son are caring for him.
The total amount for treatment, including the medication he will have to take for some time, adds up to 760 Euros. We received 180 Euros worth of donations so far and are hopeful to also gather the sum still lacking by the time we complete our next money transfer to Briddhim in early April.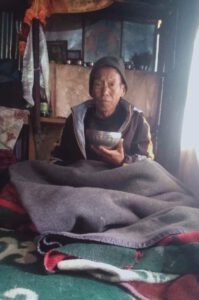 11.02.2023
New school sponsorships in Briddhim
Thanks to several sponsorships we were able to enroll 12 year old Soyana along with her younger brothers Semon and Siman at Gosaikunda School in December of 2020. Her family is among the poorest in the region. Their mother passed away a number of years ago and the father was hardly able to feed his kids. Unfortunately Soyana had lost part of her sponsor support, in the meantime we managed to cover the missing amount by means of extra donations. Now she has found another shared sponsorship, thus her school education will be secured further on.
On top of this 8 year old Tseyang Butti and her 6 year old brother Sonam Tashi have also found sponsorships. Their 7 year old cousin Palmo, who is also living with the family, acquired a sponsorship a while ago already. Now the children are happy to start school together in April. These children will also be well provided for which eases some of the parent's worries.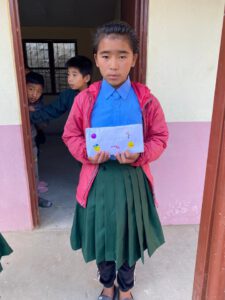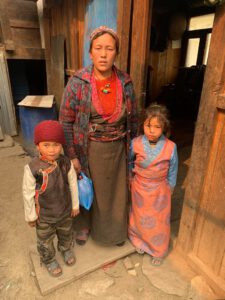 08.02.2023
New needy people for our Dharamsala sponsorship program
When Nyima went to visit the people we support with sponsorships and relief aid in Dharamsala in December his attention was called to further persons in need who would be eligible for our sponsorship program. The plea concerns two elderly Tibetan women who require help with basic supplies.
Lobsang Palmo is a 62 year old nun, who was born in the remote Himalayan region of Zanskhar in Ladakh. For 30 years she lived in a nunnery before arriving in Dharamsala 7 years ago. Her dwelling there is very simple. An acquaintance is covering the rent for the damp, drafty room as Ani la is completely destitute. The walls are poorly plastered. Gaps between walls and ceiling are stuffed with plastic tarp. Because of the cold and damp Ani Lobsang Palmo is suffering from Rheumatism and needs medication, totaling to about 10 Euros a month. In order to support her with the means for basic supply with food and medication 50 Euros a month are required.
The 70 year old Tibetan exile Dolma Lhamo has been living in McLeod Ganj since 2004. Initially she and her husband, originally also from Kham in East Tibet, had found help in a refugee camp and occasional work as well. But Dolma's husband died 5 years ago after a severe accident from which he did not recover. Next the Covid pandemic happened and Dolma found herself with no income at
all. A Lama in Dharamsala helped her with donations and was able to set up a sponsorship to secure the rent. Dolma has been suffering from Rheumatism in the legs for a while and is now too old to work. To cover the cost of food 40 Euros a month are necessary.
Of course partial sponsorships are also possible for both women. Further pictures and information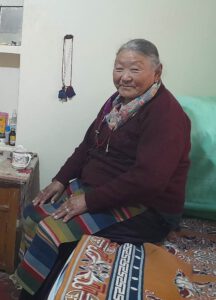 06.02.2023
Complete sponsorship for Rabhi and Dawa
A few days ago we reported about this elderly Briddhim couple in need of an additional shared sponsorship to supply basic needs. Immediately we were contacted by a second sponsor. Thus the two are now well set and are very pleased about the support. Thank you.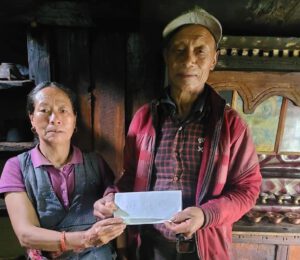 03.02.2023
Further support needed for ill Palmo in Briddhim
​
Palmo Tamang is 53 years old and was widowed for 16 years ago. All of her 3 grown children are unable to support her. During the heavy earthquake in 2015 Palmo's house was completely destroyed. We assisted with the reconstruction.
Some time ago Palmo's health condition deteriorated. She was diagnosed with high blood pressure, diabetes and hepatitis. On top of that Palmo frequently suffers migraine attacks. To support her basic needs we established a sponsorship in November 2021. Thanks to better medical care she no longer has to deal with open wounds on her hands, which had been related to the diabetes. She recently went for a medical checkup at the Kathmandu hospital and was prescribed new medication for the next 6 months.
Palmo's current sponsorship amount of 20 Euros covers half of the monthly medication. She had to borrow money in order to pay for the urgently needed prescriptions and so we are in search of a second sponsor to help her buy the remedy. If you are willing to support Palmo with a shared sponsorship of 20 Euros a month please send us an E-mail. Meanwhile single donations would also be of great help.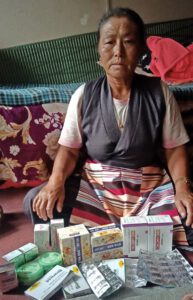 02.02.2023
Partial sponsorship for a couple in Briddhim
Dawa (picture one, with our staff member Nyima, who visited the two during his project trip last December) is 69 years old, his wife Rhabi is 58. They both live in Briddhim and have a son, who along with his wife and child lives in Briddhim as well. However he is unable to support his parents. The couple is very poor and only through the cultivation of vegetables they manage to provide for themselves somehow. The work in the field is difficult for these elderly people and there is no money for clothing, medication or other daily needs. To ease their hard life somewhat and secure a basic supply they are in need of our help. For a long time, though, we had searched for a sponsor in vain.
Starting this month the two have a partial sponsorship. Another sponsor is still needed in order to complete the necessary amount of 30 Euros a month to fully support Dawa and Rhabi. If you would like to assist them with 15 Euros a month please send us an E-mail.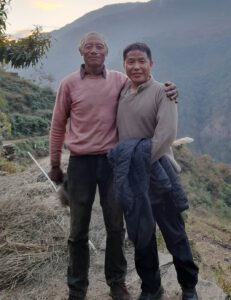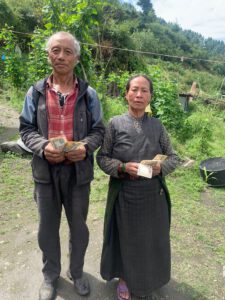 01.02.2023
Donation hand over in Briddhim
On December 4th we posted an update on our 3rd transfer of donations to Briddhim in 2022. The delivery had to be postponed unfortunately, but in the meantime most of the amount has been distributed. Our staff member Lhamo spent the past month in Kathmandu for private reasons and so Paljor took on the task of dispensing the donations on his own.
All recipients were once again very delighted and appreciate the help a lot. Losar, the Tibetan New Year, is coming up, everyone likes to purchase food products and in some cases also new clothes for the holiday. We were able to transfer 25.763 Euros altogether to Briddhim this time. The major part had been contributed to cover school fees and uniforms. An additional 5.351 Euros were collected
for 54 more recipients: elderly people and families, medical emergencies (Chyangba Rani, Gyalsang and Tsering Palmo), the house building project of Pempa and Kanchi in Khangjim, as well as our local staff members. These donations will support the people in need, thus being able to buy food, medication and also clothing, which they would not be able to afford otherwise. On
behalf of them all we express our gratitude to the sponsors and supporters wholeheartedly.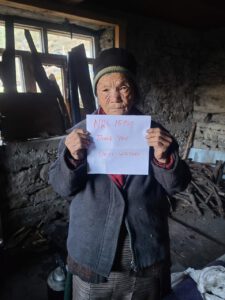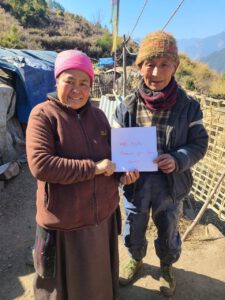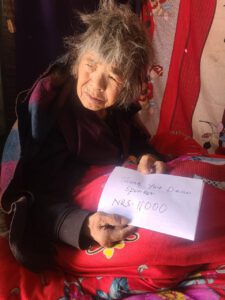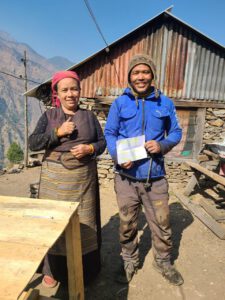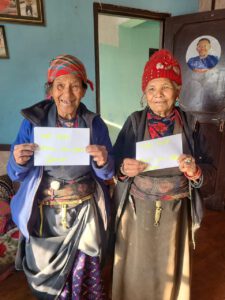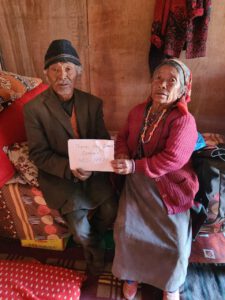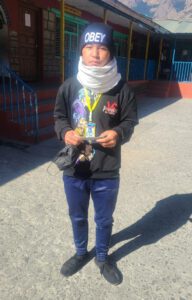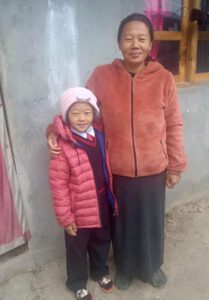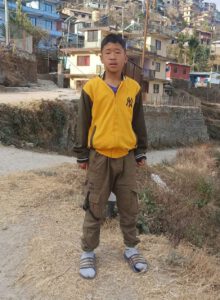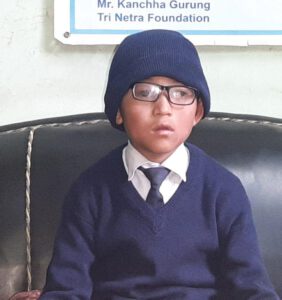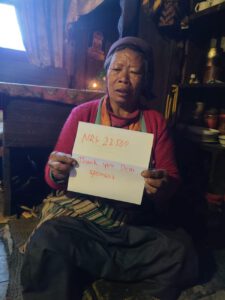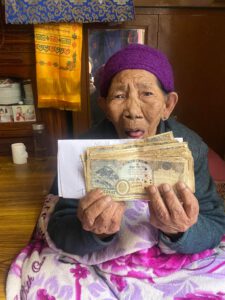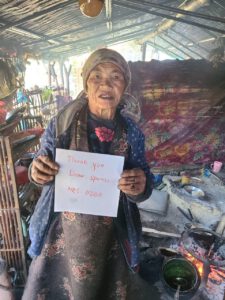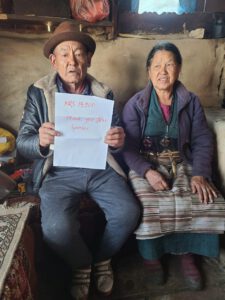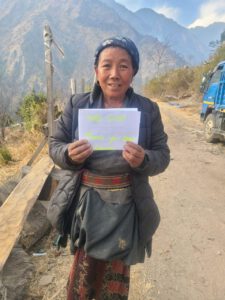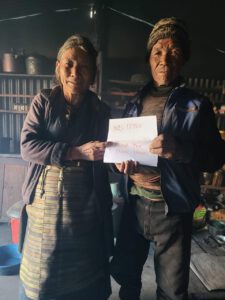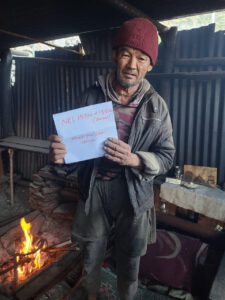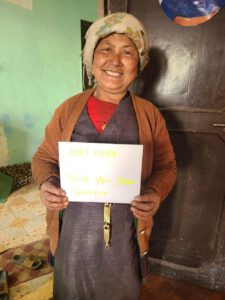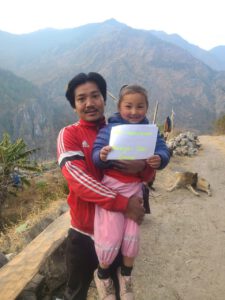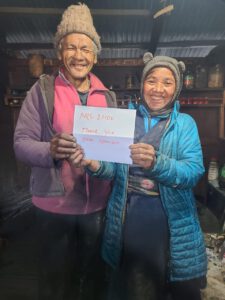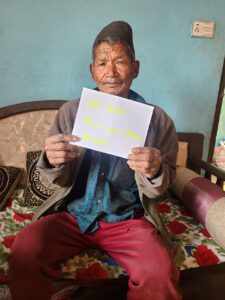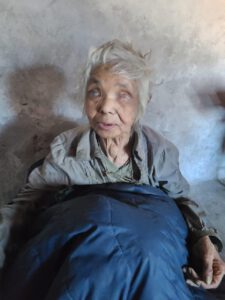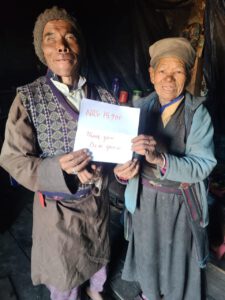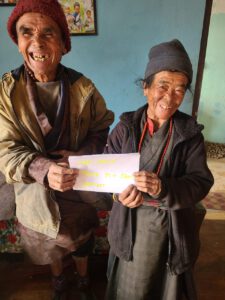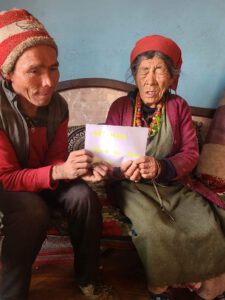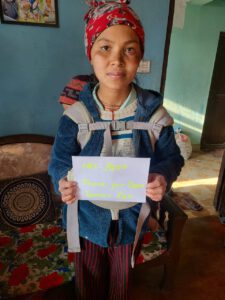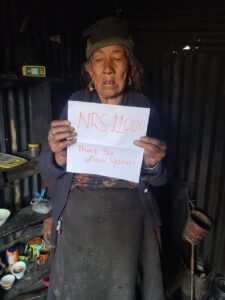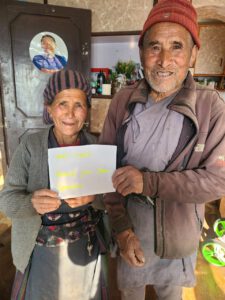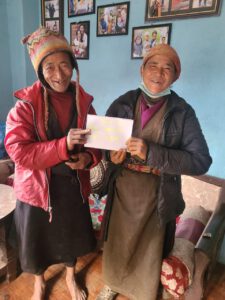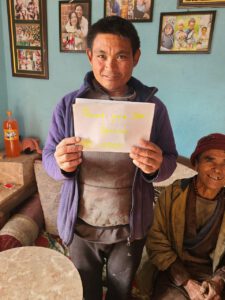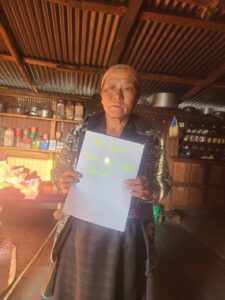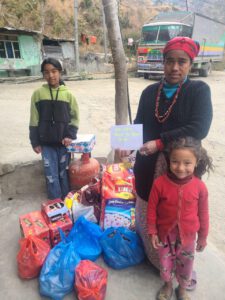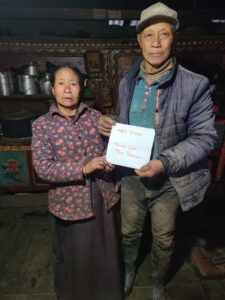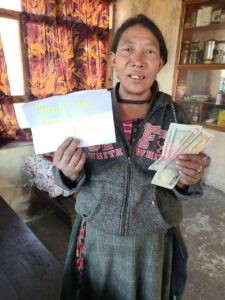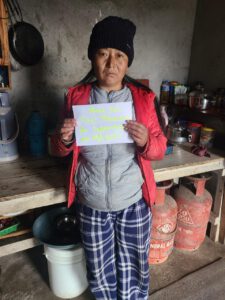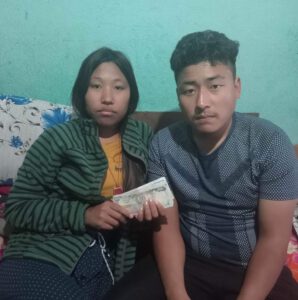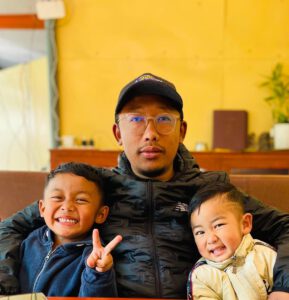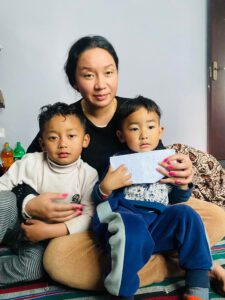 28.01.2023
Finally: sponsorship for ill Pema Ongden in Dharamsala
We searched for more than one year to acquire a sponsor for the 27 year old Tibetan woman Pema from Sikkim, who lives on her own in Mcleod Ganj (Upper Dharamsala). Up until now we only managed to support her with single donations. Pema is incapable to provide for herself since she has been suffering from epilepsy since her youth. Several times she was examined at the hospital and is
receiving medication now, however due to the still uncontrollable occurence of seizures people shy away from her, thus she is not able to secure her living by means of work. Thanks to her new sponsorship Pema will now be in the position to cover the rent for her small room (63 Euros) as well as food supplies (40 Euros monthly) and finance her medication. She no longer has to worry about ending up in the street and can focus on her medical treatment. Pema is very grateful and happy about this support.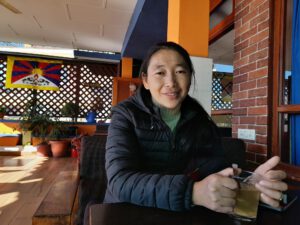 27.01.2023
New residents at the elderly caring home in Kathmandu
Three new residents have been living at Metta Nepal Elderly Caring Home in Kathmandu since the end of last year. 88 year old Pasang Gurung is suffering from a fragile mental condition. 46 year old Tseten Norgyal was addicted to alcohol and treated at several rehab
centres for years. Bom Bahadur, 62 years old, suffered a stroke a few years ago. All three of them would be unable to fend for themselves and depend on help and care, which they are now receiving at the caring home. We are in search of donors to support their needs with 25 Euros a month. Out of this amount 15 Euros would be applied to cover medical needs and held by the home management. The additional 10 Euros for personal necessities are required for extra food, clothing and other items of daily use and are paid out to the residents.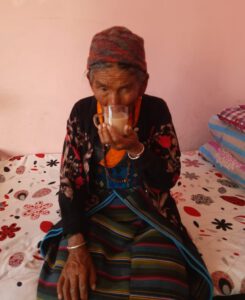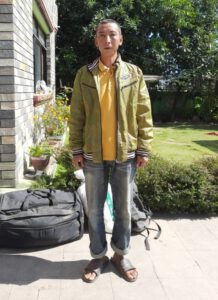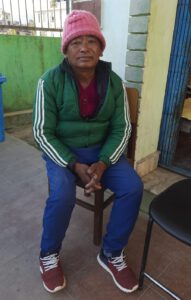 26.01.2023
Relief action for sick Dechen from Lingling
57 year old Dechen lives in Lingling (Briddhim) along with his wife Ngacho. He is the grandfather of two children who could be enrolled for school thanks to sponsorship. Dechen has suffered from increasing abdominal pain and fatigue for the past six months. Therefore he presented himself at a Kathmandu hospital for an exam in December of 2022. He was diagnosed with advanced liver cyrosis. Consequentially he was prescribed medication and advised to abstain from alcohol. The treatment was made possible by the financial support one of our sponsors offered.
Subsequently he was in better condition. However due to gastric bleeding his condition deteriorated once again: liver values increased rapidly, his skin turned yellow, legs swelled up, ascites occurred. So his family took him to hospital once again, this time to a private one with a very good reputation. The gastric bleeding could be stanched there by means of endoscopy, injections of a local anesthetic and releasing the abdominal fluid. In addition an antibiotic and human albumin were administered. His regular medication was adjusted accordingly.
So far the treatment has shown to be successful. Dechen is much better so that he may soon be discharged from hospital. However the family is unable to finance this costly procedure and we would like to provide financial support through donations. The large amount of 1.000 Euros is required altogether. Contributions may be submitted to our Betterplace project
http://betterplace.org/p56977
directly to our association's account.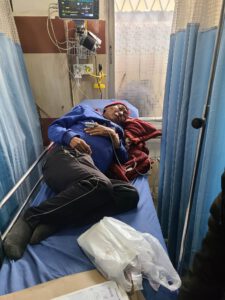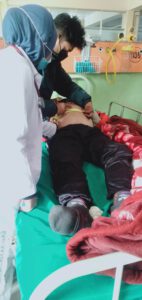 24.01.2022
Opening of our Tibet Tshoesem Webshop
Items may now be placed directly into the shopping cart, different payment options are available. Shipping within Germany is free of extra charge.
The goods are manufactured by local tailors in Nepal and India. All products are handmade, therefore frequently only avaialable in low quantity. We aim to regularly top up our supplies with similar items. 100% of the proceeds go to our projects.
We hope you enjoy browsing and shopping for the good cause!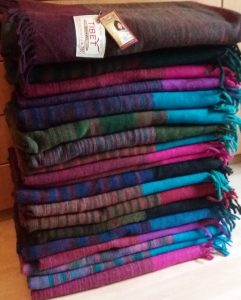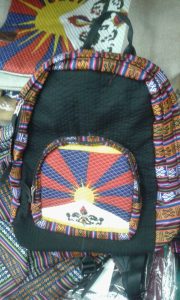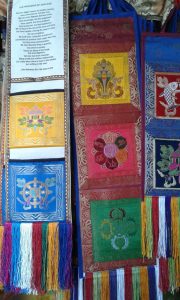 18.01.2023
Project trip to India and Nepal completed after two months
The last section of our travel which was spent in Kathmandu was filled with moving encounters as well. We visited the children's
Dickyi Tsering Home and Metta Nepal Elderly Caring Home there. New inhabitants have moved into both institutions. We will introduce them on our website shortly and start the search for sponsors. We also visited those people in need who are being supported by sponsorships or extra donations: Rabina and daughter Binu, Anjana and her daughters Aruhi and Kushi, Khartok and daughter
Kareena, Rujal and his parents from Chitwan, as well as the nun Lobsang Palzom, who is caring for her ill brother.
We were particularly pleased to meet Geshe Sonam Wangchen in Bodhgaya, in Delhi and once again in Kathmandu. His staff members Tsewang and Tenzin Seldon accompanied us to both the children's and the elderly homes. In the course of a fruitful exchange we discussed ideas of new aid projects which will be introduced before long.
​Our staff members Lhamo and Paljor as well as Gosainkunda English Boarding School principal Raju Lama had also come from Briddhim to meet us. So we were able to plan further relief activities with them.
In Bodhgaya where we spent a few days for a teaching of the Dalai Lama in late December we also met monks from Tse Chokling and other nuns and monks from Dharamsala, whom we have been supporting with sponsorships. These were heartfelt reunions.
It was a great trip altogether, with wonderful encounters, once again showing the meaning of personal contact to the people we are supporting as well as the staff there. We all felt a deep connection further motivating us to strive for a joint effort for the benefit of the people on site.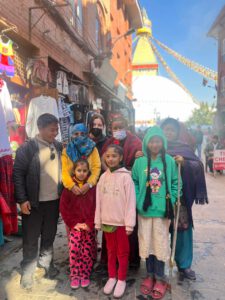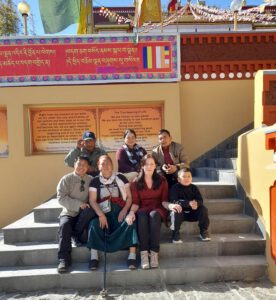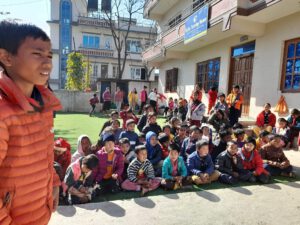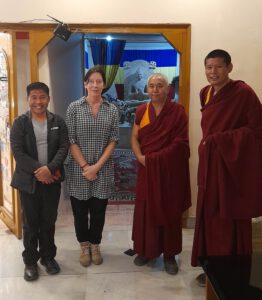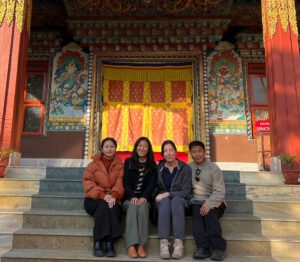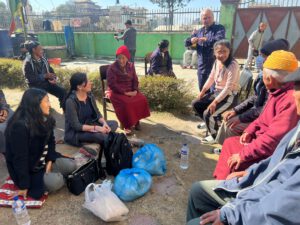 *************************************************************************