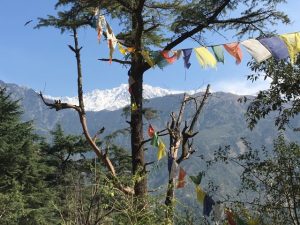 News
On this page we are regularly publishung update information about new aid projects and news from India and Nepal:
29.09.2022
Rakesh Tamang auf dem Weg der Besserung
Dilbahadur, Rakesh Onkel, konnte seinem Neffen und dessen Familie heute von dem gespendeten Betrag nochmals Lebensmittel kaufen und hat Rakesh auch etwas Geld in bar überreicht. Alle haben sich sehr darüber gefreut. Rakesh geht es bereits viel besser. Nach dem Check-Up im Krankenhaus Mitte des Monats konnte er den Feldweg von der Straße zum Haus bereits auf den Krücken alleine laufen. Er und seine Familie sind sehr glücklich darüber.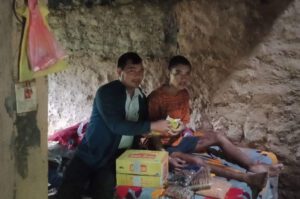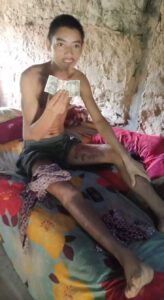 26.09.2022
Neue Sonderhilfsaktion für den kranken Gyalsang Tamang aus Lingling
Der 43-jährige Gyalsang ist der Vater der beiden Jungen Sanu und Shakti, die beide bei uns Patenschaften haben. Tsachu, Gyalsangs Frau, ist im Sommer nach Indien gezogen und plant von dort weiter in ein anderes Land zu gehen, um Geld zu verdienen.
Seit Mitte August geht es Gyalsang nicht gut, doch leider haben wir erst kürzlich von seinem Zustand erfahren. Vor einem Monat war Gyalsang nach Dhunche gefahren, um sich von einem Arzt untersuchen lassen, da er sich schlapp fühlte und sein Bauch angeschwollenen war. Der Arzt stellte Gelbsucht fest und vermutete eine akute Leberentzündung bei einem chronischen Alkoholkonsum. Er verschrieb ihm Medikamente und bat ihn sich zur weiteren Diagnostik schnell nach Kathmandu zu begeben. Zur Differenzierung, ob es sich um eine akute oder bereits chronische Leberschädigung handelt, benötigt Gyalsang einen Ultraschall der Leber und Labordiagnostik.
Da die Familie sehr arm ist und Gyalsang das Geld für die Fahrt und die Behandlung in Kathmandu nicht hat, hoffte er, dass sich sein Zustand durch den Verzicht von Alkohol und die Einnahme der Vitamine bessern würde, doch die Beschwerden sind schlimmer geworden. Als unsere Mitarbeiter ihn zufällig sahen, erschraken sie und informierten uns mit der Bitte zu helfen. Gyalsangs Bauch ist weiter angeschwollen und er ist sehr schläfrig. Sollte bereits eine chronische Schädigung in Form einer Leberzirrhose bestehen, benötigt Gyalsang dringend Medikamente. Wichtig ist jedoch auch eine zügige Einleitung der Diagnostik und Therapie, um Gyalsangs Überlebenschancen zu verbessern, denn unbehandelt wird sich rasch eine Verschlechterung seines Zustandes einstellen, die zum Tode führen kann.
Im Dorf konnte man ein Fahrzeug organisieren und ein Verwandter hat Gyalsang heute nach Kathmandu ins Krankenhaus gebracht, wo er sich nun im Kathmandu Medical College Hospital befindet. Unsere Mitarbeiter haben für den ersten Check-Up 70.000 NPR (knapp 600 Euro) geliehen und Gyalsang mitgegeben, da im Krankenhaus sofort ein erster Betrag hinterlegt werden muss. Erste Untersuchungsergebnisse werden wir voraussichtlich morgen erhalten.
Die Kosten werden wohl noch höher sein und so möchten wir versuchen zunächst 500 Euro zu sammeln und diese in einer Sonderüberweisung nach Briddhim senden, um der Familie in dieser Notsituation wenigstens die finanziellen Sorgen zu nehmen und damit Gyalsang behandelt werden kann. Auf unserer Webseite werden wir regeläßige Updates zu Gyalsangs Zustand und der Hilfsaktion veröffentlichen: https://www.tibet-tshoesem.de/sonder-hilfsaktionen-3/
Spenden werden am schnellsten auf unserem Vereinskonto verzeichnet, doch wie immer ist auch das online-Spenden über unser Betterplace-Projekt möglich: http://betterplace.org/p56977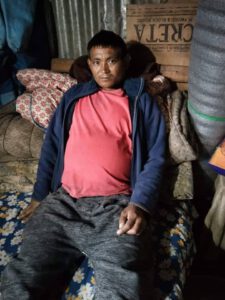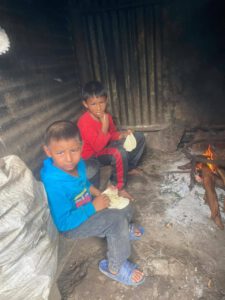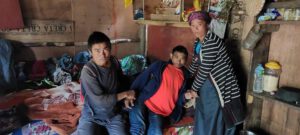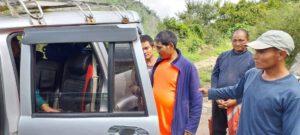 25.09.2022
Newsletter "Herbst 2022"
Gerade ist unser aktueller Newsletter "Herbst 2022" erschienen, den Sie hier einsehen können: Newsletter Herbst 2022
Viel Freude beim Lesen!
24.09.2022
Neue Schul-Patenschaften in Briddhim
Gleich zwei Kinder – der 6-jährige Devendra aus Daal und der 5-jährige Rajan aus Karabari – haben eine Schul-Patin gefunden, dank deren Unterstützung die beiden im kommenden Dezember in der Gosainkunda English Boarding School in Syabrubesi eingeschult werden können. Die Jungen stammen aus armen Familien und wurden bisher von ihren alleinerziehenden Müttern groß gezogen.
Rajan hat eine 7-jährige Schwester, Sara (Foto 3), die mit Hilfe einer Patenschaft bereits vor knapp zwei Jahren eingeschult werden konnte, doch letztes Frühjahr hat einen Teil ihrer Unterstützung verloren und benötigt nun dringend eine neue Teil-Patenschaft von 30 Euro montlich, damit sie weiter auf die Schule gehen kann. Bisher konnten wir die fehlenden Gebühren decken, doch wir hoffen, dass sie bald wieder volle Unterstützung findet. Es wäre schön, wenn die Geschwister gemeinsam in der Schule leben und lernen könnten. Für beide Kinder benötigen wir nun noch Spenden für die einmalige Einschulungsgebühr von je 160 Euro.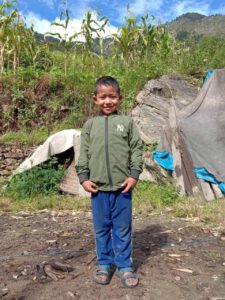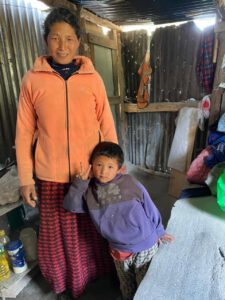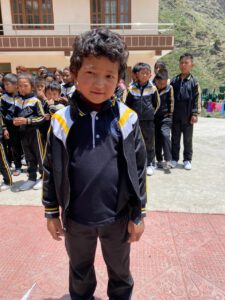 23.09.2022
18.09.2022
New resident at Metta Nepal Elderly Caring Home
A few days ago Ani Pema moved into the Caring Home in Kathmandu. She is 81 years old and was born in Dhingri Ganga, South Tibet. She became a nun as a child already and fled to Nepal in 1980 where she has lived at Kargu Nunnery in Pharping until recently. Pema's only living relative is also a nun and even 86 years old. Pema's health condition has become instable with time. She frequently forgets things and is in need of care now. Since she has no relatives who might be able to take care of Ani la she was admitted to the Home in early September 2022, where she Is now well taken care of.
We are hoping to soon find a sponsor for her, too, someone who could support her with 25 Euros or
a partial sponsorship for her basic medical care.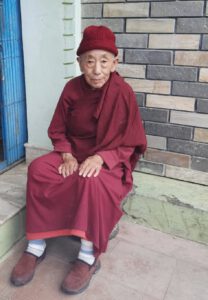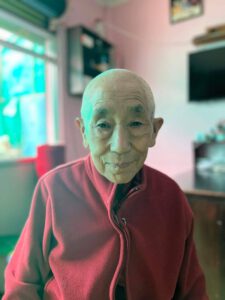 13.09.2022
Donation handover in Kathmandu
One month after transferring the second donation amount of the year to Kathmandu we were able to finally complete the handover. In this case transfer as well as delivery were unfortunately delayed as well.
For six recipients – 3 families (Rabani and daughter Binu, Anjana and daughters Aruhi and Kushi, Khartok and daughter Kareena) and 3 nuns (Tenzin Choeden, Ngawang Mentok and Lobsang Palzom with her ill brother Tenzin Kunkyab) in Kathmandu 2.520 Euros had been collected altogether.
The Metta Nepal Elderly Caring Home has also received its donations. We could remit 430 Euros there. Of this sum 150 Euros for 2 residents (Jangchub Gelek und Chiri) had been acquired through sponsorship, 200 Euros for medical treatment of 2 other residents plus 80 Euros were general donations for the institution.
All recipients are very grateful for the support, thanks to which they are able to cover rent, school fees of children, food supplies, clothing and medication needs.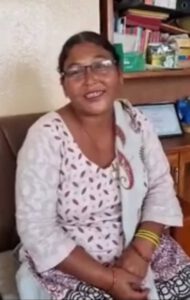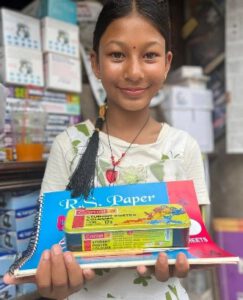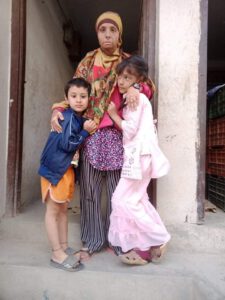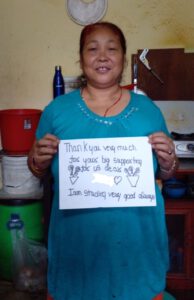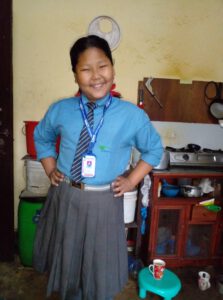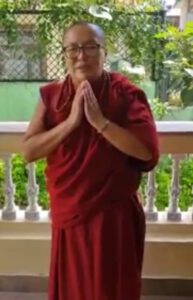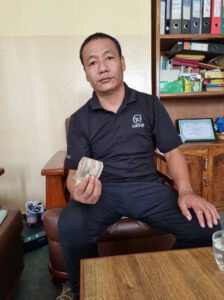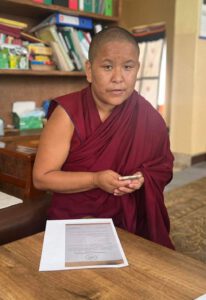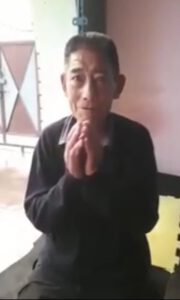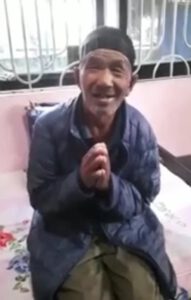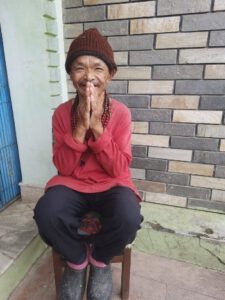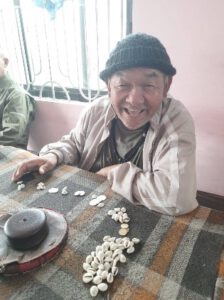 05.09.2022
Donations handed over for house building project in Khangjim
Within the amount of donations transferred to Briddhim we had once again included a sum to support Pempa's and Kanchi's house building project in Khangjim. With our birthday fundraising in July we had collected for this project among others and a few days ago Lhamo and Paljor could submit 1000 Euros. Both Pempa and Kanchi were very glad about it.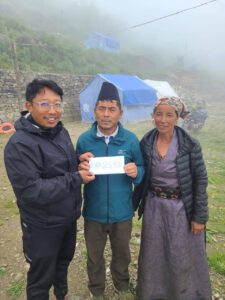 03.09.2022
Donation handover in Briddhim
It's time again: the current donations have been delivered almost completely in Briddhim. A few recipients are still missing, who will be handed their sum by mid-September at the latest. For the second annual third we were able to transfer 26.601 Euros to Briddhim altogether, consisting of the following amounts:
– 18.356 Euros school fees for the children at Gosainkunda English Boarding School (boarding + daily, of which 900
Euros as part of the extra fund provided by Stefan Ziegler and Peter Baumeister)
– 4.308 Euros donations for elderly people, families and students at other schools
– 150 Euros for people without sponsorship
– 100 Euros extra donation for Manmaya, mother of Behban, Romi and Jessica
– 1.300 Euros to finance kidney surgery of Chyangba Rani
– 1.000 Euros medical treatment for Rakesh from Chitwan
– 100 Euros extra donation for Reena Tamang from Chitwan
– 1.000 Euros house building project of Pempa + Kanchi
– 287 Euros compensation for expenses advanced by Tenzin Lhamo and Paljor
The people are very thankful for the support and all told us, that due to this support their life quality has much changed. In their names we like to thank all sponsors and supporters from the bottom of our hearts for these donations.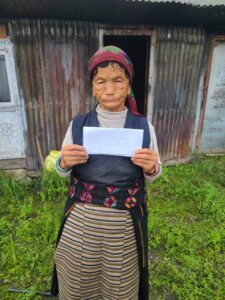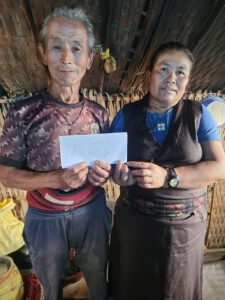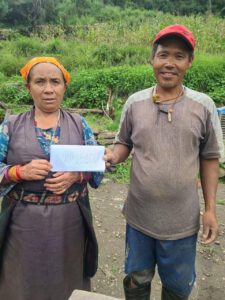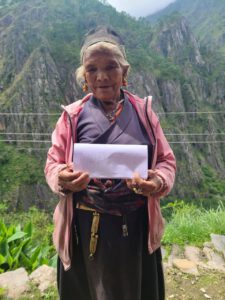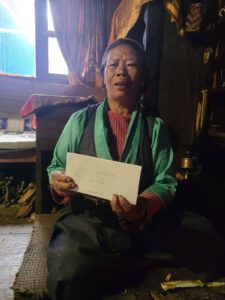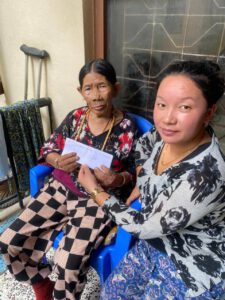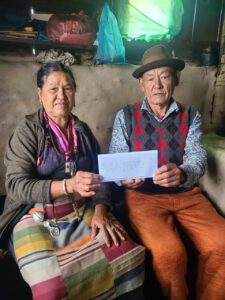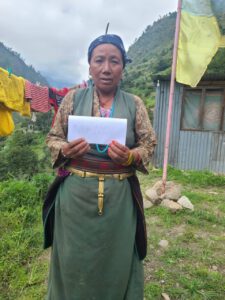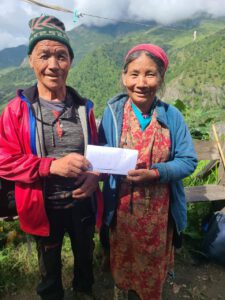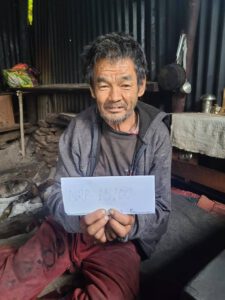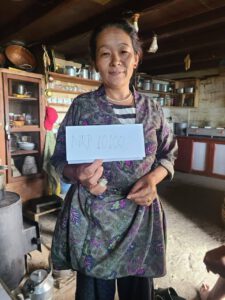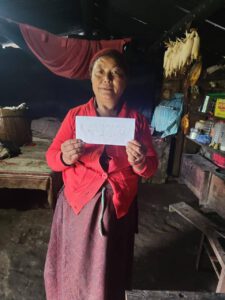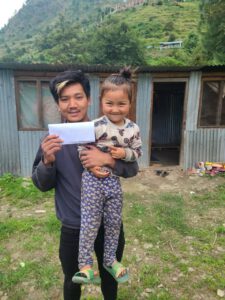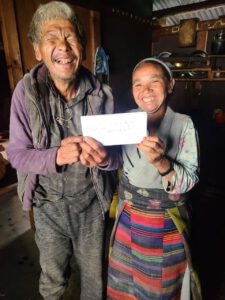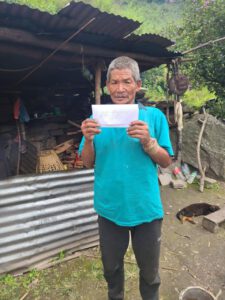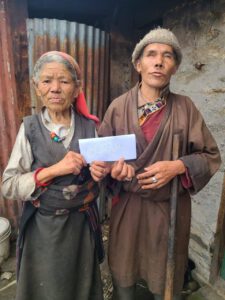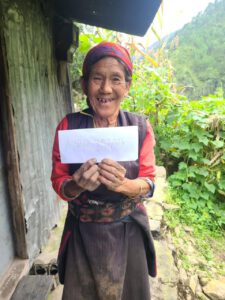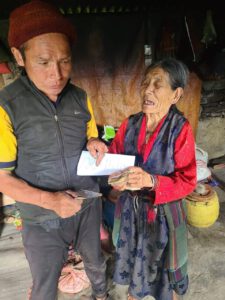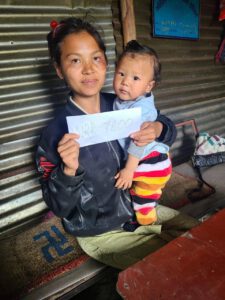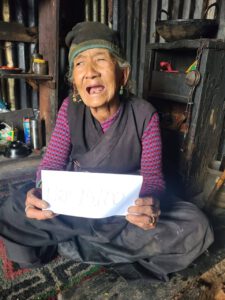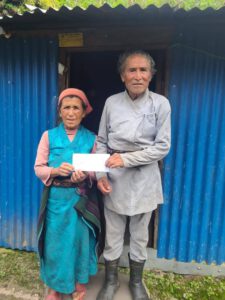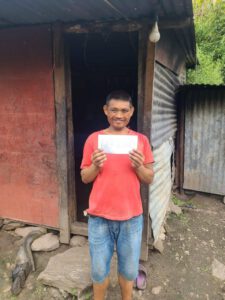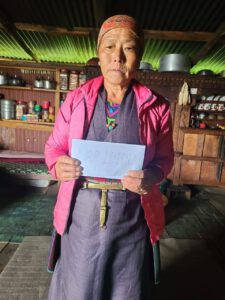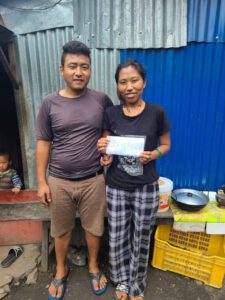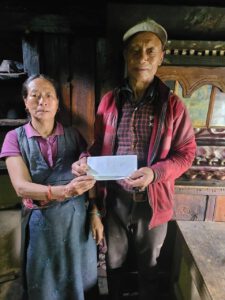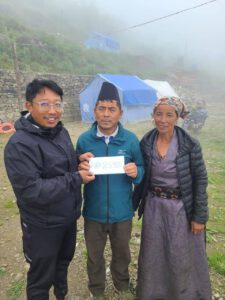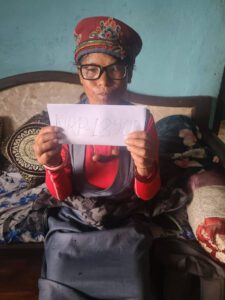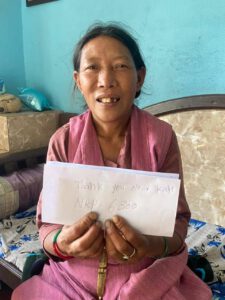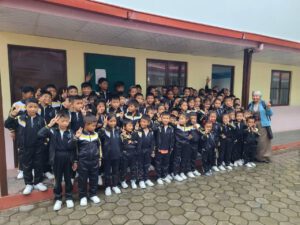 25.08.2022
Additional school sponsorship needed for little Tenzin Tharchin in Dharamsala
5 year-old Tenzin Tarchin and his parents Tashi Choeden and Tsering have been part of our sponsorship project since spring of 2021. Both parents were born in Tibet and fled to India in 2004. Without a school education they have since had a hard time finding proper work. When we first met the family the parents were not even able to afford their son's preschool fees anymore. The tiny and unstable income was not sufficient for food either.
Tenzin Tarchin has benefitted from a school sponsorship for little over a year now and a few months ago his mother Tashi finally found work as a chambermaid. With the incoming money the family is capable of paying the rent alright however Tashi is hardly at home now and Tsering frequently needs to take care of his ill aunt. Therefore it is planned for Tenzin to transfer to TCV Gopalpur starting from first grade. For working Tibetan parents without relatives in the vicinity this is often the only possibility for it also means a lot to them to have their children study their native language and to grow up in the frame of a Tibetan-Buddhist education. Attending an Indian school would soon alienate them from their own culture. The fee for Tenzin's TCV attendance though would amount to more than double of the current sum.
So the boy is in need of an additional sponsorship of 30 Euros a month. Tenzin's relocation to the TVC would take place by next spring but in case a sponsorship is achieved soon, even if merely a partial one, we could already start saving up school fees.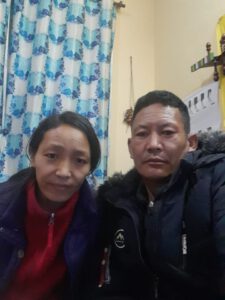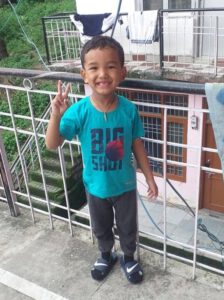 20.08.2022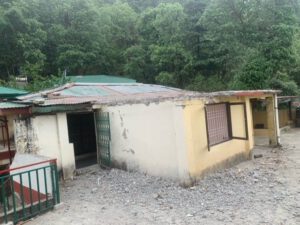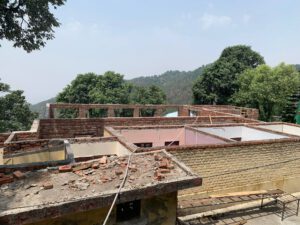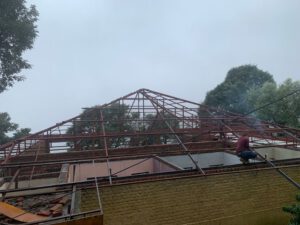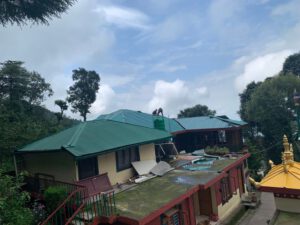 18.08.2022
New sponsorship at Dickyi Tsering Home in Kathmandu
8 year-old Dolma has been living at the children's home for almost one year now. She was born in the remote Dolpo region. Her father left the family when Dolma was an ínfant. Her mother can neither read nor write and without education is unable to find decent work. Her tiny income was not sufficient to provide for her daughter, let alone for affording a school fee.
So Dolma's mother asked for Dolma to be admitted at the children's home. Now the little girl has found a sponsor whose support ensures her getting continuous care and receiving a school education.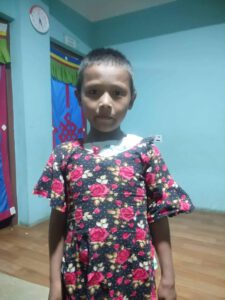 12.08.2022
11.08.2022
New resident at Metta Nepal Elderly Caring Home
On August 8th a new inhabitant, 73 year-old Mingur Tsering from the Northeast-Tibetan region Amdo, moved into the caring home in Kathmandu. He had come to Nepal without his family 35 years ago. His wife is deceased already. In Nepal he was working at a guest house in Jorpati for fouryears. But then he was accused of having stolen things there and had to leave his work. Later he fell ill and has just completed treatment at a rehab clinic. Mingur's health condition is improving but he is still quite weak. Just like the other residents of the caring home Mingur would also be happy about support trough a sponsorship.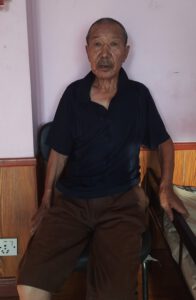 08.08.2022
Chyangba's left kidney was successfully removed
After our donation appeal less than a week ago to support young Chyangba Rani from Lingling (Briddhim) we were able to collect 800 Euros so far to cover expenses for her surgery. Because the first transfer will not arrive sooner than late August, though, our on-site staff have tried to borrow the money in the village last week. The people there are very poor and so this endeavor seemed futile. Those who are abe to lend something are mostly afraid donations would not be raised and they would never receive their money back. In the end Lhamo und Paljor succeeded in winning some supporter's confidence and so Paljor was able to go to Kathmanndu and pay for the surgery
yesterday. The amount to be paid was 128.455 NPR, about 1.020 Euros.
The procedure took place immediately and Chyangba's left kidney was extracted. Everything went well and today she is already to be moved from intensive care to a regular room. We are hoping for her fast recovery. Unfortunately the family is lacking the money for upcoming medication and Chyangba will have to stay in the hospital for another week it seems. Every day costs another 35 Euros. Therefore we will continue to gather donations.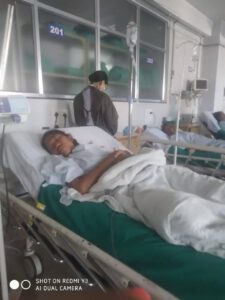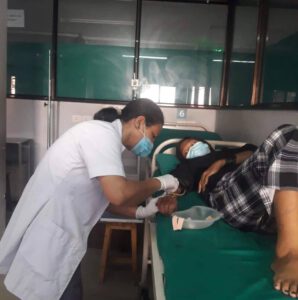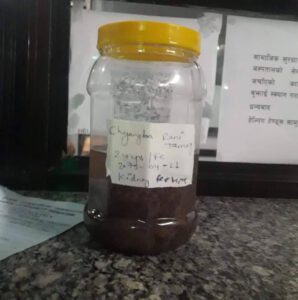 06.08.2022
Rakesh Tamang fianlly returns home after severe injury
Rakesh from the small village of Aappani in the Nepalese Chitwan district had to spend two and a half months at the hospital after falling from a tree while gathering wood and getting critically injured. We had reported about him through our aid campaign. Two days ago Rakesh could fiinally be released from hospital. The doctors had pressed for payment of the bill prior to discharging him and since our first donations have only arrived shortly and the doctors in charge were then unavailable for the conclusive consultation Rakesh unfortuanately had to stay at the clinic much
longer than planned.
He is better but due to the stress and and bad (mal-)nutrition at the clinic he emaciated extremely. He is weak but already able to stand on his own for a short period of time and even to walk a few steps on crutches. Rakesh's left leg cannot be mobilized, yet, and he is in intense pain. The clinic supplied a fee-based ambulance for the journey home. He had to be carried through the jungle and to the family cottage in a sheet.
After substracting a discount the total treatment cost amounts to around 5.000 Euros. Thanks to a first donation sum of 2.480 Euros and additional contributions, Reena und Dilbahadur – who is Rakesh's uncle – were able to gather on-site there is now an uncovered balance of 400 Euros remaining, which will become due at the frst check-up coming up at the clinic in two weeks.
Futhermore extra costs will arise to pay for new medication and monthly check-ups. Moreover the family is in urgent need of support with their daily needs due to Rakesh's disablement. For this purpose we have collected further donations. The family is very grateful for all the help.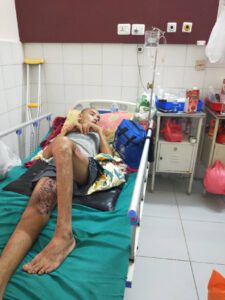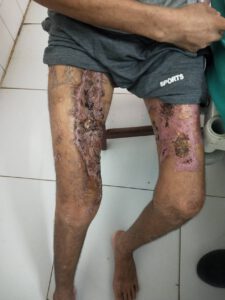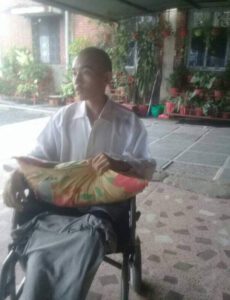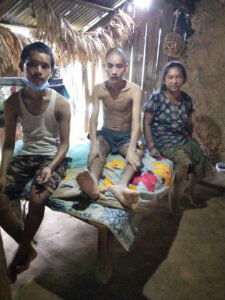 05.08.2022
Finally first partial sponsorship for the ill nun Tsewang Yangdol in Dharamsala as well
38 year-old Tsewang Yangdol is a Tibetan nun from Ladakh. She has been paralyzed on her left side since chldhood, most likely as a result of poliomyelitis. At the age of 30 she decided to become a nun and went to Namdroling Nyingmapa Monastery in Bylakuppe, Southern India, where she lived until 2017.
As she did not tolerate the humid climate in the South too well she became ailing and was unable to fulfill her tasks at the nunnery. Tsewang decided to return to her family in Ladakh. For the past year, though, she has been living in Mcleod Ganj, where she is feeling altogether better. The cold in Ladakh increasingly gave rise to pain in her legs. For several years Tsewang has also been suffering from gastritis, due to which she has to go to Delhi for treatment regularly.
Because her family is unable to financially support her anymore and Tsweang is without means we had admitted Ani
la to our sponsorship program a few months ago. The small room in Mcleod Ganj amounts to about 40 Euros. She would like to learn English and Chinese in order to go to Bodhgaya during the cold winter months, as many nuns and monks do to teach Chinese and other Buddhist pilgrims. This way she could earn her living and would no longer depend on donations but for the time being she is in need of support. Now Ani la has found a first partial sponsorship of 10 Euros a month and we are hoping to soon find extra sponsors for her in order to cover her remaining necessities of 90 Euros.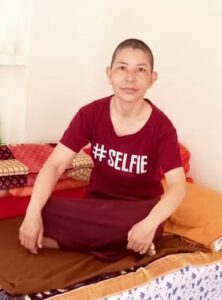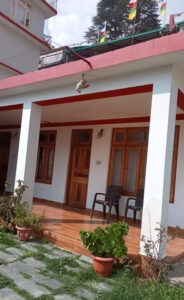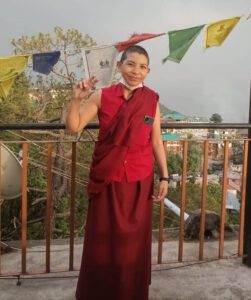 03.08.2022
First partial sponsorship for the nun Lobsang Palzom and her critically ill brother in Kathmandu
Lobsang Palzom is a 34 year-old Tibetan nun, originately from the Himalayan Tsum Valley region. As a child she came to Kopan Monastery in Kathmandu to become a nun however had to leave a few years ago in order to care for her ill younger brother Tenzin Kunkyab. Years ago he had come into contact with drugs and had started to consume.
He spent two and a half years with Geshe Sonam Wangchen's rehabilitation program and was then released "clean".
A few months later, though, he relapsed and yet again entered rehab treatment. Due to the addiction he is severely ill. Tenzin Kunkyab's health condition and mental state are poor and his sister has to bear the costs for treatment and medication. This way she is hardly able to focus on her Buddhist studies. Just recently Tenzin Kunkyab's condition has deteriorated to a degree that he had to be hospitalized at a psychiatric detoxification centre. Meanwhile Ani Lobsang Palzom is earning enough for food and rent by making butter lamps but she is in need of our support to cover the high clinic expenses, monthly amounting to 75 Euros, which so far she has to come up with on her own.
For years we have been supporting the siblings with extra donations and today a first partial sponsorship of 10 Euros has come about for the two of them but they are in urgent need of additional help.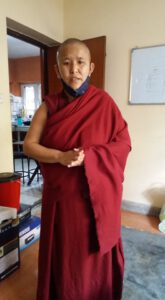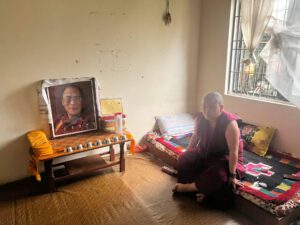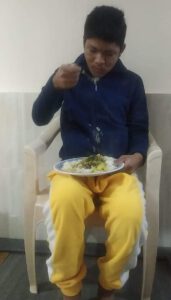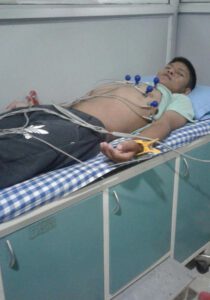 02.08.2022
Urgent donations needed for Chyangba Rani from Lingling with kidney failure
24 year-old Chyangba Rani gave birth prematurely at only 30 weeks of gestation. As the child was suffering from oxygen deficiency doctors in Trishuli directed the parents to seek intensive care in Kathmandu immediately. However the journey there is far and the baby died on the way. Another son of Chyangba and her husband Kancha had also died shortly after birth.
As if this was not enough Chyangba's health problems are continuing. In the middle of her pregnancy she developed kidney problems which is why a catheter was implanted. She has been at Helping Hands Community Hospital in Kathmandu for the past week because her kidney is ceasing to function altogether. Doctor's had advised urgent surgery in order to remove the diseased kidney.
But the family has run out of money. Kancha had various changing jobs as an unskilled worker but this yielded hardly enough to feed the family. The family father is in despair because the money saved for his wife's treatment is used up and friends or relatives are unable to help. The removal of the affected kidney would amount to about 900 Euros. Plus additional costs for the hospital stay, meals and medication are to be expected. So we are estimating the total cost to sum up to around 2000 Euros. For the time being we would like to try and finance at least the surgery. This essential medical intervention could be carried out for 1.000 Euros. With this amount a few additional costs could also be covered.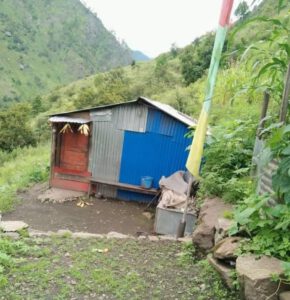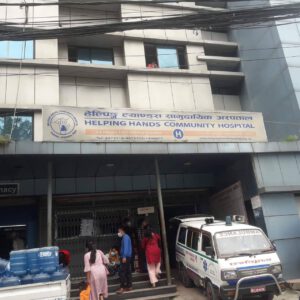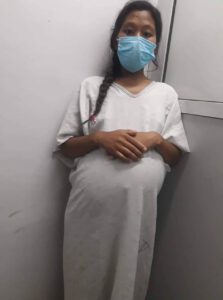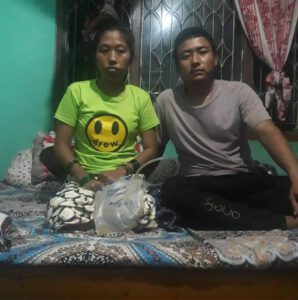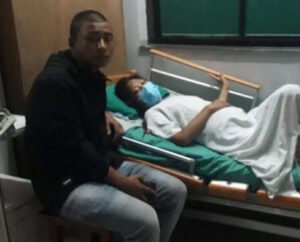 30.07.2022
New sponsors needed for siblings at our Children's Home
The siblings Samjana und Sagar had moved to Dickyi Tsering Home in Kathmandu early in 2019 at the age of 5 and 7 years. Since the mother had left the family early on and the father was always out and about in search of work, the children's grandmother had raised them up until then. But it was difficult for her, too. She could not even afford meals and so keeps attending the charity soup kitchen of Geshe Sonam Wangchen's Hope and Challenge Project. This way contact was established and Geshe la took Samjana und Sagar into the children's home where they are since cared for properly and are even able to attend school.
Samjana just turned 11 and her brother Sagar is now 9 years old. Both siblings benefitted from sponsorships until recently. Unfortuanately these had to be terminated now. Therefore we are in search of new sponsors urgently.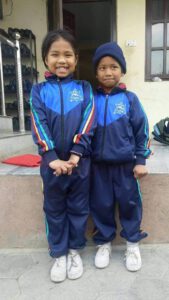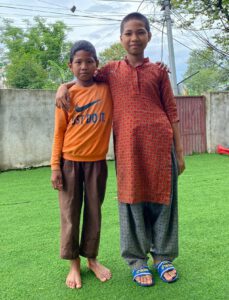 24.07.2022
21.07.2022
Many donations for our birthday fundraising
On July 17th we realised our little special campaign, this time aiming to raise donations for the injured Rakesh and also for our current house building project in Khangim. In addition to donations we received on the spot there were numerous online contributions. Altogether we were able to gather 1.250 Euros which we are very grateful for. We would like to thank all participants and supporters for their great support, also on behalf of Rakesh, his family, Pempa und Kanchi!
These donatons will be transferred to Nepal as part of our next donation-handover next month.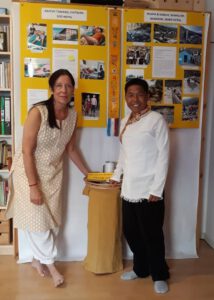 11.07.2022
10.07.2022
05.07.2022
New partial sponsorship needed for 9 year-old Pratima in Briddhim
Pratima Tamang and her 12 year-old brother could be enrolled at Gosainkunda English Boarding School in Syabrubesi in December 2020, thanks to several sponsorships. There they have lived and since then been well cared for. Their parents are much too poor to afford a school attendance for the children. Unfortunately Pratima has now lost one of her shared sponsorships. In order to further secure her school education Pratima is urgently in need of another sponsor to support her with less than one Euro a day. This way the siblings would also be able to continue growing up and learning together. For further data concerning the child see our website under the category
"sponsorships in Nepal".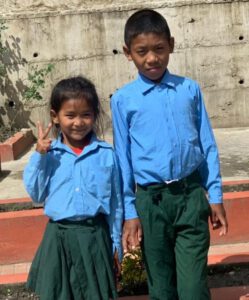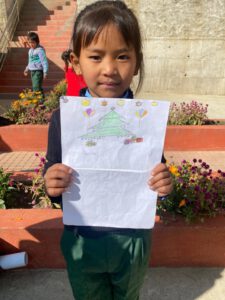 02.07.2022
Additional donations needed for Rakesh's treatment
The hospital management has prepared a report for us in English, listing Rakesh's injuries, which brought him into the clinic on April 22, as well as the present expenses. The total costs already amount to 4.600 Euros by June 26th. This means that we will attempt to collect further donations as there is already a shortage of 2.170 Euros in order to finance everything. Plus further days at the clinic also need to be paid.
The report shows that both thighbones were broken and a large proportion of the muscle tissue of the right thigh was destroyed. Rakesh is getting better but still in pain and the bandages need to be changed daily. The entire tissue still has to recover. Therefore Rakesh has to remain at the hospital for a while, yet.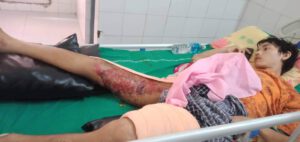 30.06.2022
Sad news from Nepal
Today we received sad news from Nepal once again. Zokya Tamang from Briddhim, only 54 years old, passed away after a brief, serious illness. His granddaughter Tenzin Ghakyi, who lives in Dhunche, as well as his deaf sister Nalu, who receive sponsorship through us had tried to find a way of support for him, too, during the past few years.
One 27 year-old son and his wife lived with Zokya and took care of him. He had been suffering from a bad health condition for a long time. Our thoughts and prayers are with Zokya and his family.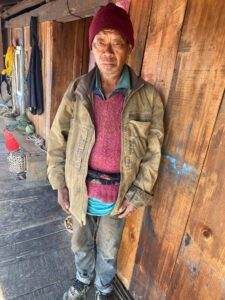 29.06.2022
New sponsorships in Nepal
Two 10 year-old girls in Nepal have found a nice sponsor. Rozina Tamang from Mentok Gan near Briddhim had lost der school sponsorship and thanks to her new support can now remain at Gosainkunda English Boarding School in Syabrubesi. We are still in search of a partial sponsorship for her sister Anita, who is four years older, in order to support her with 38 additional Euros per month.
Naisha Gole Magar, who has been living at Dickyi Tsering Home in Kathmandu for several years, will also benefit from sponsorship from now on. The situation of her already vulnerable family worsened after the earthquake of 2015. Her father was put in prison and the girl and her mother became homeless. At 7 years Naisha arrived at the children's home where she can finally be well cared for and has since been able to attend school. This support through sponsorship means a lot to both girls.
They may now grow up protected and well nurtured and also receive a school education, which unfortunately is not to be taken for granted in Nepal.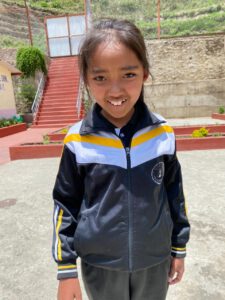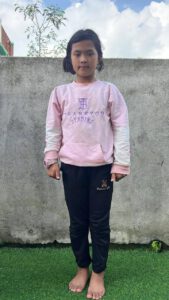 26.06.2022
Numerous donations for the severely injured Rakesh
Since we reported about young Rakesh Tamang from Chitwan, who got severely injured falling from a tall tree a week ago we were able to collect a lot of donations for his treatment. Altogether we received 2.430,- Euros, which is sufficient for the second surgery plus a longer stay at the clinic.
If Rakesh's condition continues to further improve he can be released by the end of the month. We will consider at that point how the treatment will be persued, whether he will be in need of a walking aid, a wheelchair or other assistive devices. On behalf of Rakesh and his family we would like to express our sincere gratitude to all supporters.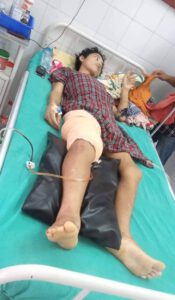 24.06.2022
22.06.2022
Good news from Nepal
Our donations for Tsering Palmo have arrived within only a few days. She had lost her child after premature birth in the sixth month of pregancy due to a brain haemorrhage and is still paralyzed on one side. In the meantime we have a better idea of the arising expenses. The total amount of hospital stay, treatments, physical therapy and medication is 10.000 Euros so far. Beside 3.500 Euros of donations which we transferred the family has received an additional 8.900,- Euros from friends and acquaintances not only in Briddhim but also in the US. Thanks to this large sum there is now a remaining amount of 2.400,- Euros which might cover the next month at the clinic. In case Tsering's
physical therapy does not need to be continued after this period of time and she can be released from the hospital the
contributions would be sufficient.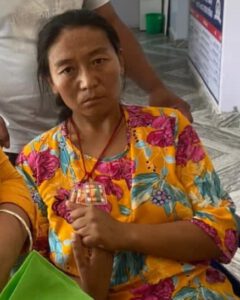 20.06.2022
Newsletter "Summer 2022"
Today our latest Newsletter "Summer 2022" has gone online: Newsletter Sommer 2022
Enjoy reading!
19.06.2022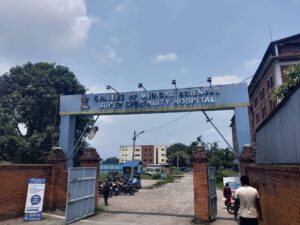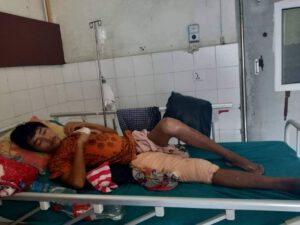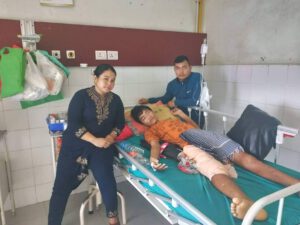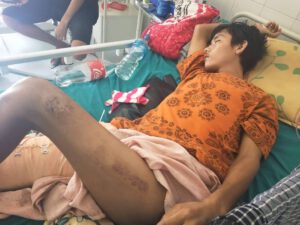 18.06.2022
Extraordinary general assembly
Today the second general assembly this year took place. It was called in order to officially elect Christiane Schmidt as second board member. She was unable to attend the first meeting in April and had only been appointed provisionally since then. The protocol will be disclosed shortly in the section "general meetings". The updated amendment of our constitution will also be added to the tab "membership".
17.06.2022
New sponsorship at Dickyi Tsering Home in Kathmandu
7 year-old Unisha Kami moved to Dickyi Tsering Home in January along with her 6 year-old brother Jakash. They come from a very poor family in the small village of Tingla in Solukhumbu district (Everest region). The parents sent one older sister to Kathmandu in order to earn money for the state school fees of the two youngest. Unfortunately the mother died of tuberculosis. Since the father was unable to cope with the loss of his wife he committed suicide. The responsibilty for the children's care was now in the hands of their sister in Kathmandu and she fianlly heard about Dickyi Tsering Home, where they have found a safe and caring place to grow up. Unisha has now found a sponsor and we hope that Jakash will likewise receive sponsorship soon.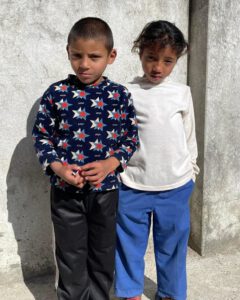 15.06.2022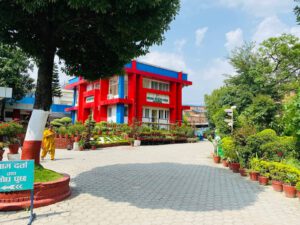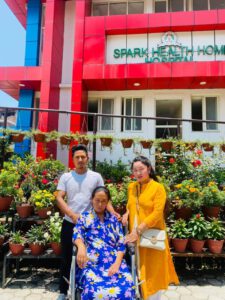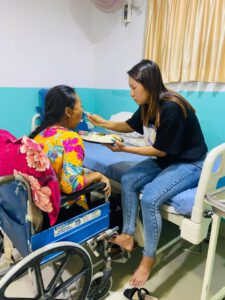 13.06.2022
Sad news from Kathmandu
After the condition of Tsering's and Tashi's daughter had seemed to improve it suddenly worsened a few days ago. Her liver was not completely developed, her body became discolored and she vomited blood. The doctors tried all they could to save the baby's life.
Today the sad message reached us that the little girl has passed away. She was born at only 6 months gestation and simply too small. Our prayers will be with her.
Tsering's physical condition however continues to improve. Today Tashi was able to feed his wife some food for the first time. She ist still paralysed on the left side. Tsering and her family are mourning her daughter and on top of all that Tsering's difficult condition needs to be considered. We wish Tsering, Tashi and their family much strength.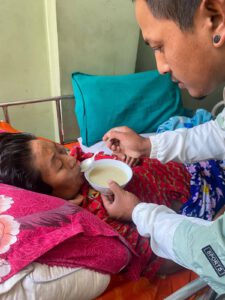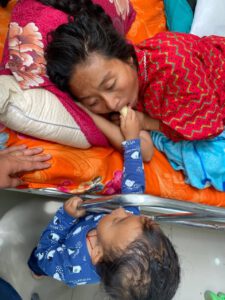 10.06.2022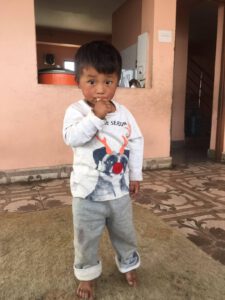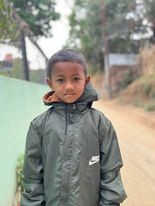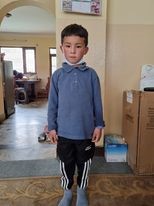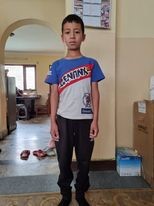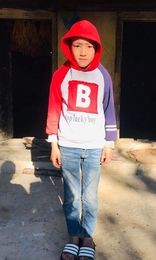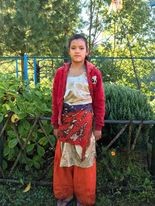 09.06.2022
Once again sad news from the Caring Home
Karma Gyaltsen was born in Tibet and had come to Nepal as a young man. He did not have a specific qualification and worked as a cook when he was a youth. After falling ill he had to give up that work and in order to provide for his family he sold sweets and chili powder to school students. He married and had two daughters.
Karma had moved to Metta Nepal Elderly Caring Home in Kathmandu only in April of 2022, along with his younger daughter Tsering Richoe. Yesterday at noon Karma Gyaltsen died at the age of 84. It is particularly unfortunate for his care dependent daughter having to live at the Caring Hone without her father now. Although she is glad to be there and is well taken care of she misses her father very much. Our prayers are with Karma and his family.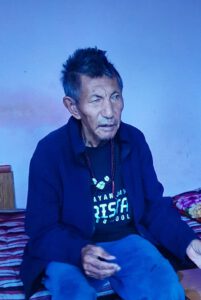 07.06.2022
Good news from Kathmandu Medical College Hospital
Today our staff member Paljor was able to visit Tsering Palmo at the hospital for the first time. Three days ago she could finally be brought out of coma and today she was able to speak some already. She is still very weak but slowly recovering. Her daughter is also better. The child does not require ventilation anymore and although her liver and other organs are not fully developed her condition seems to be slowly improving.
Paljor was able to hand over a first amount of support to Tashi – a sum friends and family had collected in Briddhim.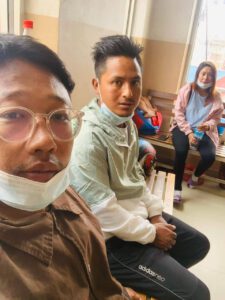 06.06.2022
Sad news from Metta Nepal Elderly Caring Home
The nun Tenzin Dolkar had moved into the Caring Home only last summer. She was born as a farmer's daughter in Tibet and had followed his Holiness the Dalai Lama into exile. For a long time she had been suffering from problems with her eyes, diabetes as well as mental problems.
Yesterday morning Ani la died at the age of 80. She had no relatives in Nepal and so the Caring Home team had touchingly looked after her. We are saddened we did not succeed in finding a sponsor for Ani Tenzin Dolkar during her lifetime in order to better support her. Our thoughts are with her.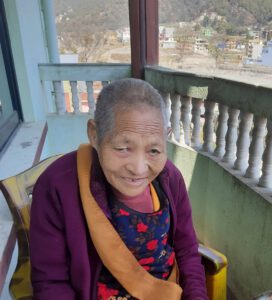 03.06.2022
New school sponsorship for little Simon from Mentok Gan near Briddhim
Simon Tamang, now 5 years old, could be enrolled at Gosaikunda English Boarding School 2 years ago already. In spite of his young age this was particularly important to us because both parents are deaf. Therefore ensuring his primary care and to aid his speech development also the contact to other children matter significantly.
A few months ago Simon had unfortunately lost his sponsorship bunt now he is being supported again and can continue attending school. 8 more children who had already been enrolled are awaiting new sponsorship so they will neither have to drop out of school.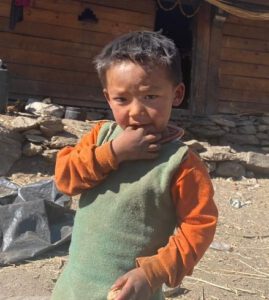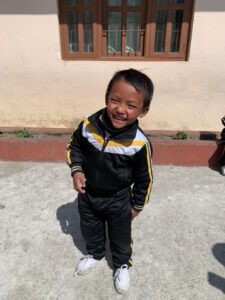 01.06.2022
Call for help from Kathmandu
31 year-old Tsering Palmo from Pelko near Briddhim suffered a brain haemorrhage two days ago. Her baby had to be delivered prematurely due to pregnancy poisoning during the 28th week via emergency caesarian section. Both are in critical condition and in intensive care needing respiratory support. All attempts to bring Tsering out of coma have failed so far.
Because two state run hospitals could not facilitate the needed treatment Tsering had to be brought to private Kathmandu Medical College Hospital, where she has been medically treated since Monday night.
The family is completely destitute and urgently needs our help. Their 5 year-old son Tenzín Thiley could be enrolled at Boarding School in Syabrubesi in 2020 only thanks to a sponsorship. Therefore we have initiated an aid campaign and are aiming to bring up 2000 Euros of donations. Tashi has to deposit 390 Euros at the hospital for running costs every day. The total expenses amount to 1200 Euros already.
Detailed information about Tsering Palmo and her condition, the child and the current status can be found at our website: : https://www.tibet-tshoesem.de/sonder-hilfsaktionen-3/
Please donate for Tsering's and her daughter's treatment. Every single Euro helps!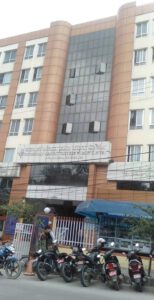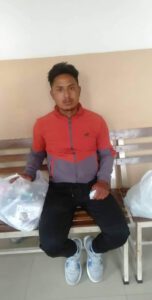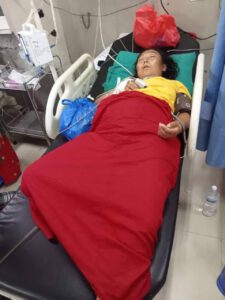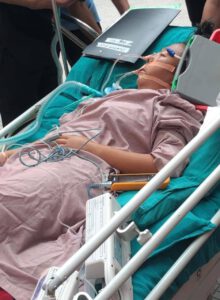 31.05.2022
Donation handover in Dharamsala
At the beginning of May we were able to transfer the donations we receiced between December 2021 and April 2022 to our staff member in Dharamsala. Except for one recipient all donations have been delivered. This time we had collected 4.562 Euros, comprising as follows:
Sponsorship donations – 3.715 Euros (for 2 monks, 2 nuns, 3 families, 8 children and teenagers)
extra donations – 847 Euros (treatment and surgery of 2 ill people, among them one nun)
These donations will aid the recipients with different needs like covering rent, food supplies, medical treatment, school or college fees and daily basic care. Once again everyone was very glad and grateful for the support. This is particularly relevant to these mostly destitute people since prices for basic foodstuffs and also housing have risen significantly in India.
With this in mind we too, want to express our gratitude to all sponsors and supporters for this help!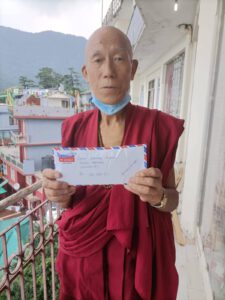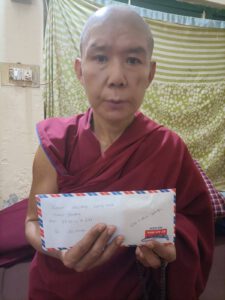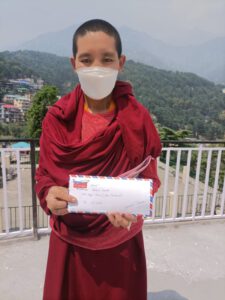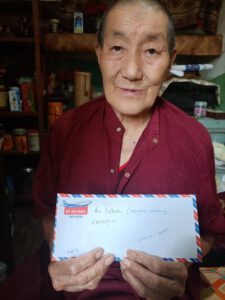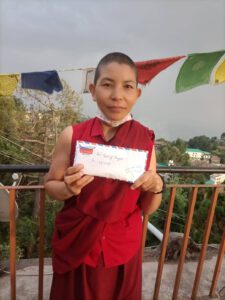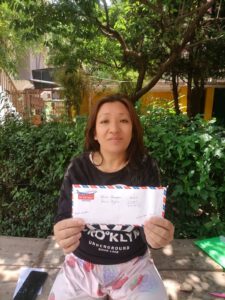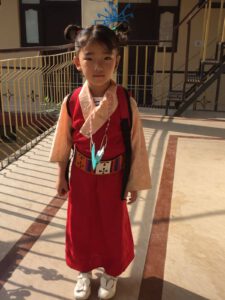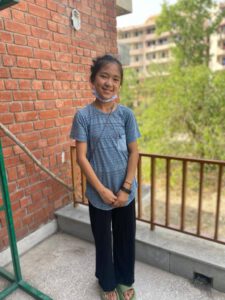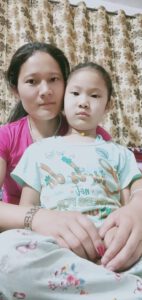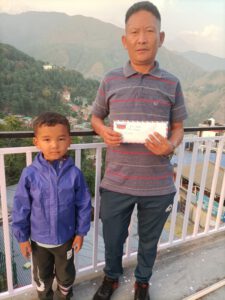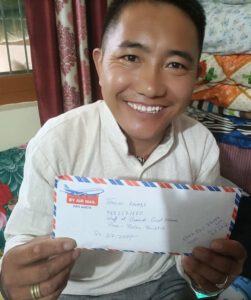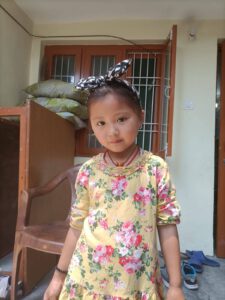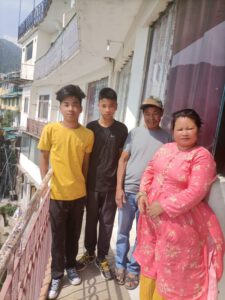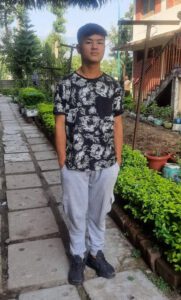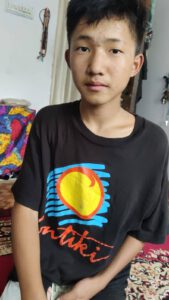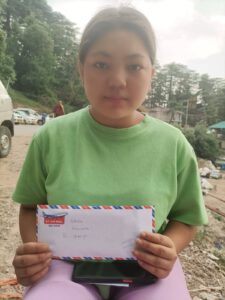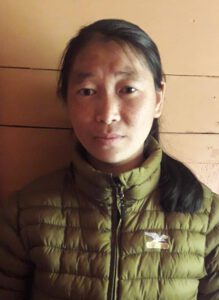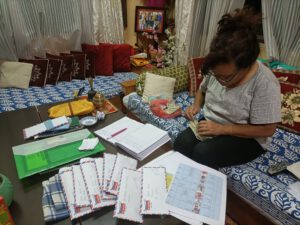 29.05.2022
New residents at Metta Nepal Elderly Caring Home in Kathmandu
This spring eight more people needing care have moved in. They are between 26 and 88 years old and mostly Tibetans who had to flee from their country. All of them are impaired, unable to support themselves due to their health condition and have now found a new warm place at the caring home in the hands of Geshe Sonam Wangchen.
For these new residents we are also urgently in search of sponsors to provide them with a monthly amount of 25 Euros or a partial sponsorship of 10 Euros in order to cover their medical care. More information can be found at our website: https://www.tibet-tshoesem.de/patenschaften-im-metta-nepal-elderly-caring-home/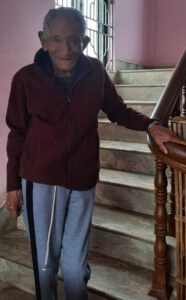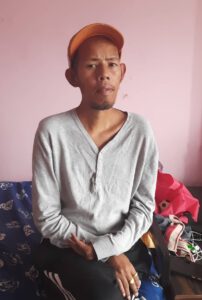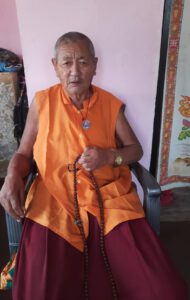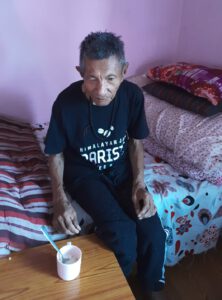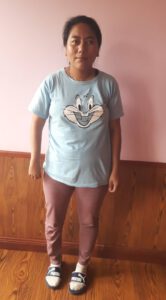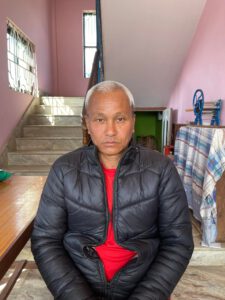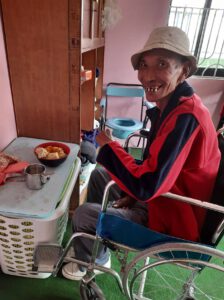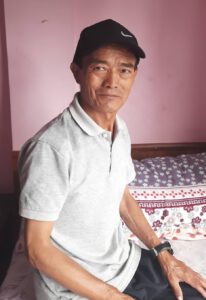 26.05.2022
Donation handover in Briddhim
After a few delays we were able to deliver the next donations, which had been transferred in April.
During the period from January to April a large amount of 20.234 Euro was donated and comprises as follows:
75 boarding students at Gosainkunda School – 14.414 Euros
5 day school students at Gosainkunda School – 712 Euros
4 children at other schools – 578 Euros
46 people in the villages (elderly, families, children too young to attend school) – 4.045 Euros
8 people without sponsorship – 230 Euros
House building project in Khangjim – 165 Euros
covering expenses of our on-site staff – 90 Euros
The school fees for all 80 children at Gosaikunda English Booarding School in Syabrubesi have been paid and the other donations have mainly been handed over, too. Once again all recipients were very happy. Since prices in Nepal have increased enormously, particularly affecting food products, they all intend to supply themselves with groceries first of all.
On behalf of the people in Briddhim we thank all sponsors and supporters with deep gratitude for all these contributions!
20.05.2022
Donation handover at Tse Chokling monastery
At the end of April we were able to transfer the next amount of donations to Tse Chokling monastery, summing up to 3.560 Euros gathered in the period between January and April 2022.
These comprise as follows:
sponsorship donations (7 personal + 7 monastery sponsorships) – 1.160 Euros
renovation of the temple wall – 110 Euros
roof refurbishment: classroom and kitchen – 484 Euros
hip surgery for Tenzin Gyaltsen – 1.228 Euros
donations for common use – 578 Euros
Everyone at the monastery is doing well. 74 year-old senior monk and temple keeper Tenzin Gyaltsen, who received a new hip joint last November has recovered from the surgery. Director Sonam still has to rest for a while since he had been suffering from a severe sore throat but is also feeling much better already.
The monks are very grateful for the aid and we thank the sponsors and supporters sincerely for their contributions which are of vital importance particularly for medical care.
19.05.2022
16.05.2022
Donation handover in Metta Nepal Elderly Caring Home in Kathmandu
Recently our donations could also be handed over at the caring home in Kathmandu. Altogether we were able to transfer 664 Euros this time, of which 325 Euros were given for two residents within their sponsorships and 119 Euros for the wardrobes. An additional 220 Euros were general donations for the institution which will mainly be used to provide basic medical needs of residents without sponsorship.
Everyone at the caring home is doing well and there is great gratitude for the support.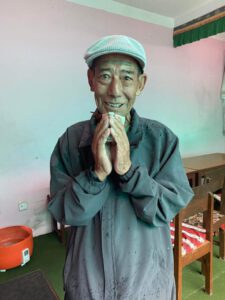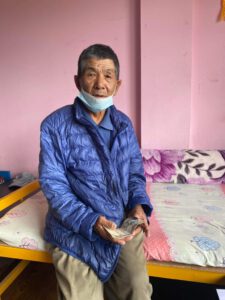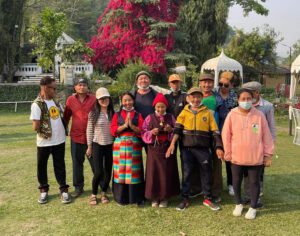 04.05.2022
New school for children at Dickyi Tsering Home in Kathmandu
During the first years a large number of the children living at Dickyi Tsering Home attended the private Chandikashwori English Secondary School. On May 2 nd Geshe Sonam Wangchen could enroll them to the better
equipped Joseph Public School. This school is situated near Boudha and can be reached by bus within 10 minutes. 65 children from Dickyi Tsering Home are currently attending this school .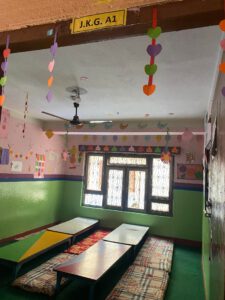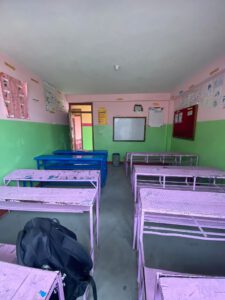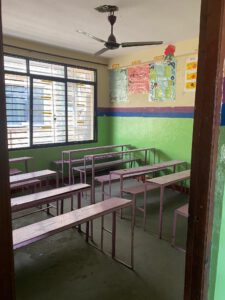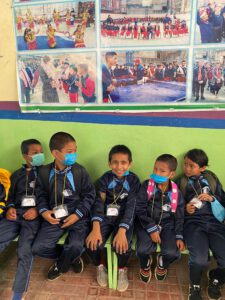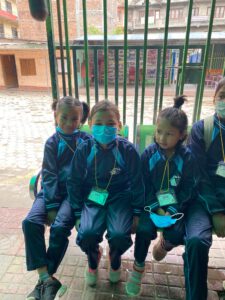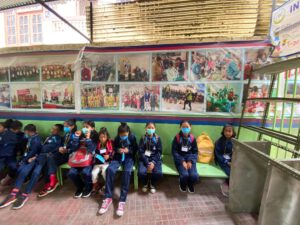 28.04.2022
Sponsor needed for ill Akshay in Dharamsala
40 year-old Akshay Sharma, originally from North Indian Shimla, has lived in Dharamsala for a few years. His younger brother Bhanu is working hard to support Akshay since he has been suffering from severe mental disorder for many years and needs to take medication. Years of alcohol and drug abuse had led to this condition which is a problem very common among the poor population of Nepal and India. The brother's parents are deceased and there are no further relatives.
Since it is impossible for Bhanu to finance even basic needs he has asked us for help and we would like to assist with at least 60 Euros a month in order to cover room rent and medication. Further information on Akshay and his brother, who is working at Thupten Lama's restaurant, can be found at our site: https://www.tibet-tshoesem.de/patenschaften-in-dharamsala/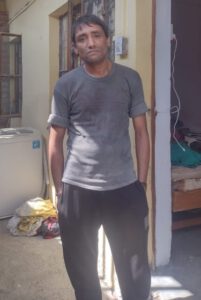 26.04.2022
Very sad news from Nepal
In mid March we had informed about young Reena from Chitwan (South Nepal), by then advanced in pregnancy, whose doctors had advised her to have the newborn immunized against hepatitis B immediately after birth. We were able to transfer the necessary amount of donations to Nepal already and on April 18th little Tenzin Tamchoe – with quite some delay- was born.
Sadly he was born with a severe heart defect plus one further organ not developed properly. Thus he had to be transferred to another hospital for ventilation and further treatment right after birth. The doctors told the parents a heart surgery would have to be carried out urgently, which would not be possible in Chitwan. A few days later the child was discharged home and the parents began to consider their options for accomplishing this surgery. The little boy would have probably needed to be brought to India and we had planned an aid campaign for him.
Yesterday Tenzin Tamchoe sadly passed away. He only lived for one week. Our thoughts and prayers are with the grieving family.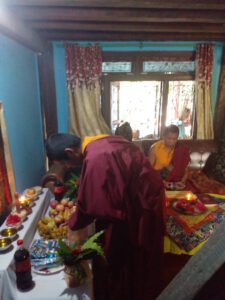 23.04.2022
New executive board in our Tibet Thoesem Team
Today another general assembly took place in which, among other things, the association members unanimously elected a new executive board and decided an extension of the association's purpose.
Kati Dittberner-Busse, who had been second chairperson so far resigned from that position. She will, however, continue her treasurer activity. Christiane Schmidt was elected provisionally as second member of the board. An additional assembly will be held in June in order to complete the board elections.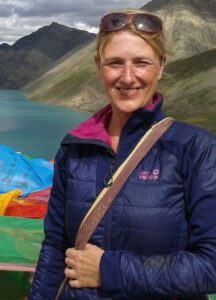 20.04.2022
Donation transfer to Nepal
Last week we were able to transfer donations to Nepal once again. The total amount sums up to 8.622 Euros. A large proportion of it – on the whole 6.912 Euros – went to Hope & Challenge where Geshe Sonam Wangchen and his team are currently taking care of the handover. This is a detailed division:
– 4.402 € for the children at Dickyi Tsering Home
– 532 € additional donations for the children's home
– 325 € sponsorship donations for Metta Nepal Elderly Caring Home
– 339 € additional donations for the retirement home
– 784 € sponsorship donations for sponsored people in Kathmandu and surrounding, who are being supported by Hope and Challenge
– 230 € additional donations for the nun Tenzin Choeden
– 300 € additional donations for Tenzin Kungyab and his sister, the nun Lobsang Palzom
– 200 € additional donations for Yugyal's medical treatment
– 1.340 € sponsorship donations for Khartok and Kareena (including school fees, new uniforms etc.)
– 170 € additional donations for a hepatitis immunisation for Reena's newborn in Chitwan
We would like to say Thank you from the heart to all the sponsors and donors for their support, particularly in such difficult times, when more and more people near us are also so much in need.
15.04.2022
14.04.2022
New team members
After the appeal in our last newsletter we were able to recruit three new staff members. Christiane Schmidt and Elisabeth Kamm-Babillie joined our team in March, Anke Lischka followed this month. They will be taking care of member support, establishing our online shop and updating the English section of our website. Member support for sponsorships in the Kathmandu area (outside of children's and elderly homes) will follow soon. This brings great relief to the "old" team and we are happy about the new additions.
12.04.2022
Helping without spending a single cent extra – on the donation platform GOODING
Today we would like to emphasise a great possibility to do something good through online shopping – by supporting the work of our association! In 2021 we received donations of 275 Euro (300 $) via GOODING. These are helping to finance the increased money transfer costs to India and Nepal. Part of the money can even be used directly for our projects.
There you may choose your shop and make your purchase. The online shop will provide us with a bonus, without you needing to pay anything extra. 1.700 shops participate in GOODING. Next to booking.com, amazon, Rewe, eBay, OTTO, Tchibo and other big shops many smaller companies are involved, which are oftentimes less expensive.
Many thanks for your support!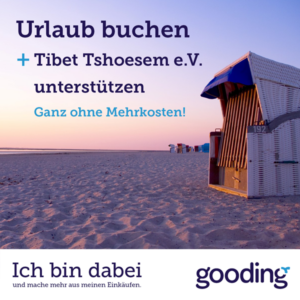 10.04.2022
Relief action for Yugyal from Briddhim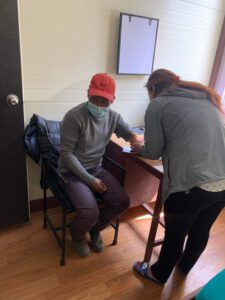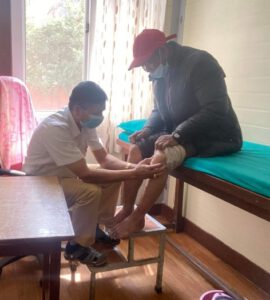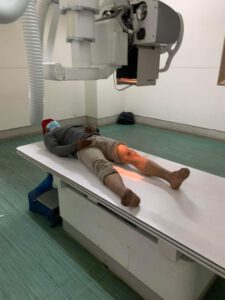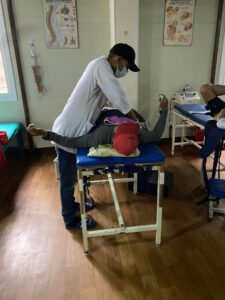 07.04.2022
Sponsorshop for little Siman complete again
9 year-old Siman from Mentok Gan could be enrolled, along with his siblings Soyana and Semon, in December 2021. Unfortunately he had lost one of his shared sponsorships this year. Their single father is much too poor to afford school fees for his children. Both new sponsors are taking on the increased amount of fees from coming August so Siman can continue his education. This way all three children will be able to grow up together and support each other at school which we are particularly happy about.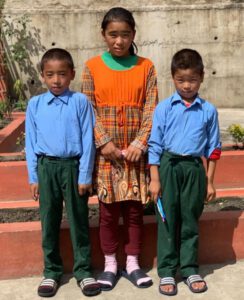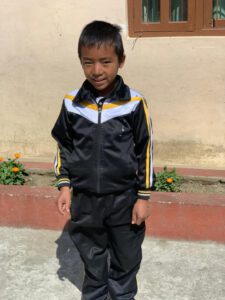 04.04.2022
House building project in Khangjim
Two weeks ago we were able to transfer a first donation amount to Pempa and Kanchi. Already the construction site is continuously changing and the work is going well. After a large delivery of sand, cement and iron linkage five construction workers are currently occupied with erecting a protective wall to stabilize the ground behind the planned building and prevent landslides.
The first amount donated is almost used up: 800 kg (1765 lbs.) costing 41.600 NPR, 60 sacks of sand and 300 kg of iron linkage rods (660 lbs.) at 41.100 NPR. Cleaning and levelling of the site require an amount of 40.700 NPR, adding up to around 1.030 Euros (1130,-USD). Besides that the couple is paying each worker a daily wage of 900 NPR plus the site manager's salary at 1.000 NPR per day. We are plannig to transfer the next amount of donations to Briddhim shortly and are hoping to be able to raise another helpful amount soon for Pempa and Kanchi to carry on the reconstruction of their house.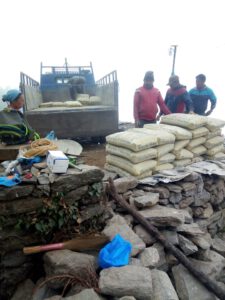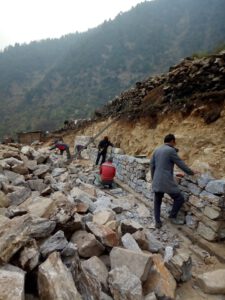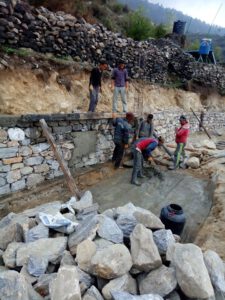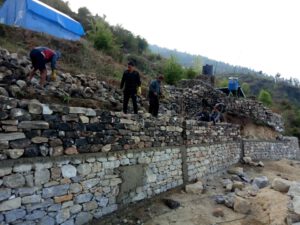 22.03.2022
21.03.2022
Erste Spendenübergabe an Pempa und Kanchi in Khangjim
Heute konnte unser Mitarbeiter Paljor den ersten Spendenbetrag in Höhe von 1.500 Euro an Pempa Gyalpo und seine Frau Kanchi für den Wiederaufbau ihres Hauses überreichen. Ihr altes Haus war durch einen Brand vergangenen Dezember völlig zerstört worden. Am 27.02. hatten wir hier über unser neuestes Hausbau-Projekt informiert und in Kürze bereits zahlreiche Spenden erhalten. Damit das Paar, das völlig mittellos zurückgeblieben ist, mit dem Bau beginnen kann, hatten wir vor einer Woche die ersten Spenden in einer Sonderüberweisung nach Nepal geschickt.
Pempa und Kanchi sind sehr dankbar für den ersten großen Betrag und können nun mit der Arbeit beginnen. Es fehlen noch weitere 4.500 Euro und wir hoffen, dass wir auch diesen Betrag noch zusammen bekommen werden.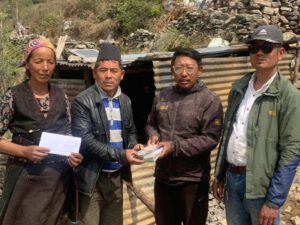 19.03.2022
Paten für eine kranke Nonne in Mcleod Ganj gesucht
Die 38-jährige Nonne Tsewang Yangdol (Ordinationsname Pema Yangchen) stammt aus Ladakh und lebt seit einem Jahr in Mcleod Ganj. Seit ihrer Kindheit ist sie linksseitig gelähmt, wahrscheinlich durch Poliomyelitis. Da sie das feucht-heiße Klima in Südindien, wo sie im einige Jahre im Kloster lebte, nicht vertrug und krank wurde, entschied Tsewang wieder zu ihrer Familie nach Ladakh zurückzukehren, doch die Kälte in Ladakh führte immer mehr zu Schmerzen in ihren Beinen. Seit ein paar Jahren leidet Tsewang außerdem unter einer chronischen Gastritis, für die sie immer wieder nach Delhi zur Behandlung fahren muss.
Da ihre Familie sie finanziell nicht mehr unterstützen kann, hat uns Ani la nun um Hilfe gebeten. Das kleine Zimmer ohne Wasseranschluss in Mcleod Ganj kostet ca. 62 Euro im Monat, für Lebensmittel benötigt sie ca. 40 Euro. Völlig mittellos kann Tsewang alleine nicht überleben und wir möchten sie mit einer Patenschaft unterstützen. Weitere Daten zu Tsewang Yangdol finden Sie hier: https://www.tibet-tshoesem.de/patenschaften-in-dharamsala/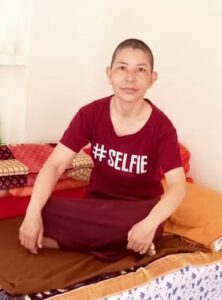 16.03.2022
Spendenaktion von Stefan Ziegler und Peter Baumeister
Die beiden Alpin-Sportler und Bergsteiger hatten uns Anfang Februar kontaktiert und uns ihre Unterstützung bei einem unserer Projekte in Nepal angeboten. Seit Jahren reisen die zwei Freunde gemeinsam durch die Welt und halten ihre Abenteuer auch in Videos fest.
Dieses Mal möchten sie dabei auch für einen gemeinnützigen Zweck Spenden sammeln und da auch ihnen die Schulbildung der Kinder am Herzen liegt, haben sie sich für das Schul-Projekt in Briddhim / Syabrubesi entschieden. Nach Ende der Reise werden sie die Spenden an unser Betterplace-Projekt überweisen, die wir dann für die Zahlung der Schulgebühren von Kindern ohne oder mit nicht ausreichenden Patenschaften nutzen können. Ihr Spendenziel liegt bei 5.000 Euro. Bis heute haben sie bereits 2.335 Euro gesammelt und wir sind den beiden sehr dankbar für diese großartige Hilfsaktion.
Vor zwei Tagen waren Stefan und Peter in Briddhim ankommen, wo sie zwei Nächte bei unseren Mitarbeitern Lhamo und Paljor verbracht haben. Sie konnten unsere Schule in Syabrubesi besuchen und haben dort den Schuldirektor interviewt, die Kinder getroffen und sich von dem Projekt einen guten Überblick verschaffen können. Außerdem konnten sie einen Tag des farbenfrohen Festes Tse Cho in Briddhim miterleben.
Dies ist der Link zu Stefans und Peters Betterplace-Aktion:
https://www.betterplace.org/de/fundraising-events/40571-hoch-hinaus-fuer-die-schulbildung-in-nepal?utm_campaign=user_share&utm_medium=fepp_stats&utm_source=Link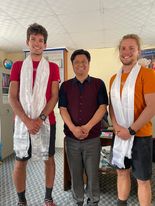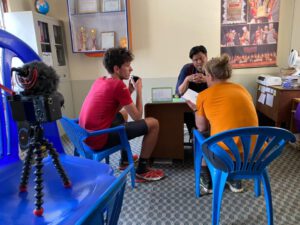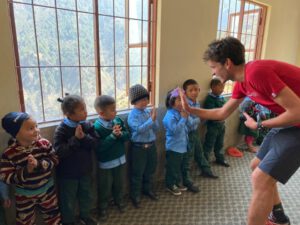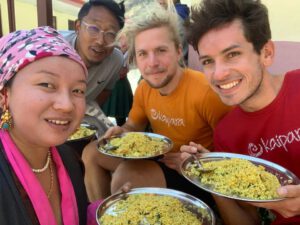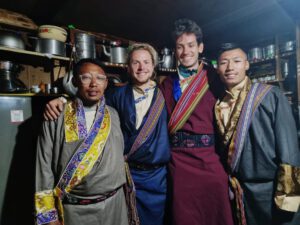 15.03.2022
Spenden für Reenas zweiten Sohn
Bereits kurze Zeit nach unserem Aufruf für die schwangere Reena aus Chitwan, deren zweiter Sohn, der in Kürze auf die Welt kommt und sofort nach der Geburt wegen der Hepatitis B – Erkrankung seiner Mutter geimpft werden muss, haben wir den notwendigen Betrag von 170 Euro zusammen. Reena und ihre Familie freuen sich sehr darüber. Wir werden die Spenden so schnell wie möglich überweisen und in der Zwischenzeit werden Reena und ihr Mann sich das Geld vorerst von Freunden und Nachbarn leihen. Im Namen der Familie danken wir den Unterstützern von Herzen die große Spendenbereitschaft!
12.03.2022
Hilfsaktion für die schwangere Reena aus Chitwan
Die 27-jährige Reena lebt mit ihrem Mann und dem inzwischen schon 9-jährigen Sohn Rujal in Chitwan. Die Familie wird von uns seit fünf Jahren mit einer Schul-Patenschaft unterstützt, denn Reenas Mann hat immer wieder wechselnde Beschäftigungen, die nicht ausreichen um die Familie zu ernähren und Reena selbst konnte mit Spenden einen kleinen Lebensmittel-Kiosk aufbauen, der aber seit Beginn der Corona-Pandemie so gut wie keine Einnahmen mehr bringt. Rujal kann dank seiner Patenschaft auf eine gute Schule gehen.
Der Geburtstermin des zweiten Kindes der Familie ist Ende März und bei der letzten Untersuchung wurde festgestellt, dass Reena Hepatitis B hat. Eine frühere Erkrankung war anscheinend nicht ausgeheilt und hat nun zu einer Reaktivierung in der Schwangerschaft geführt. Es besteht die Gefahr, dass auch das Kind erkrankt. Daher hat Reenas Arzt im Narayani Samudayik Hospital ihr dringend empfohlen das Kind sofort nach der Geburt impfen zu lassen. Andernfalls kann es mit großer Wahrscheinlichkeit zu einer Hepatitis B – Infektion kommen und es droht sogar eine chronische Erkrankung. Über die Jahre würde dies voraussichtlich zu einer Leberzirrhose führen.
Die Impfung kostet 20.000 NPR, ca. 170 Euro, ein Betrag, den die Familie nicht bezahlen kann und er wird fällig am Tag der Entbindung. Wir möchten der Familie helfen diese wichtige Impfung vornehmen zu lassen und sammeln daher Spenden (direkt auf unser Vereinskonto oder über unser Betterplace-Projekt "Hilfe für bedürftige Menschen in Nepal und Indien").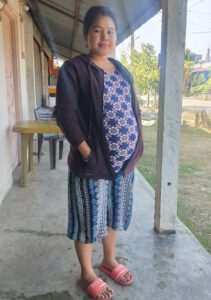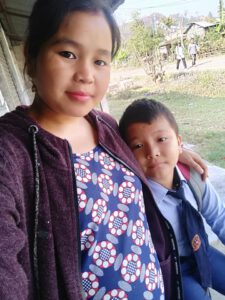 08.03.2022
Newsletter "Frühjahr 2022"
Heute ist unser aktueller Newsletter "Frühjahr" erschienen, den Sie hier einsehen können: Newsletter Frühjahr 2022
Viel Freude beim Lesen!
04.03.2022
Losar im Dickyi Tsering Home
Auch im Kinderheim in Kathmandu wurde das tibetische Neujahr gefeiert. Wie jedes Jahr waren die Kinder gemeinsam mit den Mitarbeitern von Hope & Challenge und ihren Hausmüttern zu einem nahe gelegenen Kloster gegangen, im Anschluss nach Boudhanath und dann noch zum Mittagessen. Alle hatten große Freude an dem schönen Ausflug.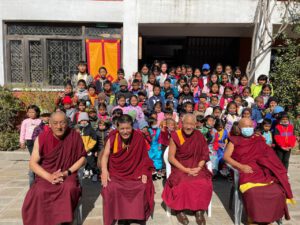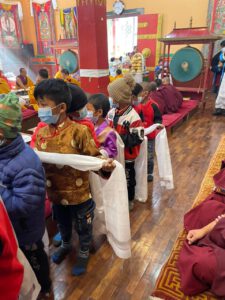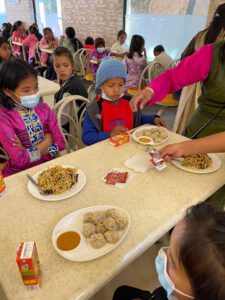 03.03.2022
Tibetisches Neujahr
Heute ist Losar, das tibetische Neujahr, welches Tibeter auf der ganzen Welt feiern. Es läutet das Jahr 2149 ein, das "Jahr des Wasser-Tigers". Anders als in Tibet können die Feierlichkeiten in Nepal, Indien und anderen Ländern weltweit frei und ohne Einschränkungen stattfinden.
In Dharamsala gibt es heute doppelten Grund zur Freude, denn nach zwei Corona-Jahren, in denen dort sogar der Main Temple geschlossen war und Seine Heiligkeit, der Dalai Lama, Unterweisungen nur online geben konnte, wurde der Temple heute endlich wieder für Besucher geöffnet. Viele Tibeter nutzen seit dem Morgen die Gelegenheit den heiligen Ort zu besuchen.
Wir wünschen unseren tibetischen Freunden und allen, die mit ihnen Losar feiern, ein gutes neues Jahr. Möge es allen Wesen Glück, Zufriedenheit, Gesundheit und Frieden bringen!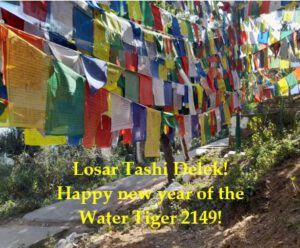 27.02.2022
Start unseres neusten Hausbau-Projekts in Briddhim
Im vergangenen Dezember haben Pempa (50) und seine Frau Kanchi (49) ihr Haus und den gesamten Besitz durch einen verheerenden Brand verloren. Bis zum Beginn der Corona-Pandemie hatten die beiden ein kleines Guesthouse betrieben und hatten nun gehofft, dass nach der Öffnung der Grenzen auch wieder mehr Touristen in die Region kommen und sie sich so wieder ein kleines Einkommen aufbauen können. Leider ist diese Möglichkeit durch den Brand zunichte gemacht worden.
Dorfbewohner und andere Hilfsorganisationen baten in der Notsituation erste Hilfe an. Pempa und Kanchi erhielten ein Zelt, Decken und erste Lebensmittel. Doch um ihr Haus wieder aufzubauen fehlt ihnen das Geld und sie benötigen unsere Hilfe. Seit dem Brand leben sie in einem provisorischen Zelt.
Für das neue Haus wurde bereits ein Plan erstellt. Er soll 2 Zimmer, eine Küche und eine Toilette haben. Die Kosten werden auf mindestens 7 Lakh geschätzt, etwa 6.000 Euro. Damit die Bauarbeiten nach Losar, dem tibetischen Neujahr, dass Anfang März stattfindet, beginnen können, versuchen sich Pempa und Kanchi einen ersten Betrag zu leihen und wir hoffen, dass wir bis zu unserer nächsten Spendenübergabe im April zahlreiche Spenden zusammenbekommen. Regelmäßige Updates zum Verlauf des Projekts finden Sie hier auf unserer Webseite https://www.tibet-tshoesem.de/wiederaufbau-von-wohnhaeusern-in-briddhim/. Spenden können Sie direkt auf unser Vereinskonto und auch für den entsprechenden Bedarf im Betterplace-Projekt für Briddhim: http://www.betterplace.org/p44869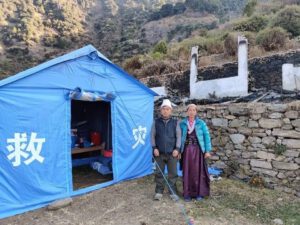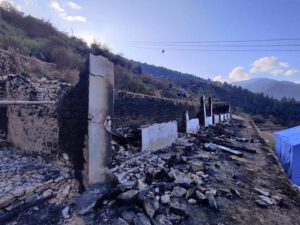 21.02.2022
Spenden im Kloster Tse Chokling angekommen
Nach einigen Verzögerungen sind die Spenden für das Kloster Tse Chokling, die wir Anfang Dezember bereits überwiesen hatten (für den Zeitraum September bis Dezember 2021), endlich angekommen und konnten vor ein paar Tagen gutgeschrieben werden. Dieses Mal hatten wir 1.260 Euro überweisen können. Der Betrag setzt sich zusammen aus 1.180 Euro Patenschaftsspenden (je 7 Mönchs- und 7 Kloster-Patenschaften), 30 Euro für die Sanierung der Tempelmauer und 50 Euro allgemeinen Spenden für den immer dringendsten Bedarf.
Die Mönche haben sich sehr über die Spenden gefreut und sind sehr dankbar für die Hilfe. In der Zwischenzeit hat der nun 13-jährige Novize Tenzin Chokzin leider seine Patenschaft verloren. Er war im Alter von 10 Jahren aus Sikkim ins Kloster gekommen. Seit Beginn der Pandemie gibt es keine Möglichkeit mehr neue Novizen und Mönche aufzunehmen, aber auch Spendeneinnahmen durch Besuche von Touristen im Kloster fallen weg. Daher würde sich die Gemeinschaft sehr freuen, wenn neue Kloster-Patenschaften entstehen würden.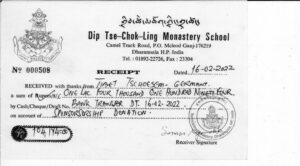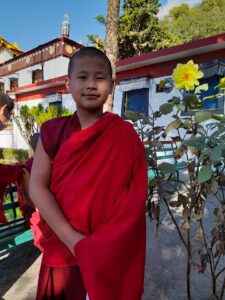 17.02.2022
Foto-Report aus dem Metta Nepal Elderly Caring Home
Das Team des Pflegeheims in Kathmandu hat einen interessanten Foto-Bericht erstellt, in dem die Aktivitäten des Heims und der Bewohner im Jahr 2021 zusammengefasst sind. Wir wünschen viel Freude beim Anschauen! Hier geht es zum Bericht: Elderly Caring Home (2021)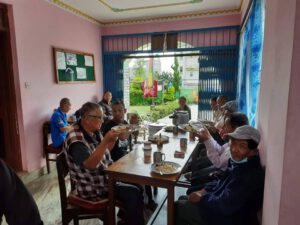 11.02.2022
Hilfsaktion für zwei Familien von Exil-Tibetern in Dharamsala
Tashi Choeden, Tsering und ihr 5-jähriger Sohn Tenzin Tharchin, wie auch Tsering Dolkar, ihr Mann Lhundop Gyaltsen und ihre 4-jährigen Tochter Tenzin Khando leben in Mcleod Ganj (Upper Dharamsala). Beide Kinder haben Schul-Patenschaften, die ihnen die Schulausbildung sichern. Da die Eltern aber seit Beginn der Corona-Pandemie so gut wie kein Einkommen mehr haben, suchen wir für die Familien selbst auch Paten, die sie bei der Grundversorgung unterstützen. Doch leider konnten wir bisher keine Unterstützer finden.
Aufgrund des neuen Lockdowns in Indien und der noch immer extrem eingeschränkten Verdienstmöglichkeiten, da keine Touristen in die Region kommen, haben uns die Eltern nun nochmals um Hilfe gebeten. Es gelingt ihnen nicht mehr für die Miete und ausreichend Lebensmittel aufzukommen. Um schnell helfen zu können, sammeln wir daher nun Einzelspenden für Lebensmittel und haben entsprechende Bedarfe in unserem Betterplace-Projekt eingestellt: http://www.betterplace.org/p56977
Natürlich können Sie auch direkt auf unserer Vereinskonto (Daten hier rechts auf der Seite), mit dem Verwendungszweck "Lebensmittel Dharamsala". Weitere Daten und Hintergründe zu den Familie finden Sie hier: https://www.tibet-tshoesem.de/patenschaften-in-dharamsala/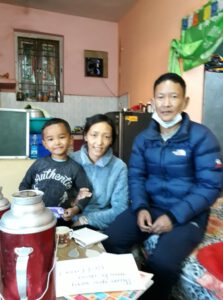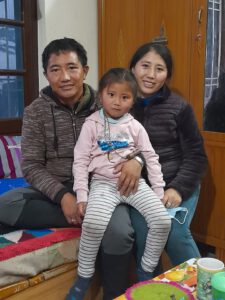 08.02.2022
Neue Bewohner im Pflegeheim in Kathmandu
Im Januar sind vier neue Bewohner ins Metta Nepal Elderly Caring Home eingezogen, für die wir nun auch Paten suchen. Die 55-jährige Karma Bhuti, die unter einer schweren Sehschwäche leidet, die 70-jährige Nonne Ani Kanchi, sowie die beiden Gehörlosen Ang Rithar (60) und Pema Lama (63), würden sich sehr über Unterstützung freuen. Hier auf unserer Webseite finden Sie die Daten der Bewohner: https://www.tibet-tshoesem.de/patenschaften-im-metta-nepal-elderly-caring-home/ Mit bereits 80 Cent pro Tag können Sie die Versorgung dieser Menschen sichern, doch auch Teil-Patenschaften ab 10 Euro im Monat helfen.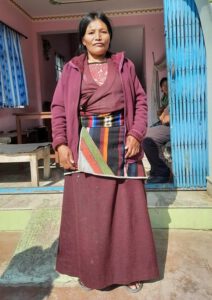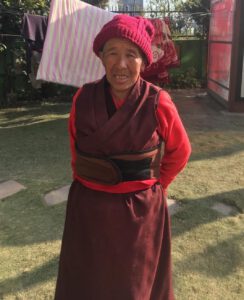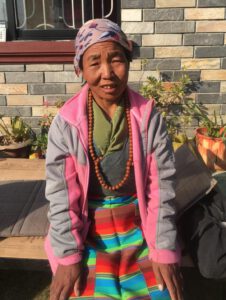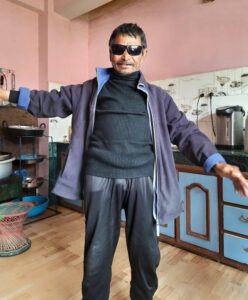 05.02.2022
Impfung von Schulkindern im Raum Briddhim
Vor zwei Tagen erhielten 27 Kinder, die auf die Gosainkunda English Boarding School in Syabrubesi gehen, ihre zweite Covid 19 – Impfung. 11 davon gehören zu unseren Patenkindern. Bisher wurden nur die 12- bis 17-Jährigen geimpft, die 5- bis 11-Jährigen sollen in Kürze auch ihre erste Imfpung erhalten.
Der Lockdown in Nepal wurde bereits wieder gelockert. Die Menschen können sich schon wieder frei bewegen, doch Gruppenansammlungen, Feiern u.ä. sind noch untersagt, da sind auch die Schulen noch geschlossen, doch wir hoffen, dass es auch hier bald wieder Öffnungen geben wird.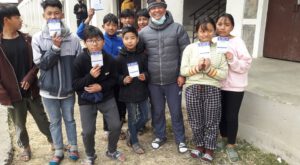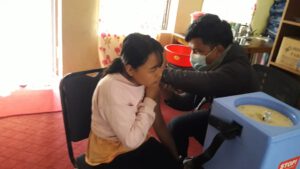 03.02.2022
Spendenübergabe in Briddhim
Die dritte und letzte Spendenübergabe für das Jahr 2021 in Briddhim hatte sich leider verzögert, da die Gelder dort erst sehr spät verzeichnet wurden. Wie jedes Jahr im Winter hatten wir die Spenden Anfang Dezember überwiesen. Am 16.01. hatten unsere Mitarbeiter Lhamo und Paljor mit der Übergabe begonnen und die Spenden sind nun fast alle überreicht. Die Schulgebühren in der Gosainkunda English Boarding School wurden ebenfalls bereits bezahlt.
Insgesamt waren für das letzte Jahresdrittel 20.920,25 Euro Spenden zusammengekommen:
– Schulpatenschaften in der Gosainkunda School: 15.609 Euro (für 75 Boarding-Schüler + 5 Day School-Schüler)
– Patenschaften für 7 Kinder in anderen Schulen: 656 Euro
– Patenschaften für 38 ältere Erwachsene, 3 Familien und 1 Kind, das nicht zur Schule gehen kann: 3.565 Euro
– Menschen ohne Patenschaften: 190 Euro
– Spenden für den Hausbau von Dawa Chokpa und Palmo: 255 Euro
– Gehälter und andere Ausgaben unserer Mitarbeiter: 655 Euro
Wegen des neuen Corona-Lockdowns, der in Nepal vor kurzem ausgerufen wurde, sind die Kinder alle wieder zuhause bei den Familien, denn auch die Schulen sind geschlossen. Wir warten auf aktuelle Infos aus den Schulen unserer Patenkinder und hoffen, dass diese bald wieder öffnen können.
Alle Empfänger sind sehr dankbar für die Spenden, die älteren Menschen versorgen sich damit hauptsächlich mit Lebensmitteln. Der Anstieg der Preise von Grundnahrungsmitteln ist in Nepal enorm zu spüren. Hier nur ein Auszug der Fotos der Spendenübergaben.
02.02.2022
29.01.2022
Neue Patenschaft in Briddhim
Die 54-jährige Witwe Dawa Chokpa und ihr 23-jähriger Sohn Mingmar Dorjee aus Lingling haben nun eine Patenschaft für ihre Grundversorgung. Im Frühjahr 2020 verstarb Dawas zweiter Mann im Alter von erst 37 Jahren als er beim Holzsammeln in einen Fluss gerutscht war und mitgerissen wurde. Mingmar Dorjee hatte einige Jahre als Mönch in Indien gelebt, u.a. auch im Kloster Tse Chokling. Vor über einem Jahr entschloss sich wieder ein weltliches Leben zu führen und war ins Dorf zurückgekehrt, wo er seitdem mit seiner Mutter zusammen lebt. Leider findet Mingmar keine Arbeit. Die Patenschaft hilft den beiden nun bei der Grundversorgung, hauptsächlich mit Lebensmitteln. Eine zusätzliche Unterstützung von 10 Euro monatlich wird noch benötigt.
Weitere Informationen zu Dawa und Mingmar finden Sie hier auf unserer Webseite, auch zum Hausbau-Projekt für diese Familie: https://www.tibet-tshoesem.de/patenschaften-in-briddhim/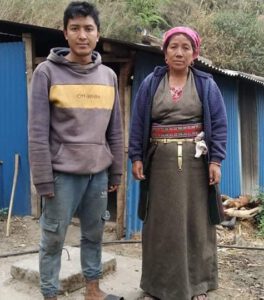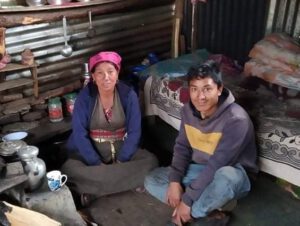 25.01.2022
Erhöhung der Schulgebühren in Nepal
22.01.2022
Neue Kinder im Dickyi Tsering Home in Kathmandu
Anfang Januar konnten trotz der Enge im Kinderheim weitere vier Kinder aufgenommen werden. Sie sind zwischen 6 und 13 Jahre alt und würden sich alle über eine Patenschaft freuen. Fotos und Daten der Kinder finden Sie hier auf unserer Webseite: https://www.tibet-tshoesem.de/patenschaften-fuer-kinder-des-dickyi-tsering-home/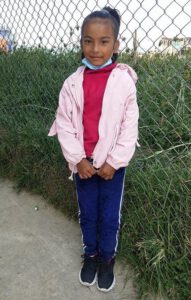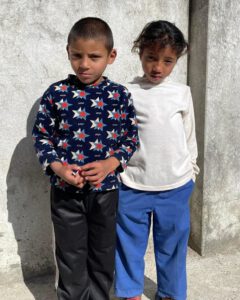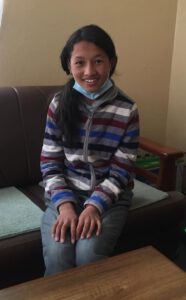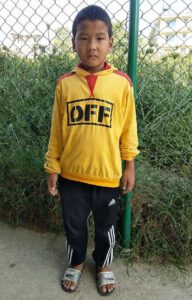 20.01.2022
Neuigkeiten aus dem Dickyi Tsering Home
Obwohl das Heim schon aus allen Nähten platzt, sind fünf neue Kinder eingezogen. Bald soll in unmittelbarer Nähe des Hauptgebäudes ein zweites Haus angemietet werden, um noch mehr Kinder aufnehmen zu können und so könnten dann auch die Mädchen und Jungen räumlich getrennt werden. Leider scheitert dies momentan daran, dass Geshe Sonam Wangchen und sein Team nicht mehr Mitarbeiter finden. Wir hoffen, dass sie bald erfolgreich sind.
19.01.2022
Weitere Spendenübergaben in Kathmandu
In den letzten Wochen konnten in Kathmandu weitere Spenden überreicht werden, die wir im Dezember an Geshe Sonam Wangchen überwiesen hatten. Insgesamt waren 1.256 Euro für acht Empfänger zusammengekommen. Hier unterstützen wir derzeit die kleine Binu und ihre Mutter, Witwe Anjana und ihre beiden kleinen Töchter, die ehemalige Nonne Ngawang Mentok und die beiden Nonnen Tenzin Choeden und Lobsang Palzom und Lobsangs kranken Bruder Tenzin Kungyab. Alle sind sehr dankbar für die Unterstützung.
Für die Nonnen suchen wir weiterhin Paten. Besonders Ani Lobsang Palzoms Bedarf, bzw. der ihres Bruders hat sich erhöht, da sich sein Gesundheitszustand ziemlich verschlimmert hat und er nun wieder in einem Rehabilitationszentrum versorgt werden muss. Die Behandlung ist sehr teuer.
Anjana, die selbst eine Patenschaft hat, mit der sie die Miete zahlen kann und deren Kinder Schul-Patenschaften haben, konnte nun endlich auch ein kleines Business aufbauen. Sie verkauft an einem Straßenstand Obst und Gemüse und benötigt somit keine zusätzliche Unterstützung.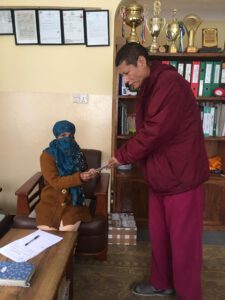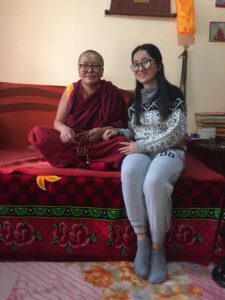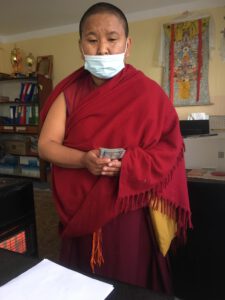 18.01.2022
Zweite Teil-Schulpatenschaft für Tenzin Khando
In Windeseile hat die kleine Tenzin Khando eine weitere Patin gefunden, die sie ebenfalls mit einer Teil-Schulpatenschaft unterstützt. Damit ist die Finanzierung ihrer Schulgebühren nun gesichert und die Familie freut sich sehr über die Unterstützung. Nun suchen wir nur noch eine weitere Patenschaft für die Eltern Tsering Dolkar und Lhundop, da es ihnen schwer fällt mit dem Gehalt der Mutter alleine die Familie gut zu ernähren und auch Tenzin Khando gut mit Kleidung, Schulmaterialien und auch mal ein paar Dingen, die einfach Freude machen zu versorgen. Weitere Details zu der Familie finden Sie hier auf unserer Webseite: https://www.tibet-tshoesem.de/patenschaften-in-dharamsala/
17.01.2022
Neue Patenschaft in Dharamsala
Die 4-jährige Tenzin Khando aus Mcleod Ganj hat ab sofort eine Teil-Patenschaft. Im März kommt sie in die 2. Vorschulklasse der Yongling School. Ihre Eltern Tsering Dolkar und Lhundop Gyaltsen stammen aus Tibet und als Exil-Tibeter in Indien ist ihr Leben nicht leicht. Dolkar kam 2009 nach Indien und konnte dann 5 Jahre lang auf die Schule des TCV Suja gehen. Sie spricht ein wenig Englisch und Hindi. Lhundop stammt aus einer Nomadenfamilie und war im Alter von 25 zu einer Kalachakra-Initiation Seiner Heiligkeit dem Dalai Lama heimlich über den Himalaya nach Lhadak gekommen. Auf dem Rückweg wurde er von der chinesischen Polizei entdeckt und festgenommen. Nach der Haftstrafe und Misshandlungen wurde er nach Nepal abgeschoben. Danach kam Lhundop nach Indien. Ohne Ausbildung und Sprachkenntnisse findet er leider keine regelmäßige Arbeit.
Dolkar arbeitet seit 4 Jahren als Zimmermädchen in einem Hotel in Mcleod Ganj und verdient ca. 125 Euro im Monat. Lhundop kann manchmal tibetische Gebetsflaggen bedrucken und ausliefern, doch damit kommt so gut wie kein Geld in die Haushaltskasse und der Familie fällt es schwer neben Miete (60 Euro) und Schulgebühren (25 Euro), auch noch ausreichend Lebensmittel zu finanzieren. Mit 40 Euro im Monat ist es auch in Indien schwer eine 3-köpfige Familie zu versorgen. Kleidung, Bus, manchmal Medikamente müssen ja auch bezahlt werden.
Die nun entstandene Teil-Patenschaft deckt die Hälfte von Khandos Schulgebühren und wir hoffen, dass sie bald noch einen zweiten Paten findet, der sie mit 13 Euro monatlich – 43 Cent pro Tag – unterstützen möchte.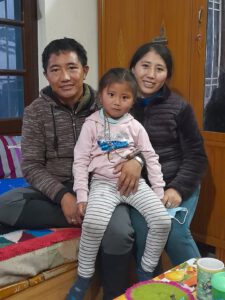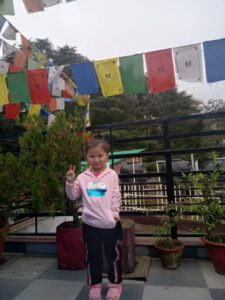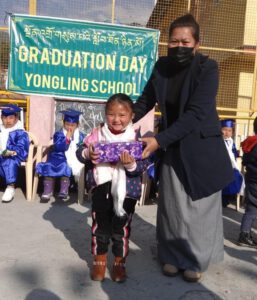 15.01.2022
Spendenübergabe im Metta Nepal Elderly Caring Home
Im Dezember hatten wir zum ersten Mal Spenden für unser neuestes Heim-Projekt in Kathmandu an Geshe Sonam Wangchen überweisen können. Insgesamt waren 668 Euro zusammengekommen. Davon waren 75 Euro Patenschaftsbeiträge für den in der Zwischenzeit verstorbenen Choekyong gespendet worden, je 20 Euro waren Extra-Spenden für die ehemalige Nonne Tenzin Dolkar und Jangchuk Gelek. Der Restbetrag war für die Einrichtung des Heims und die Grundversorgung der Bewohner gespendet worden. Alle Empfänger sind von Herzen dankbar für die Unterstützung.
In der vergangenen Woche war wieder ein Team von Hope & Challenge im Heim und hat die Bewohner mit einer Körperpflege-Aktion verwöhnt. Das ist immer eine schöne Abwechslung für die alten Menschen, für die sie sehr dankbar sind.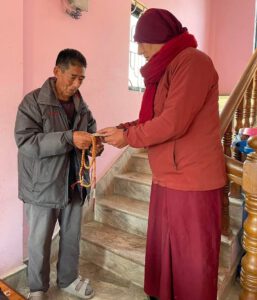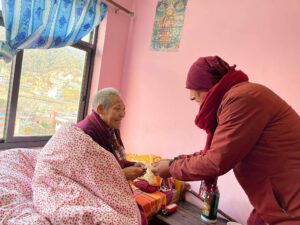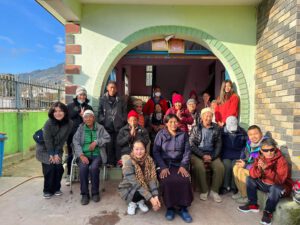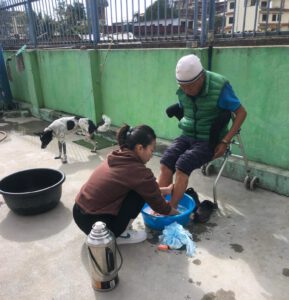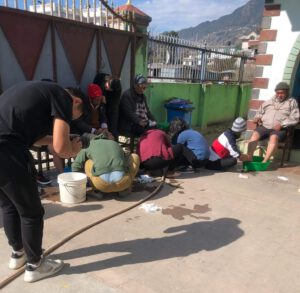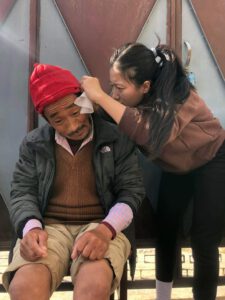 12.01.2022
Nikitas OP
Nachdem Nikitas OP nochmals verschoben werden musste, konnte sie gestern im Fortis Hospital in Kangra endlich durchgeführt werden. Alles ist gut verlaufen und heute konnte Nikita bereits entlassen werden. Der gesamte Aufenthalt im Krankenhaus hat 35.000 INR gekostet, dazu kommen noch Kosten für den Corona-Test, Medikamente und die Fahrten zu den verschiedenen Terminen im Krankenhaus. Von den Gesamtspenden in Höhe von 731 Euro sind noch ca. 9.000 INR übrig. Der Betrag reicht aus um den Checkup im Krankenhaus nächste Woche zu bezahlen und damit Nikita in der nächsten Zeit über die Runden kommt.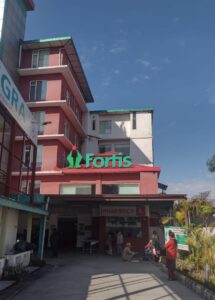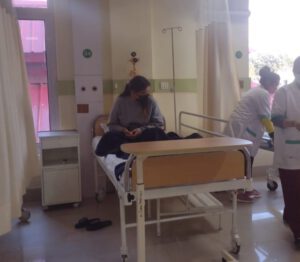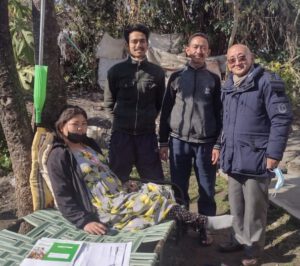 01.01.2022
Eine Patenschaft für Dorjee und viele Spenden für Nikita
Das neue Jahr startet mit guten Neuigkeiten. Der 16-jährige Dorjee Phuntsok, der im TCV Chauntra lebt, hat ab sofort eine Patenschaft und für die OP der 20-jährigen Nikita aus Kanyara haben nach unserem Facebook-Aufruf gestern wir sehr viele Spenden erhalten. Der vorerst veranschlagte Gesamtbetrag von 500 Euro wurde sogar überschritten, was sehr hilfreich ist, da weitere Voruntersuchungen und zusätzliche Unkosten ja noch hinzukommen. Herzlichen Dank an die neue Patin und alle Unterstützer für die vielen Spenden!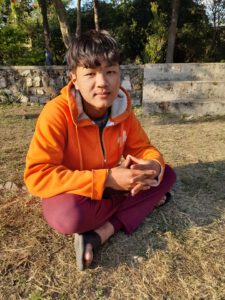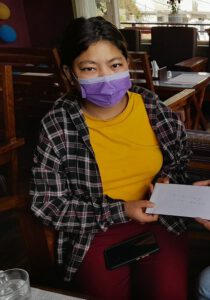 *************************************************************************