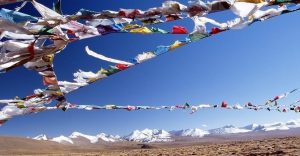 On this page you will regularly find new information about: new actions, news from India and Nepal, success stories
August 24th 2017
August 20th 2017
Today there is good news from Kanyara Village:
A few days ago, Gurung family was already able to move into the new house. The walls and floors are not yet plastered and there are also no doors and windows, but they have at least once a roof over the head. The youngest daughter, Ritika, is still staying with relatives, but Nikita and the father are already sleeping in the new house. With the help of the donations, they could have simple beds built and buy clean bedding.
Everything is still provisional, even the kitchen, but they can slowly start to cook at home again, even if for food very little financial resources are there. Thupten Lama brings to the family as often as he can rice, milk and vegetables. We hope to be able to support the family in the daily care after completion of the construction work, but first the house has to be finished.
Soon more electric cables are to be laid and the doors and windows installed. After that, the construction of the shower and toilet can be started. However, we need more donations. For the completion of the entire building is still missing 5,000 euros.
We added new photos in the photo gallery of the Betterplace project.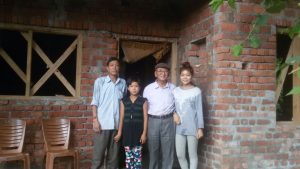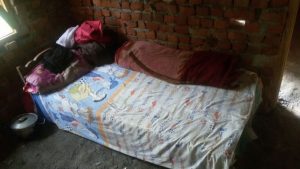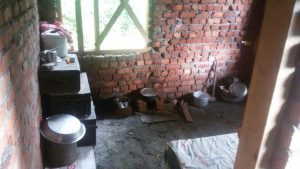 August 17th 2017
For these 4 children who go to TCV schools ("Tibetan Children Village Schools"), we are urgently looking for sponsors. The children live in all-day schools and come home only during the holidays.
Unlike for the Tibetan refugee children, the school fee for tibetan children born in India is very high. It includes accommodation, meals and school supplies. The parents of these children are very poor and mostly earn little money with the sale of clothes on the roadside, which is not enough to provide the children well or to finance their schooling on a permanent basis.
Please help with a sponsorship of 20 Euro per month – less than 1 Euro per day! For further information on this website, see "Sponsorships in Dharamsala and North India"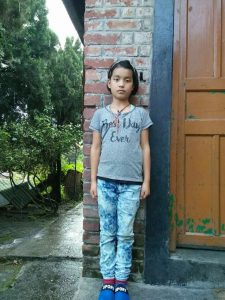 Tsering Choezom, age 10, TCV Upper Dharamsala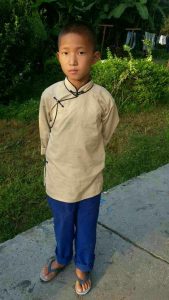 Tenzin Phuntsok, age 10, TCV Chauntra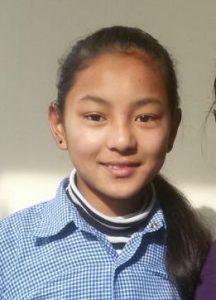 Khunsang Lhamo, age 13, TCV Chauntra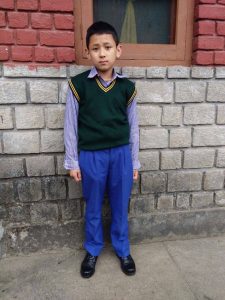 Tenzin Yugyal, age 11, TCV Chauntra
Addition from August 20th 2017: Tsering Choezom and Tenzin Phuntsok have found sponsors!
August 16th 2017
Good news from Nepal:
our employee from Briddhim yesterday picked up our first donation package at the post office in Kathmandu. Everything has arrived well: clothes, shoes, cuddly animals, bandages and flashlights.
As soon as she is back in Briddhim and has distributed the things to the needy in the village, we are adding new photos here.
If you would like to support our action, you can help us with a small donation for the next postage via our Betterplace project: http://www.betterplace.org/p44869
Many thanks to all who helped with material and money donations!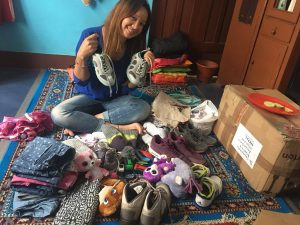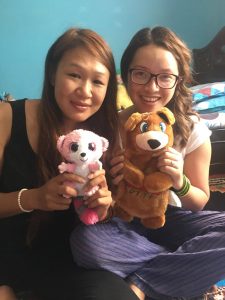 August 15th 2017
From today there is the opportunity to donate through the Donatia.org video donation platform for us. Up from 1 Euro can be donated for one of our projects. Use the Donatia app or your PC. The following video explains how easy it is donating through Donatia: https://donatia.org/media/video/donatia.mp4
Donors can increase their donation by up to 110% by simply clicking the videos of the donor partners. To get to our projects, simply enter "Tibet Tshoesem" in the "search for projects" line. Additional information about the projects can be found on our website. Please "share" your support on Facebook and other media, tell your friends why you donated to us and motivate others to support us as well.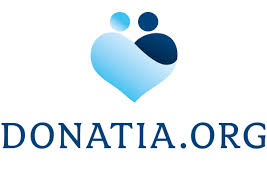 August 14th 2017
With a small special relief we would like to support the House No. 1 of the TCV School Suja.
Suja – some 60 km south-east of Dharamsala – is one of the places where a Tibetan Children Village was established. Today more than 1,200 children live and learn there.
Lobsang, one of the cooks at Tse Chok Ling monastery, asked us in the name of the children from House No. 1 for help. Also his two small daughters are living there. The houses in which the children are accommodated are equipped differently, because the facilities are financed by donations. In their spare time the children love to play together there and especially during the long, rainy monsoon months, they can not get out. Unlike other accommodations, the House No. 1 has no TV and the kids want a little entertainment in their spare time, which they have to spend in the house.
There are wonderful learning programs and the home-moms make sure that the children watch educational programs, so we would like to help and donate a TV. A new TV set costs about 350 euros
If you would like to support our campaign, please write to: info@tibet-tshoesem.de or donate directly to our account (data on the right side of this page).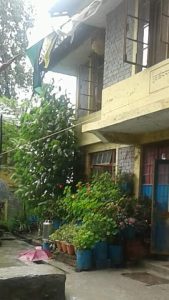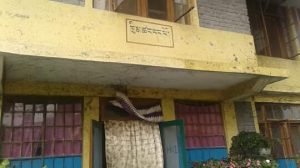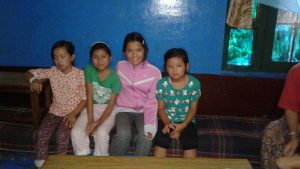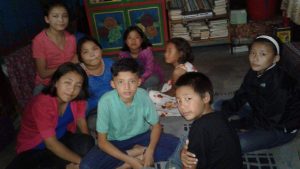 August 8th 2017
It's done…The total donations for the months May to August 2017 are on their way to their recipients in India and Nepal.
Tibet Tshoesem hands over the donations 3 times a year, in urgent cases we always transfer immediately.
It is a long procedure because the banks in India and Nepal do not make the job easy for us and we are still stuck in email traffic. Altogether we were able to send € 8,939 donations this time. Of this € 5.208 were donated for the sponsorships and € 3,731 for our various aid projects and actions.
We would like to thank all the sponsors and donors – also in the name of the people who receive the donations – for the great support, compassion and trust!
August 7th 2017
The 8-year-old Keysang Choeten from Briddhim has found a dear sponsor. If the girl is not at school in Dhunche, she lives with her grandparents who find it very difficult to provide the child well. The sponsorship is a great help for them. We thank the sponsor from the bottom of our heart for the support!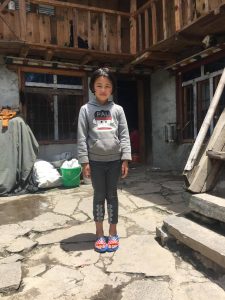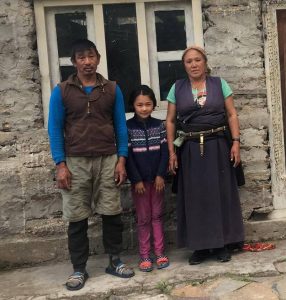 August 2nd 2017
The 74-year-old nun Dolkar from Mcleod Ganj (Upper Dharamsala) also has a sponsorship. It is a partial sponsorship, because Dolkar needs help for the move to a new, dry accommodation, for which a slightly higher amount is neccassary than a "normal" sponsorship. We are very pleased that the first step has been taken. As soon as we find a second partial sponsorship for her, she can leave her old room. More information and photos can be found on this webpage under "Sponsorships in Northern India."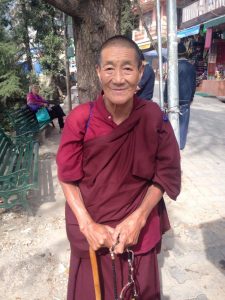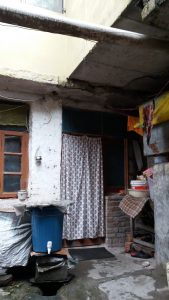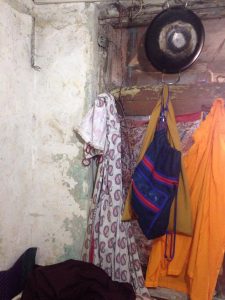 If you would like to support Dolkar with a partial sponsorship, please send us an email to: info@tibet-tshoesem.de
August 1st 2017
Good news from Nepal: 16-year-old Kunga from the Tibetan village of Briddhim and 6-year-old Kushi from Dickey Tsering Children's home in Kathmandu have found sponsors. This ensures their school education and a good supply.
We thank the two sponsors from bottom ouf our hearts for their support!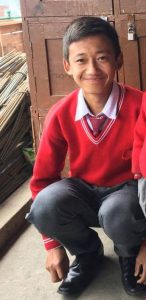 Kunga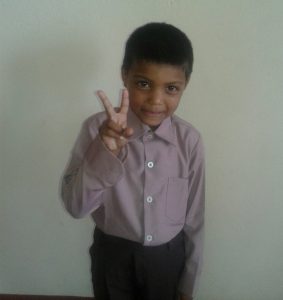 Kushi
July 30th 2017
Ngawang Dhundup and Tashi Bhuti, the parents of 11 year old Tenzin Yugyal have asked us for help.
Their son goes to the 5th class at TCV School Chauntra in Kulu Valley, not far from Dharamsala. The parents are living in Mandi and lead a very simple life. On the roadside they have a small booth where they sell clothes, but the income is hardly enough to pay the school education of their son.
Tenzin loves to go to school and is a good student. Mostly he likes English.
Correspondence with Tenzin and also visits are possible. The boy would be very happy for support and a communication with a sponsor.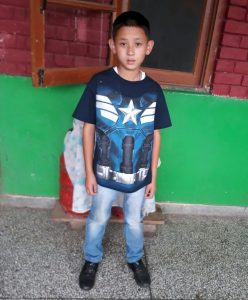 If you like to support Tenzin Yugyal with a sponsorship of just 20 Euro per month and this way ensure his school education, please send us an email to Konny at: info@tibet-tshoesem.de
July 25th 2017
There we are! From now on you can support us when shopping online on Amazon. The new internet portal of Amazon is called "AmazonSmile".
AmazonSmile is a simple possibilty for customers to support an organisation of their choice with each online purchase, without any costs. On that new website the customers experience the identical shopping adventure, which they are used to at www.amazon.de and they get the same low prices, the same wide selection and the convenient shopping range. The one difference is, that on smile.amazon.de 0,5 % of each price will be forwarded to a social organisation choosen by the customer.
Click on the following link in order to go to our page: https://smile.amazon.de/ch/27-678-56948
For us these donations mean a lot, because they help us to cover the expenses for transfering the donation amounts to the receivers in India and Nepal. Whatever amount will be left we will hand over where support is most urgently needed.
Please think about us next time you go to buy online on Amazon, please support us!
July 22nd 2017
Presentation of our donations to the Gurung Family in Kanyara Village:
For the second quarter of this year we were able to transfer a total of 609 euros, of which 489 euros for the construction project and 60 euros for the sponsorships for each of the two girls Nikita and Ritika. The family is very happy and grateful for this help!
Despite the heavy monsoon the construction work is going on and the support pillars could now be removed. Soon the walls will be faced and the flooring will be made. Afterwards they will proceed with the electrical work and the room for shower and toilet.
We thank all supporters for all the donations. Our special thanks go to the sponsor who regularly supports the two children and thus ensures their school education.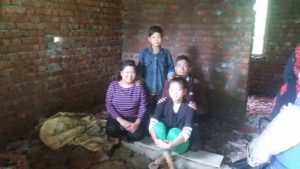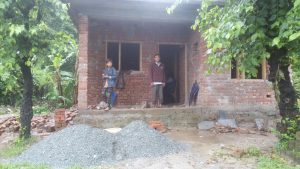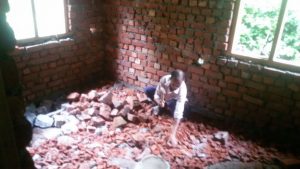 July 18th 2017
With a small "birthday donation campaign" we collect donations for our project for the house construction of the Nepalese Gurung family near Dharamsala. Please support that family with a small donation, which you can easily do online in the Betterplace-campaign, which is set for this:
https://www.betterplace.org/de/fundraising-events/20447-konny-s-donation-project-a-birthday-for-tibetans
July 17th 2017
Good news for Briddhim: 72-year-old Tibetan Dawa has found a dear sponsor.
This support helps her a lot, because Dawa lives alone and is completely destitute. Thanks to the sponsorship she can now provide herself with the essentials.
We thank the sponsor from the bottom of our hearts for this support!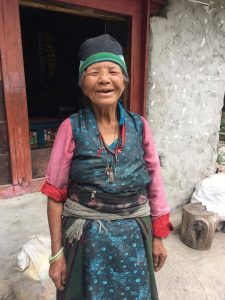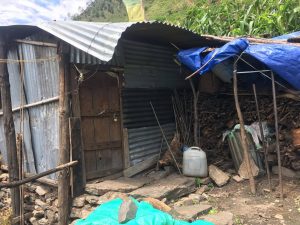 July 14th 2017
From Briddhim we have received the request to send clothes and shoes, because many of the people there can not afford to buy the item by themselves. They need our help.
Therefore we decided to use some of the relief supplies we send twice a year to Ladakh, for the people of Briddhim. We would like to start with 2 packages. For the postage – 2 packages of 10 kg – 200 euros are needed. For this aid action we have set new "needs" in the Betterplace project for Briddhim, where donations can be donated online: www.betterplace.org/p44869
Please support our little aid action and the people in Briddhim with a small donation!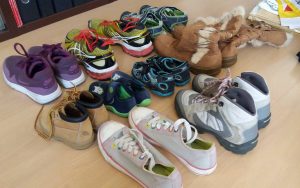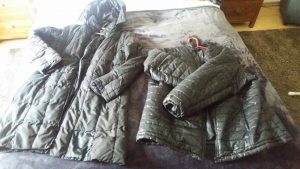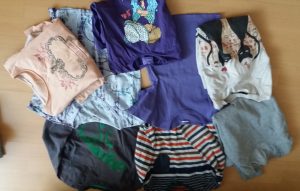 July 12th 2017
The house of Dhondup Tamang (64) and Lhakpa Yangchen (65) in Briddhim had been completely destroyed by the earthquake two years ago. Since then they live in a temporary, provisional hut. During the current monsoon and in winter these are extremely hard conditions. This is the second family that we support in reconstruction.
Last January, we were able to send first donations for the building and the work is slowly continuing. Still about 1,000 euros are needed, for the roof and interior construction still have to be financed. In our Betterplace project for Briddhim you can easily donate online: www.betterplace.org/p44869
Please support our project and this family with a small donation. Every cent reaches the project and is urgently needed!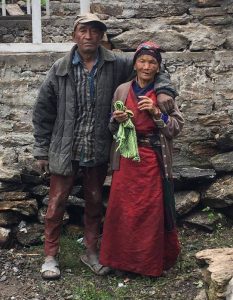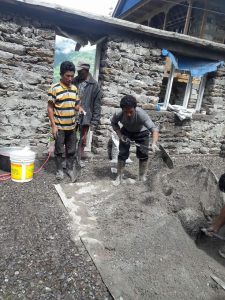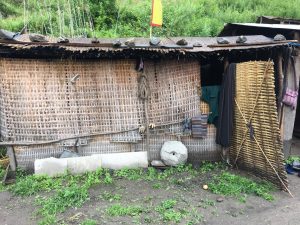 July 9th 2017
From Briddhim we received the photos of 3 Tibetans, for whom we are urgently looking for sponsors:
Dawa (72 years – left side) lives alone. Her husband died more than 20 years ago. Dugyalpo (56 years – middle) was never married and has no relatives who could help him. Samchung (64 years – right side) is deaf and lives with her brother and his wife, who found this month a sponsorship. But the amount is not enough to provide also the sister sufficiently. Who would like to sponsor one of these people or support them with a single donation? You can find further information on the page "Sponsorships in Nepal".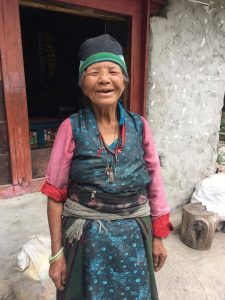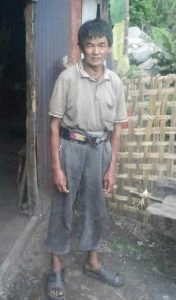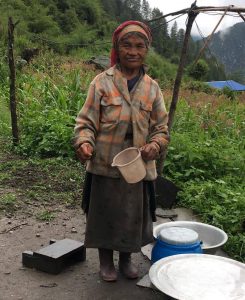 *****
Gyathar, cook and tailor at Tse Chok Ling monastery, bought the new sewing machine yesterday with the donations we were able to send last month.
The machine can be operated both mechanically and electrically and is very stable. The construction is not very easy and so a friend of Gyathar will help with the assembly.
Gyathar is very happy and sends all supporters a hearty Tashi delek and Thudshetshe – Thank you!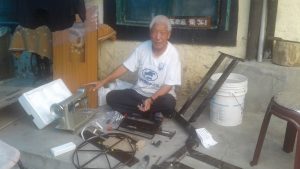 July 8th 2017
Last week we handed over our next commodity contributions for Ladakh. Many sacks full of clothing and shoes are already on their way there.
Karin Klug, an India expert, has been leading extensive aid projects in Kashmir and Ladakh for many years. She works closely with Thiksey Monastery near Leh. Every year she makes her way to the isolatad region with tons of donated relief supplies.
For these projects we collect commodity contributions such as clothing, shoes and children's toys, which we submit to Karin Klug once or twice a year. We thank this strong, dedicated woman for her tireless efforts!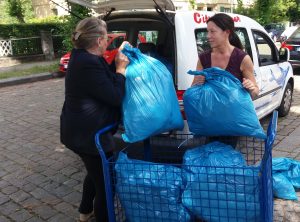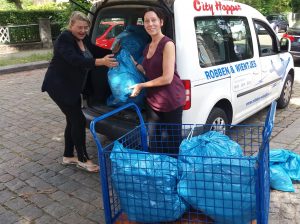 July 7th 2017
Once again we were able to provide a sponsorship for a monk at Tse Chok Ling Monastery in Dharamsala.
This time 12 year old monk Tenzin Jamyang can look forward to the support. This is the 6th sponsorship in the monastery and not only the sponsored monks themselves are helped, but also the entire monastery is supported by this project. We thank the dear sponsor for her help!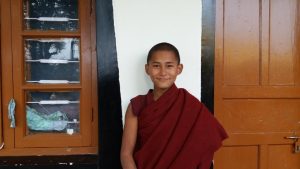 July 6th 2017
A naturopathic doctor's office from Starnberg has donated 2,500 euros for our house construction project in Kanyara Village! So far we still need another 6,500 euros … but we are sure we can make it. We sincerely thank the sponsor for this generous donation!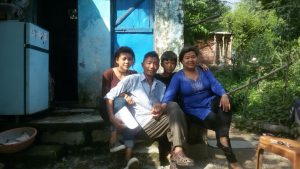 *************************************************************************