The VDC (Village Development Committee – a sort of municipality) Briddhim is located in Northern Rasuwa, one of eight counties of the Bagmati Zone in Nepal. The municipality's largest villages are Briddhim, Lingling, Khangjim and Sherpagaun, all of which at an elevation of approximately 1800 to 2600 metres (5900-8500 feet).
The entire region is characterized by Tibetan Buddhism since up until the mid-1800s a large proportion of it still belonged to Tibet. Some villages, where we are active, such as Mentok Gan, Tarsa und Daal, are mostly populated by Christians nowadays. This is a result of Christian relief organization work. Briddhim, Lingling, Shyafru, Syabrubesi and Timure are mostly Buddhist.
Nepal in numbers: The literacy rate is at only 65% nowadays. Out of a population of about 28.287.200 only slightly more than 3,5 million live in urban areas. The average age is 20 years, life expectancy at 60 years today. The employment situation is disastrous; about 40% of the population are unemployed. 10% of girls are married before the age of 15.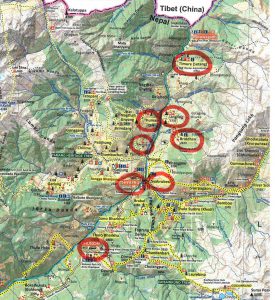 Map of Rasuwa (Source: Langtang – Langtang National Park, 1:125000, Himalayan MapHouse (P) Ltd.)
In this region we aim to support people by means of sponsorships and aid projects. Or on-site staff members and heads of the local NGO Gosainkunda Human Service Welfare Organization, the young Tibetans Tenzin Lhamo and Paljor come from the region originally and after a long stay abroad are residing there again since 2017. Both are fluent English speakers and very much committed to the needy people in the vicinity. A daily exchange with them enables us to be in constant contact to the local people. They provide information and photographs, take charge of the donation delivery and keep an eye on the according usage.
Via Tenzin Lhamo und Paljor sponsors have the opportunity of postal or E-mail-contact: they gladly translate letters and messages as most people in the region do not speak English.
Very few people alltogether are literate in this area. This is exactly why sponsorships are so very important: most families are only able to afford their children's school attendance through support. The severe earthquake in April of 2015 still affects the region. The villages had been almost completely destroyed, the inhabitants have scarce income. Therefore in order to assist their parents children oftentimes help in the fields or carry out other labor.
In Thuman, one oft he largest villages in the region – it consists of about 400 households and is situated on the mountain slope opposite of Lingling and Pelko- a school leading up to 8 th grade has reopened in 2017, which is currently attended by 130 children. So we receive very few requests from there. However it is a state-controlled school and the standard of teaching is far behind that of Gosainkunda English Boarding School in Syabrubesi.
(Shree Nepal Rastriya Adharbut School in Thuman, Rasuwa)
In the villages Lingling and Tarsa schools have also been reconstructed after the earthquake but lessons are practically impossible. Not only is the Tarsa school (located between Tarsa and Mentok Gan) limited to levels 1-3, there is only one single teacher most of the time, who shows up rather infrequently and then only teaches for a couple of hours. Only Nepali, a little writing and basic math are being taught. Hence many people can't see the purpose of sending their children to that sort of school and in the end the young ones as main victims are trapped
in a vicious cycle, while so much desiring an education.
(primary school in Tarsa, only teaches up to 3rd grade)
In Lingling a school for the first three grades was built after the earthquake but it never
opened for there are no teachers and too few children.
(closed primary school in Lingling)
With our aid projects and sponsorship program we are helping to break this cycle of poverty and enable the people towards a new perspective and a better future. A sponsorship helps the older people with supplying daily needs: food, clothing and medication. At present we are providing 139 sponsorships in the Briddhim area.
For the children and youths a sponsorship entails the option to receive an education. The first few children who, thanks to sponsorships, were enrolled in 2017, attended Highland Secondary Boarding School in Dhunche. This school is quite far from Briddhim and can only be reached via dangerous paths.
So starting in spring of 2019 children were able to attend another school: Gosainkunda English Boarding School in Syabrubesi, a small village about one hour's walking distance from Briddhim. It takes approximately 3 hours from Mentok Gan and Tarsa to Syabrubesi.
On account of the high monthly needed fees (enrolment, running costs, uniforms and so on) we also offer shared sponsorships for these children.
Detailed information on both schools can be found below and on the following pages:
These children in the Briddhim area are currently in need of school sponsorship:
We are urgently in search of additional partial sponsors for 12-year-old Soyana. Along with her younger brothers Semon und Siman the girl was enrolled in school in 2020. She is the only one of the siblings who is in need of new sponsorshiop due to the raise of school fees in September 2022.
The children have been living with their father Lita Tamang (42 years) and his brother in Mentok Gan so far. The familiy is among the most destitute in the region. 7 years ago the children's mother died and Lita has hardly been able to feed the children in his own. He has no steady income and keeps trying to make a litte money through unskilled labor for farmers in the vicinity. The children are happy in school and it's good for them to study and grow up together there. They would be so glad if all three children could continue attending the school.
Please support Soyana with a shared sponsorship of 15 Euros a month to ensure her school education.
Little Salina (5) lives in Daal along with her brother Sabin (6 years old) and the young parents Kamala (24) and Subha (30). The father used to work in Tibet, however since the lockdown he has no more income. The family had inquired about support with our staff members frequently and finally by last summer Sabin found a sponsorship. Thanks to this he could be enrolled in September of 2021. His school fees are sure until end of 2023. Then he will need a new sponsorship.
It would be wonderful for the siblings if they could live in the boarding school together. So we hope that Salina also will find a sponsor soon.
​
Please support Sabin with a shared sponsorship of 16 Euros a month or Salina with a
full sponsorship of 60 Euros or a shared sponsorship of 30 Euros a month to ensure their
school education.
*****
11 year-old Pempa has been receiving sponsorship since March 2021 and could be enrolled in Syabrubesi last summer. Pempa and his 6 year-old sister Kalpana are living in Daal with two older siblings and their parents Dawa (39) und Gaypa Ghale (49), who are farmers and earn scarcely enough to feed the family. The small income doesn't suffice for financing an education. Pempa was able to attend a government school free of charge in Timure for 2
years. However because of the lockdown this school was closed and will not reopen.
Unfortunately Pempa has lost his support in summer 2022. Without a new sponsorship he would have to leave the school. This would be sad for Pempa. His sister Kalpana has not had sponsorship so far and it would be nice for the two to live and learn at school together.
Please support Pempa or Kalpana with a full sponsorship of 60 Euros or a shared sponsorship of 30 Euros a month to ensure their school education.
The siblings Sara (7 years) and Rajan (5 years) come from the small village of Karabari, North of Briddhim. Their mother Phurbo Dolma is rasinig the children on her own since her husband has left the family. Phurbo doesn't have steady work. Whenever there is an opportunity she labors on fields in the area but it does not suffice for providing the children with what is needed, let alone financing a school education.
Rajan who just turned 5 has found a sponsorship from October 2022 and will be enrolled in December. Thanks to sponsorship Sara could be enrolled at Gosainkunda English Boarding School already in December of 2020. But unfortunately in springtime she has lost part of this support, thus is in need of another partial sponsorship, so she can continue school. It would be quite sad if Rajan will be enrolled soon and Sara would have to leave it again because of missing support.
Please support Sara with a shared sponsorship of 30 Euros a month to ensure their school education.
10 year-old Rozina and her 14 year-old sister Anita have been living with their parents in Mentok Gan until one and a half year ago. They used to attend a state school in the border village of Timure. However they were unable to learn much there. Therefore the parents approached us with their concern, wanting to send their daughters to a better school. They were both enrolled at Gosainkunda English Boarding School in Syabrubesi in December of 2020. Their 40 year-old mother Jezoom and her husband are loading and transporting goods at the Tibetan border. The small income doesn't yield enough to afford the high school fees on their own.
Unfortunately both sisters had lost their sponsorships or part of them. Rozina got a new sponsor recently, but Anita still needs new support. Without replacement of the lost support she would have to leave school soon.
Please support Anita with a shared sponsorship of 38 Euros a month to ensure their school education.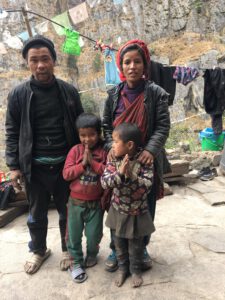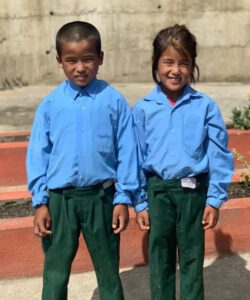 Santos Ghale
Up until spring of 2019 11 year-old Santos and 9 year-old Samjana were living in the small village of Mentok Gan on the mountain slope just opposite of Briddhim with their parents Lily and Deylem as well as four more siblings. The family is very poor and does not own any land where they could cultivate food. Every day they are out in search of a little income. So they can simply not afford school fees for their children. The two oldest children – now 17 and 18 years old- used to have school sponsorships with another aid organization and are now once again living with their parents. They are doing work on the fields around. We are still seeking sponsorship for Akash, the youngest of the family.
Thanks to sponsoring Santos and Samjana could be enrolled at Gosainkunda English Boarding School three years ago but unfortunately Santos has now lost his sponsorship and will need new support starting by April of 2022. It would be very sad if he had to leave school due to a lack of support.
Please support Santos with a full sponsorship of 60 Euros or a shared sponsorship of 30 Euros a month to ensure his school education.
*****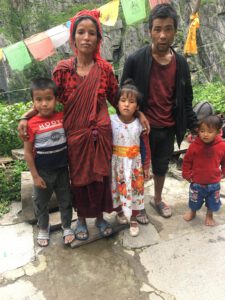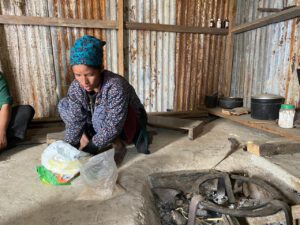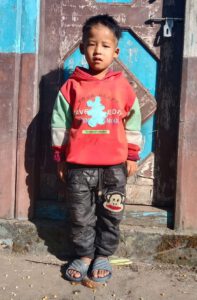 Akash Ghale
6 year-old Akash is the youngest of six children of a very poor family from the small village of Mentok Gan. Akash's 11 year-old brother Santos and his 9 year-old sister Samjana already receive sponsorship and thus could be enrolled at Gosainkunda English Boarding School in Syabrubesi in 2019. Alas Santos has lost his sponsorship in January of 2022 and urgently needs new support. The family does not own any land and are forced to pay a levy of 70% to
the owner of the field the are farming. What is left hardly suffices to meet basic needs. So they are unable to afford school fees for their children.
We are hoping for Akash to also find a sponsor soon, so that all three will be able to attend school together.
Please support Akash with a full sponsorship of 60 Euros or a shared sponsorship of 30 Euros a month to ensure his school education.
Akreti is 7 years old. Her parents Jish Gale (42) and Somaya Tamang (29) also have a younger son. The family is living in Mentok Gan and the father is the sole bread winner of the family, loading goods at the Tibetan border. The small and irregular income is not sufficient for Akreti's school fee. She would very much like to attend school in Syabrubesi and if we find a sponsor soon she could be enrolled by summer since we have to cover the
expenses four months in advance.
Please support Akreti with a full sponsorship of 60 Euros or a shared sponsorship of 30 Euros a month to ensure her school education.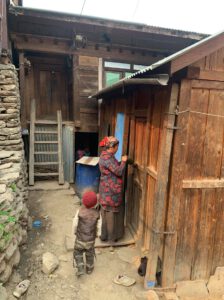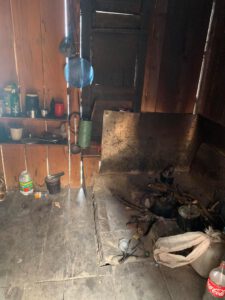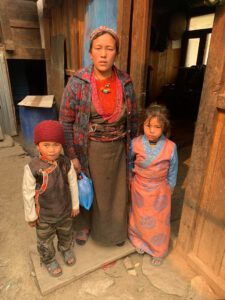 Tseyang Butti u. Sonam Tashi
8 year-old Tseyang Butti and her 6 year-old brother Sonam Tashi are the youngest children of Phurbo Dhekyi (36) and her husband Nima Tsering (35). The family lives in Thuman. The eldest, 17 year-old Keysang, attends a school in Kathmandu, aided by another organization and will finish 10 th grade this year. The 15 year-old daughter Tsering Dolma has been living in the monastery of Gagalpheidi near Kathmandu for years.
Also staying with the family is 7 year-old Palmo, a niece of Phurbo, whose brother, Palmo's father, is hardly caring for his daughter. Since his wife left the family years ago he has been drinking a lot and so Palmo is living with her aunt and cousins most of the time. She has found a sponsorship and will be enrolled to school in April 2023, while she will be even able to live in the boarding school.
Unfortunately Phurbo and Nima are not earning enough to finance the children's school education. Other aid organisations, like the one enabling one of the sons to attend school demand 50.000 NPR – about 360 Euro (410 US$) down payment for starting expenses such as enrolment fees, which the family cannot afford for the other children on top. Tseyang and Sonam have irregularly attended the state school in Thuman for the past year where they have hardly learned anything. We are hoping to find sponsorships also for Tseyang and Sonam in order to offer them a good education and further ensure their support.
​
Please support Tseyang Butti or Sonam Tashi with a full sponsorship of 60 Euros each or a shared sponsorship of 30 Euros a month to ensure their school education.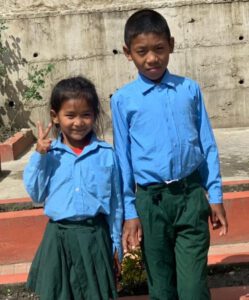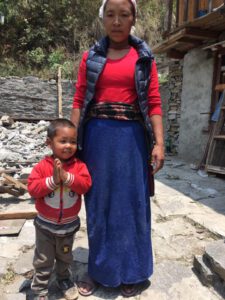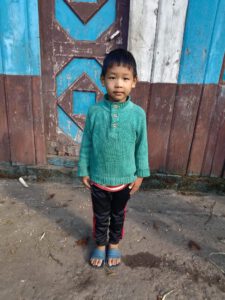 Sarjo Tamang
7 year-old Sarjo is the youngest brother of Suresh und Pratima (12 and 9 years old, first picture). Both older siblings have had sponsorship since last year and were enrolled in December 2020. Sarjo is still living with his parents Sangmo (31 years) and Lhakpa (34 years) in the small village of Mentok Gan on the mountian slope across from Briddhim. Since the father has been disabled since birth and can hardly walk, let alone work, the family is very poor. The mother is having a hard time trying to support their children and they were very glad to have found sponsors for the older children, who are well taken care of and now receiving the school education their parents could never afford. Sarjo is now in need of sponsorship as well so that he can learn together with his siblings. It would be sad for him to not be enrolled in which case he would soon have to help his mother support the family.
Please support Sarjo with a full sponsorship of 60 Euros or a shared sponsorship of 30 Euros a month to ensure his school education.
We are also in search of sponsors for these families in Briddhim:
Oftentimes especially families are in need of help as providing for a multi-member family is more difficult than only supporting oneself: for parents or single parents raising their children or even siblings, as well as taking care of elderly parents – on but a meager income or none – it is nearly impossible to supply a good basic support. The same goes for elderly people who receive little or no support in terms of retirement payments and have to keep laboring in the fields at an advanced age or in spite of physical impairments in order to support themselves.
With this task however we would like to assist the following families and elderly people: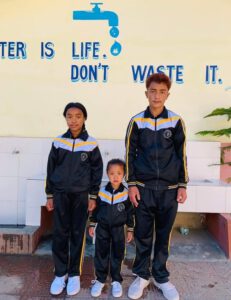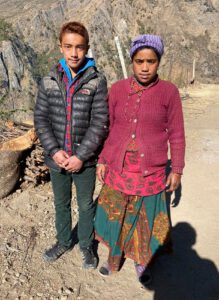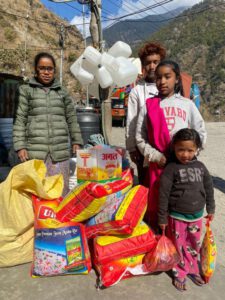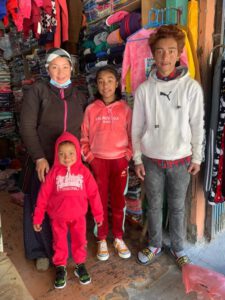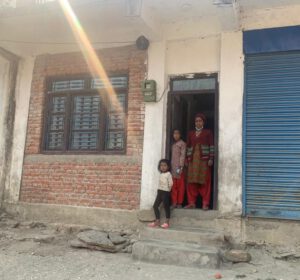 Manmaya with her children Behban, Romi and Jesica
The three siblings Behban (16 years), Romi (13 years) und Jesica (5 years) have been living in Kirabari, a small village near Mentok Gan, along with their mother Manmaya (40 years). The family got along reasonably well and the eldest, Behba, could even attend a state school in Chilme, a neighboring village. Three years ago however a tragic accident occurred, in the course of which a man fell down a mountain slope and died. Manmayas husband Hinbadur (35 years) tried to help him but was instead accused of killing him. He was wrongly convicted, sentenced to 20 years of imprisonment and still has to serve 16 years. For the family this was a heavy blow as the father was the main provider. Behban was forced to leave school at only 12 years in order to try to support his mother, himself and his siblings by doing hard work in road building.
That's why we had included the children in our school sponsorship program and all three could be enrolled at Gosainkunda English Boarding School in Syabrubesi in April 2021. An additional problem makes the life of the family quite difficult, though. Since they belong to the caste of Kami it is nearly impossible for them to find work and the social exclusion takes many forms. The children are not even eligible to stay at the boarding school but are only allowed to attend day school. The school management would gladly accommodate them but other children's parents were objecting. Thus the family had to move to Syabrubesi, which again means higher costs for rent.
Since then we were able to support the family well thanks to extra donations of their sponsors to cover not only school fees but also housing and food supplies. Manmaya herself managed to find irregular work which only brings in little though. Recently Romi has lost one of her partial sponsorships and so the family is in need of additional support.
Please support Manmaya and her children with a soponsorship of 25 Euros to cover life expenses.
*****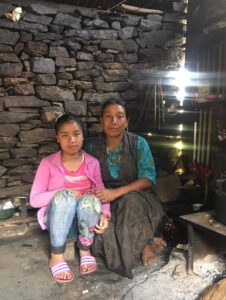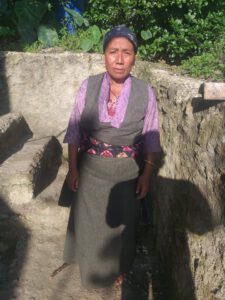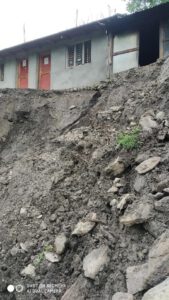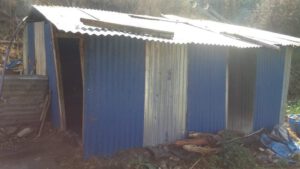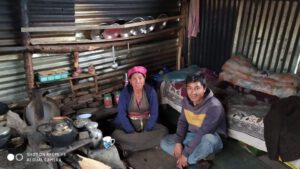 Dawa Chokpa und Mingmar Dorjee
The 54 year-old widow Dawa Chokpa, living in Lingling, is the aunt of our staff member Tenzin Lhamo. Dawa's second husband died in spring of 2020 at only 37 years of age when out gathering wood he slipped and drowned in a river. Her youngest son from the first marriage, 23 year-old Mingmar Dorjee, has lived as a monk in India, at Tse Chokling monastery among others. That's how he came to know our staff member Nyima. Last year Mingmar chose to live a secular life once again and has returned to the village where he is living with his mother now. Unfortunately due to the lockdown he has not been able to find employment. Before he had worked loading goads in Timure at the Tibetan border in order to support his mother. Samjana, Dawas daughter from the second marriage had a sponsorship with us up until her 18th birthday and is now attending a boarding school in Dhunche thanks to support by another aid organisation.
Dawa does have two older sons (25 and 27 years old) from that first marriage, however they are also unable so improve the situation. They, too, have family sponsorships in order to support their children. Dawa and her son are hardly able to fend for themselves and in summer 2020 another misfortune struck them: During heavy monsoon rains the small house Dawa had been able to build with government support after the earthquake of 2015 was severely damaged by a mudslide and had to be torn down. Therefore Dawa and her son are currently living in a makeshift corrugated metal hut. As soon as monsoon starts again it will become quite intolerable in there.
​
At the end of March we started a house building project and are hoping to collect enough donations to be able to complete the construction this year. That way Dawa and her son would be able to once again regain decent housing. Further information, also concerning the course of the project can be found on our Website:
https://www.tibet-tshoesem.de/wiederaufbau-von-wohnhaeusern-in-briddhim/
Starting in February Dawa and Mingmar are receiving monthly sponsorship of 20 Euros. Until both of them find work again though they will need further support for their daily needs.
Please support Dawa Chokpa and her son Mingmar with a partial sponsorship of 10 Euros or an individual donation.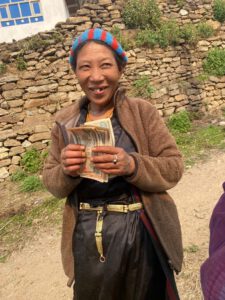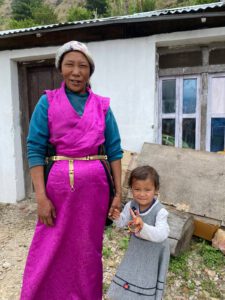 Rabhi und Asma Tamang
Rabhi is 47 years old and until today lives in Pelko on her own. Her husband died many years ago and both daughters are married and have moved away. Her daughter Pasang has two own daughters. 6 year-old Asmeta has had sponsorship with us for years. This summer she will change from Day school to the boarding school as Pasang is going to be working abroad. Pasang's younger daughter, 4 year-old Asma, will then move to live with her grandmother Rabhi. Like most older people inBriddhim Rabhi, too, is not able to read or write. Other than hard work in the fields she has no chance to make any money and self-sufficiency is very difficult for her.
Please support Rabhi and her grandchild with a monthly sponsorship of 30 Euros or an individual donation.
For these elder people in Briddhim we are in search or sponsorships right now: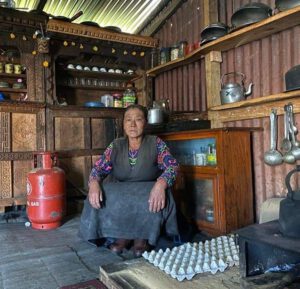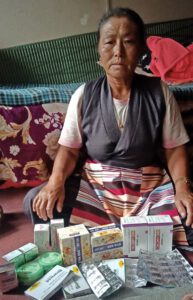 Palmo Tamang
Palmo Tamang ist 53 Jahre alt. Ihr Mann Norchung ist bereits vor 16 Jahren verstorben. Seitdem lebt Palmo alleine in Briddhim. Sie hat drei erwachsene Kinder, die Dank der harten Arbeit ihres Vaters, wie auch durch Patenschaften auf eine Schule in Kathmandu gehen konnten, doch leider sind sie auch heute nicht in der Lage ihre Mutter zu unterstützen. Durch das schwere Erdbeben 2015 wurde Palmos Wohnhaus völlig zerstört. Bei dem Wiederaufbau des Hauses hatten wir mit Spenden geholfen und seit etwa drei Jahren lebt sie dort.
Früher hatte sich Palmo mit etwas Feldarbeit selbst versorgen können, obwohl es nicht mal für eine gute Ernährung gereicht hat. Doch dann verschlechterte sich ihr Gesundheitszustand und es wurden bei ihr Bluthochdruck, Diabetes, sowie eine Leberentzündung festgestellt. Außerdem leidet Palmo häufig unter Migräne. Wie die meisten Menschen in Briddhim, die aufgrund gesundheitlicher Einschränkungen nicht mehr arbeiten können, erhält auch Palmo ca. 14 Euro monatlich von der Regierung, was aber nicht einmal ihre medizinische Versorgung deckt. Für den Einkauf von Lebensmitteln blieb nichts übrig und so hatten wir im November 2021 eine Patenschaft für Palmo eingerichtet. Dank der seitdem besseren medizinischen Versorgung hat Palmo keine offenen Hände mehr, die durch Diabetes verursacht worden waren. Im Januar 2023 war sie wieder zum Checkup im Krankenhaus in Kathmandu und hat neue Medikamente für das nächste halbe Jahr bekommen.
Ihr erste Patenschaft deckt mit 20 Euro die Hälfte der monatlichen Kosten für die Medikamente. Palmo musste sich Geld leihen, um die wichtigen Medikamente kaufen zu können und wir suchen nun einen zweiten Paten für sie, um zumindest ihre medizinische Versorgung zu sichern.
Unterstützen Sie Palmo Tamang mit einer Teil-Patenschaft von 20 Euro im Monat oder einer Einzelspende.
*****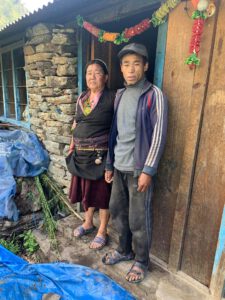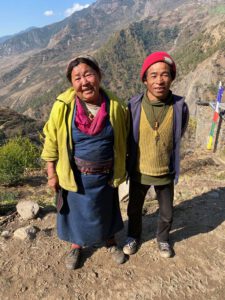 Chokpa und Norbu
62 year-old Chokpa and her 57 year-old husband Norbu are living in Lingling. One of their grand-daughters, 6 year-old Sunica (daughter of their son Nyima Tseten) has a school sponsorship with us. The couple have 7 grown children, five of whom are married. One daughter is staying with her sister and one son living as a monk on Southern India. The children used to have sponsorships through another aid organisation for Chokpa and Norbu were never able to afford school fees.
The two are growing lemons which they sell but this doesn't yield enough for a basic income. Chokpa and Norbu are among the poorest people of the village. At their age they face increasing difficulties handling the hard work in the field and we are hoping to soon find help for them via sponsorship.
Please support Chokpa and Norbu with a monthly sponsorship of 30 Euros or an individual donation.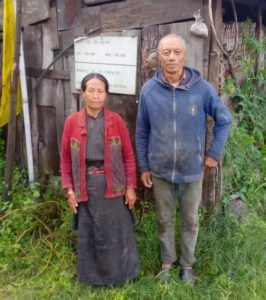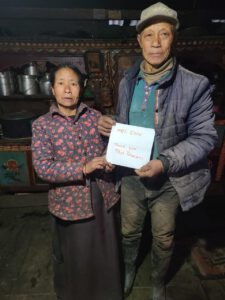 Dawa und Rabhi
Dawa is 69 years old, his wife Rhabi is 58. The two of them are living in Briddhim. They have one son, also living in Briddhim with his wife and child, alas unable to support his parents. The couple is very poor and trying to support themselves by growing some vegetable. The hard work in the fields proves difficult and there is no money for clothing, medication or daily needs. To somewhat ease their hard life and secure basic supplies they are in need of
sponsorship. Since February 2023 the couple has got a partial sponsorship for 15 Euro monthly, but they still need more support. 30 Euro per month are at least needed for a good supply.
Please support Dawa and Rhabi with a monthly partial sponsorship of 15 Euros or an individual donation.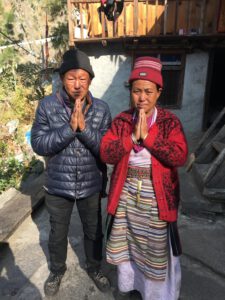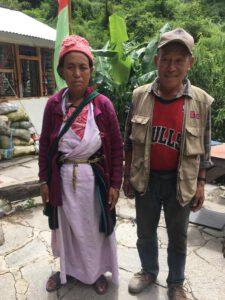 Dechen und Ngachok
The couple Dechen (56 years) and Ngachok (51 years) live in Lingling. They are the grandparents of Karma Sangay, the 6 year-old boy with the eye problems, who is able to attend school thanks to sponsorship. Ngachok is frequently ailing and unable to work in general. With some farming her husband is trying to make ends meet but they have no steady income and so everything is lacking. Like most older people In Briddhim they are illiterates.
However they would be happy about contact to a sponsor. Our helper on site, Tenzin Lhamo would gladly help with reading and answering mail.
Please support Dechen and Ngachok with a monthly sponsorship of 30 Euros or an individual donation.