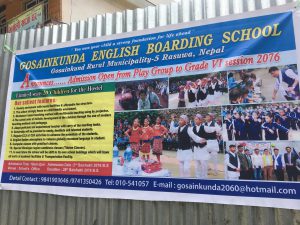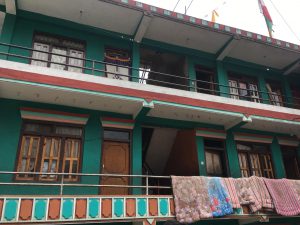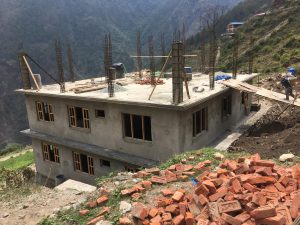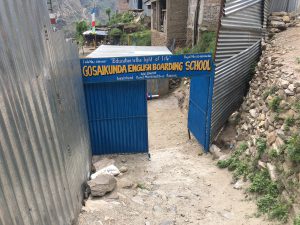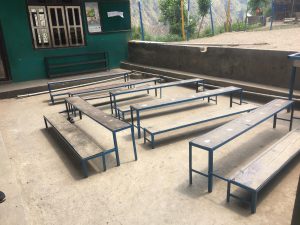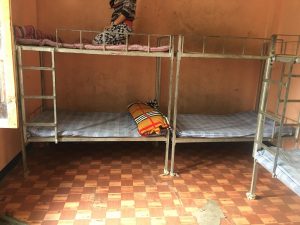 Syabrubesi is a village situated in the VDC (Village Development Commitee) Syabru, which is located in the Northern Nepali district of Rasuwa, not far from the Tibetan border. It lies ata height of approximately 1460m (4800 ft.) in Langtang National Park.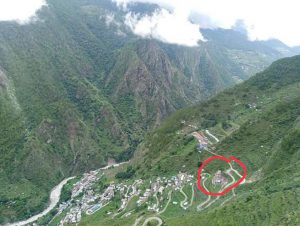 The school is situated on the upper slope – marked red.
In April of 2019 the first six children from Briddhim were enrolled in the Gosainkunda English Boarding School
in Syabrubesi. By January 2020 four additional children attended the school- thanks to their sponsorships.
By the middle of March 2020 it came to a lockdown due to the Covid-19-pandemic. The children of Gosaikunda School were able to complete their exams before starting their regular holidays. The start of the new school year had to be postponed as schools in Nepal did not open again until December. Thanks to many new sponsorships we were able to have 30 more children enrolled.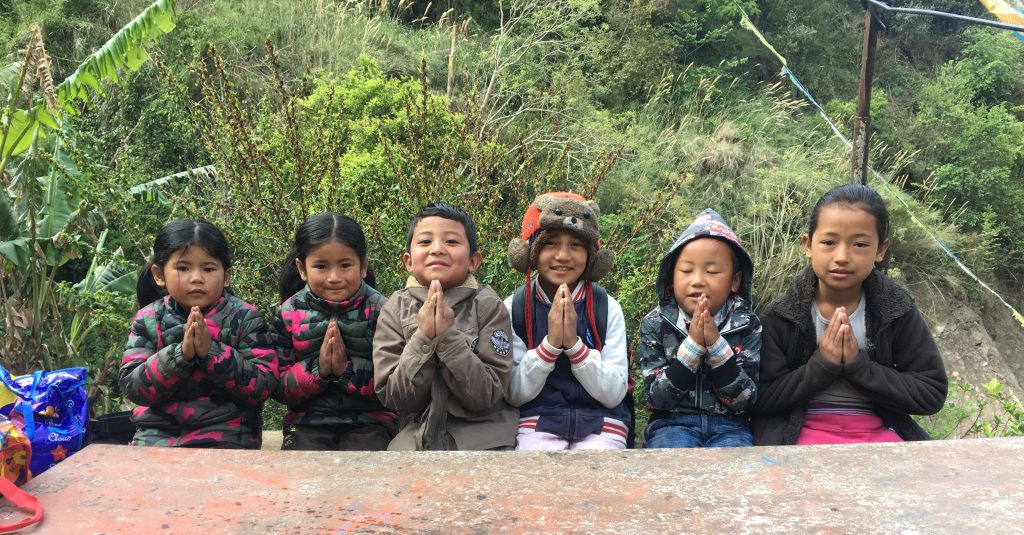 Gosainkunda English Boarding School is a private school, financed solely by donations. The headmaster Raju Lama is Tibetan and he aims to enable poor families to send their children to school as well. Thus in special cases he could support parents with supplying enrolment fees.
The fact that Tibetan language is taught at the school is very important to the families of Briddhim as they would like their children to learn their mother tongue. In the mornings and evenings there is common prayer and the children receive an education similar to those at the Tibetan TCV's, thus based on love, compassion and helping others. We like this concept very much and since the parents have asked to allow the children to switch to the new school we
gladly support it.
Currently the school offers classes up to 7th grade but the headmaster has assured us he will apply for authorization of an additional grade according to local regulations by this spring. The expected Nepali government certification may include further levels, up to 10 th grade.
The new buildings were completed in spring of 2020 and offer room for many more pupils.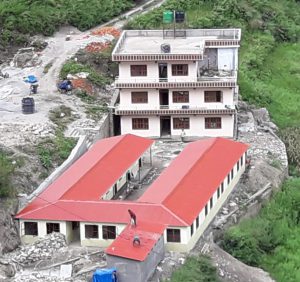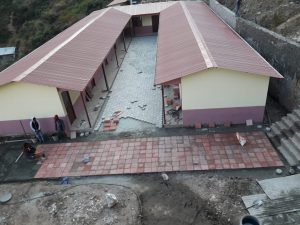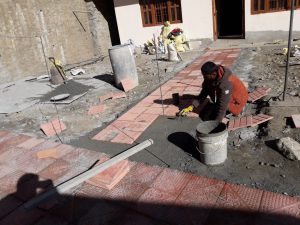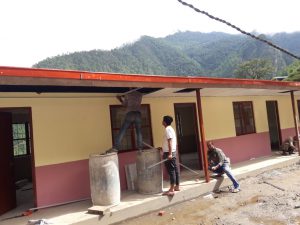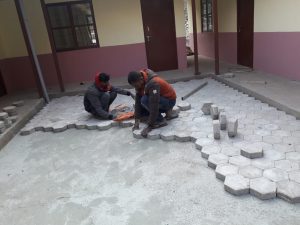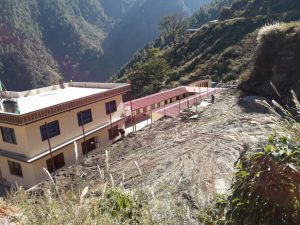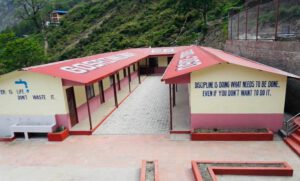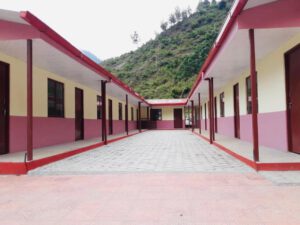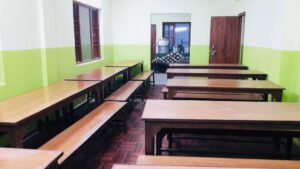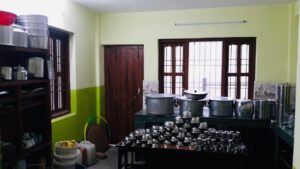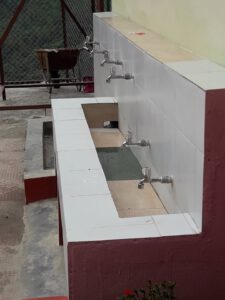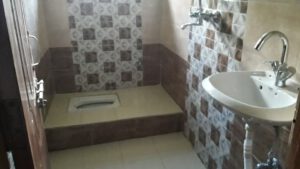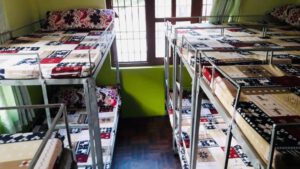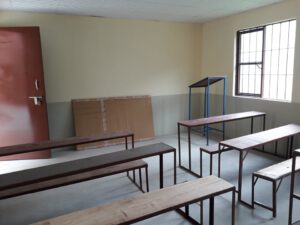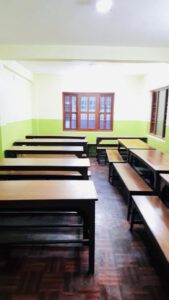 At present 280 children are registered at the school, 100 of whom are rooming there permanently, returning to their families only at holiday time. Among these are 80 children (as of January 2022: 75 boarding students, 5 day school students), who could be enrolled thanks to our sponsors.
Since half a year after the pandemic-related school closures regular classes were still not possible in October 2020 we were finally able to supply temporary lessons for the sponsored children, who had been shifted from Dhunche to Gosainkunda English Boarding School in 2019. These lessons were held at the residential house of our staff member Tenzin Lhamo in Pelko. Her husband Peljor is not a teacher but has completed A-level (High school, Baccalaureate) and taught the children for 3 hours every day.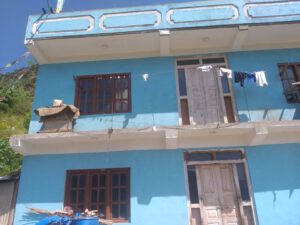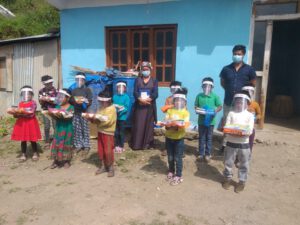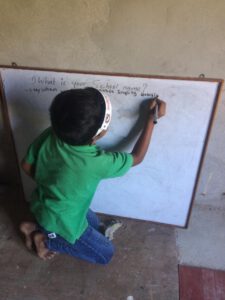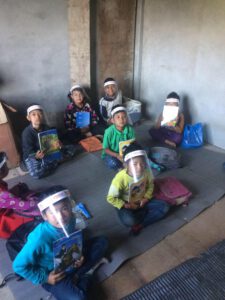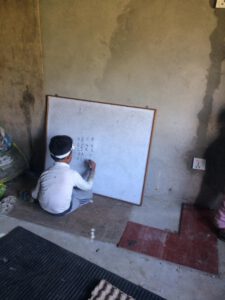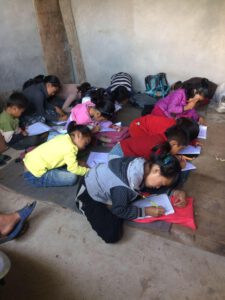 Update 07.12.2020
In the beginning of December the school could finally reopen. So the enrolment of almost all children took place today. Thanks to many new sponsorships, that came about throughout the year Paljor, the husband of our staff member Tenzin Lhamo, accompanied a large group of 40 children and their parents to the school. It was a great delight for the 30 new pupils but also for those 10 children, already enrolled in 2019 to be able to move in today.
With the convenient finishing of additional renovation works the children can finally attend school again.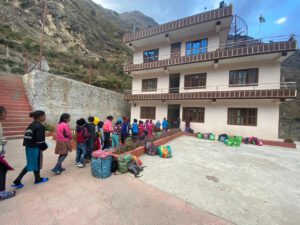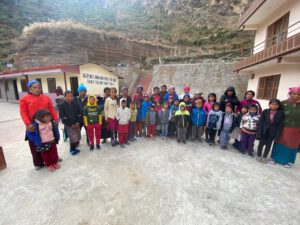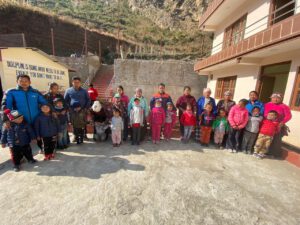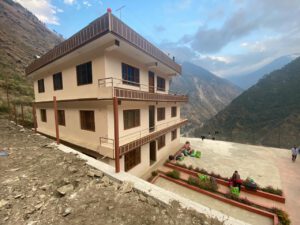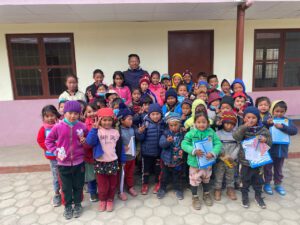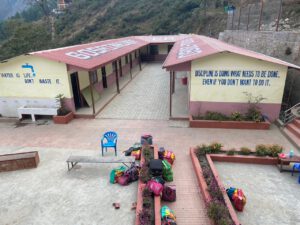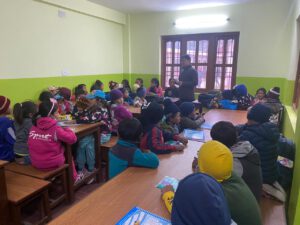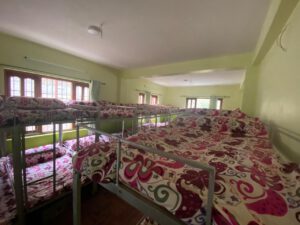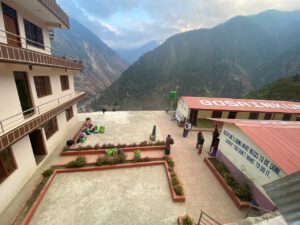 *****
Due to inflation since the beginning of the pandemic the school fees were raised in February of 2020. In April of 2021 the monthly amount for one boarding-student was raised from 42 to 44 Euros.
By the end of the year the school management informed us that with the beginning of the new school term in April 2022 the fees will have to be raised once again. We are in negotiation with the headmaster since in order to survey how these fees might be reduced. Contacting other schools in the vicinity revealed even much higher fees there.
Because of the management's short-term notice we could agree on a change in fees by August of 2022, that is to say for all school-sponsorships the higher fee would already apply starting in May 2022 since the fees must be payed four months in advance. Enrolment and annual fees will not be affected.
The following fees apply for students starting in August of 2022:
one-time enrolment-fee: 20.000 NPR – 160 Euro
monthly school fee for Nursery (Preschool UKG): 6.875 NPR – 57 Euro
monthly school fee level 1 and 2: 7.375 NPR – 61 Euro
annual fee, due at the beginning of new school year: 10.500 NPR – 84 Euro (included
are partial expenses for new uniforms and snacks)
The school employs nine teachers. In addition there is an administrative staff of five and three housemothers.
The following subjects are being taught: English, Nepali, Tibetan, Science, Mathematics, Social studies, General knowledge, Health & Physical Science, Ethics, Computer work.
If you would like to support a child in Briddhim with a sponsorship of 60 Euros a month or a partial sponsorship (30 Euros a month) and enable them to acquire a school education you will find information on all the children, still waiting for support at:
https://www.tibet-tshoesem.de/patenschaften-in-briddhim/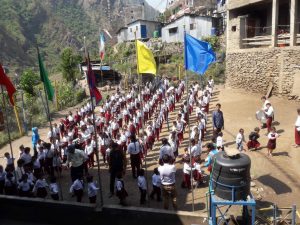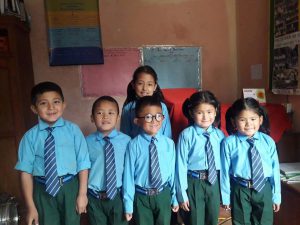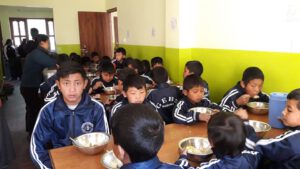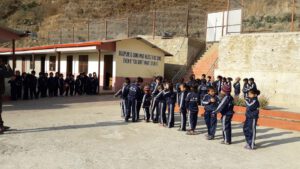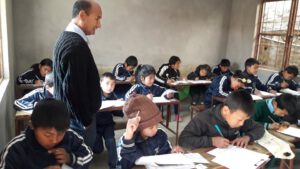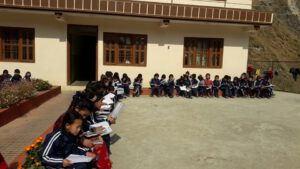 Update May 2021
On the 26 th of April 17 additional children could be enrolled, 14 of whom boarding, 3 day school students. Unfortunately due to an extremely increasing number of Covid-19-cases the school had to close again on the same day as another regional lockdown was announced. As soon as the situation improves outdoor lessons are to be implemented once more.
Update July 2021
We were able to find sponsors for 15 more children from the villages around Briddhim. For nine of these the one time enrolment fee of 160 Euro per child is not covered, yet. Those children provided with the fee will be able to start attending as soon as schools in the region reopen. The next school enrolment was supposed to take place in August, however because of the prolonged lockdown it will take some more time.
Update September 2021
On September 17 th the school could reopen after a long lockdown and the next fifteen children were able to enroll at the boarding school. Thanks to sponsorships since the beginning of the project 76 children could start learning at Gosaikunda English Boarding School. 56 of them are now living at the boarding school, 5 are attending Day School. Altogether we were able to transfer 10.524 Euro of donations to the school this time, including the children's school fees for the coming four months, enrolment fees for the new children as well financing of schoolbooks for all pupils. The large amount of enrolment fees was mainly supplied via extra funding, which we are very grateful for. Our staff members Lhamo and Paljor visited the school twice to pay the fees and take pictures. The children are overjoyed to be able to attend school and study again after so many months.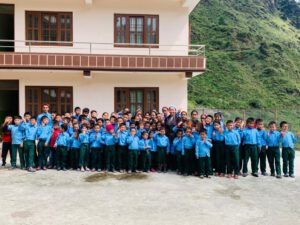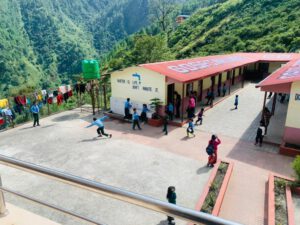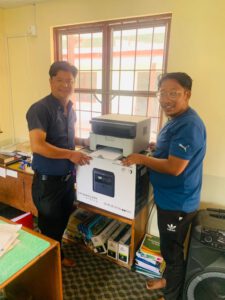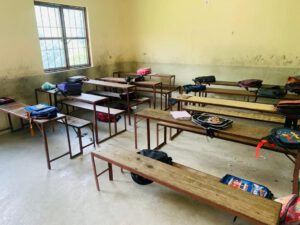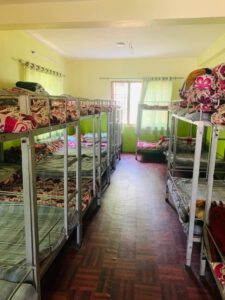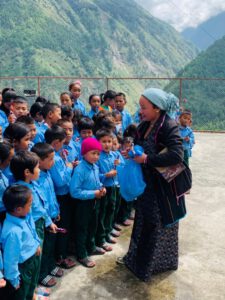 On 7 th of December we were able to enroll four more children. The lessons are being continued so far despite repeatedly rising numbers of Covid-19-cases.